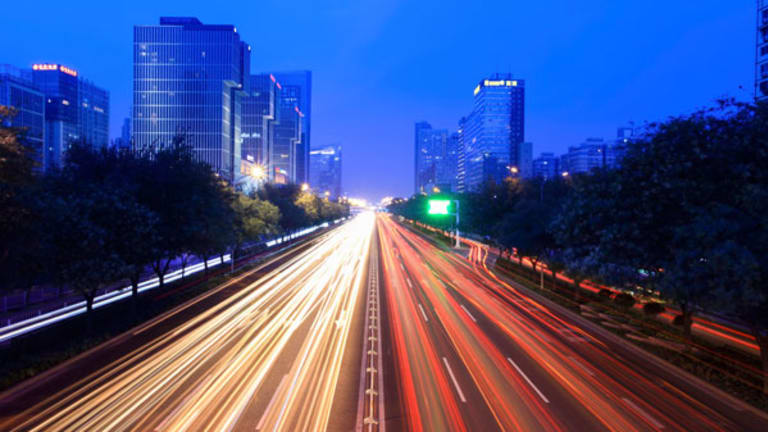 Big Alternative Energy Short of 2012 Takes One Day to Work
Polypore shares crash on news that Asian giant LG Chem, one of its customers, is now targeting its core market.
Updated from 3:16 p.m. ET to include company statement, analysis from Morningstar
.
NEW YORK (TheStreet) - Well, that was fast.
The analyst who was synonymous with the big, and very profitable, solar stock short of 2011 made a new alternative energy short call on Monday, and it's already working.
Yesterday Gordon Johnson of Axiom Capital launched coverage of shares of battery maker
Polypore
(PPO)
-- a play on the electric car market - with a sell rating and a $26 price target, representing 54% downside from its opening price on Jan. 30.
On Tuesday, shares of Polypore fell by 30%.
Johnson, who had a longtime and very vocal short in 2011 on
First Solar
(FSLR) - Get Report
,
laid out some similar themes in his call on Polypore: Aggressive insider selling of company stock by top executives suggests shares are overvalued, and massive overcapacity about to hit the industry will lead to multiple contraction in shares of Polypore.
Johnson benefited from some good timing as well.
On Tuesday, Asian battery giant
LG Chem
, which supplies the lithium ion battery for
GM's
(GM) - Get Report
Volt, announced that it is investing $480 million in capacity additions, including lithium ion battery separator capacity. LG Chem plans to begin commercial production of its first stage of battery separator capacity in August 2012, and is targeting having a second production facility online in 2013.
Polypore makes the separators that are critical in regulating the flow of ions in batteries, including the lithium ion batteries now being developed for the electric car market, and LG Chem has been a customer of Polypore for its Volt batteries.
The LG Chem announcement is the real reason for the run on Polypore shares, though it is related to Johnson's larger argument about looming overcapacity.
On a fundamental basis, Johnson writes "the 'hype' surrounding electric-vehicle sales has contributed to an unsustainable increase in separator capacity relative to the market size." The dynamic is misunderstood by investors, and that creates a market dislocation/shorting opportunity, the analyst argues.
The LG Chem investment in separator capacity adds to the existing issue, or as Johnson said on Tuesday, "anecdotally, this seems to suggest a material customer of PPO's is now making the product that it was buying from PPO prior. At risk of stating the obvious, this is not a positive leading indicator."
Johnson also states that LG Chem is the lithium ion battery supplier for the Chevy Cruze EV, Ford Focus Electric, Opel Ampera, Cadillac ELR, Hyundai Blueon, Volvo Hybrid, Hyundai Hybrid, and Kia Hybrid vehicles, implying furthermore how detrimental the investment could be to Polypore in light of the massive level of capacity additions expected throughout the battery space.
Polypore has initiated its own $300 million expansion of its separator business in anticipation of likely business for these vehicles from LG Chem.
The weight that the Asian conglomerates can bring to bear on pure plays in the alternative energy business has already been show through LG Chem's investment in lithium ion batteries.
A123 Systems
( AONE) shares have declined 90% since its IPO three years ago. A123 peer,
Ener1
( HEV), last year embarked on a shift in strategy as its business fortunes flailed, with its CEO saying the electric car market would take years to be profitable and it would instead focus on energy storage opportunities in the utility space. The Ener1 CEO was later ousted and the company now trades as a pink sheet.
Polypore has been the only "safe" investment in the sector. However, if LG Chem is gunning directly for it, the economics may not favor one more pure play.
LG Chem can afford to lose money on every battery it makes for a few years to amass market share, because it has the balance sheet to withstand the short-term pain. Pure plays, on the other hand, run into constant cash crunch issues. A123 loses money on every battery it makes.
Timing is always an issue in calling a short based on looming overcapacity. Johnson was early about solar in 2010, but was proven right by 2011. In noting the investment in the battery space, Stifel Nicolaus asked, "Will these investments create an oversupply situation that will inevitably create pricing and margin pressure across the EV supply chain? Over the near-to-medium term (2012-2013), we feel this is unlikely; however, given the 35mn kWh of announced longer-term expansions, we do see a possible oversupply situation in the 2015 time frame."
LG Chem's announcement could change the timing of that overcapacity outlook.
Daniel Holland, analyst at Morningstar, said to the extent that Polypore loses the LG Chem business -- which should be expected -- and loses any business through multiple electric car contracts that LG Chem holds, there is no doubt that this announcement is a negative.
"This would shut them out of certain markets unless they can find a viable competitor to LG Chem to partner with," the analyst said.
Holland added that LG Chem can't have manufacturing operations running at a cost-competitive level to Polypore overnight though. Polypore, after all, is already among the top three separator suppliers in the battery market.
"It's one thing to build a plant and another to run it economically," he said.
Holland noted -- alluding to the A123 example -- that this LG Chem decision highlights the fear for the smaller balance sheet company longer-term in a nascent industry.
"To the extent that LG Chem keeps on taking losses it doesn't hit their pocket book like it would Polypore, and doesn't impact their ratios or requirements for debt covenants. The backing of a much larger parent is attractive in attrition battles," Holland said.
Holland said Polypore now finds itself more or less where he thinks it should be in terms of market valuation. He said over the past 15 months or so, the stock went on a big run related primarily to better penetration in electrical vehicles and that story resonating with investors.
"The pull back down is also a reflection of that big move up based on electric cars," Holland said. Even as shares of Polypore reached as high as $74, Holland valued core operations in the mid-$30 to high-$30 range.
"It's back where it should be for a long-term player participating in decent industry growth," the analyst said.
On the other hand, even though Polypore shares fell by 27% on Tuesday, at $39, there is still plenty of downside to Johnson's target of $26.
Polypore issued this statement from CEO Robert Toth on Tuesday afternoon:
"Typically, the company does not comment on industry news. Polypore has no new news to report. We remain confident in the premises used to justify the lithium battery separator capacity expansions associated with accelerating industry demand for electric drive vehicles."
-- Written by Eric Rosenbaum from New York.
RELATED STORIES:
>>The Great Alternative Energy Short of 2012 Is...
>>Solar Stocks That May Not Make It to 2014
>>Solar Rally Has Legs, But Don't Expect Profits
>To contact the writer of this article, click here:
Eric Rosenbaum
.
>To follow the writer on Twitter, go to
.
Follow
TheStreet
on
and become a fan on