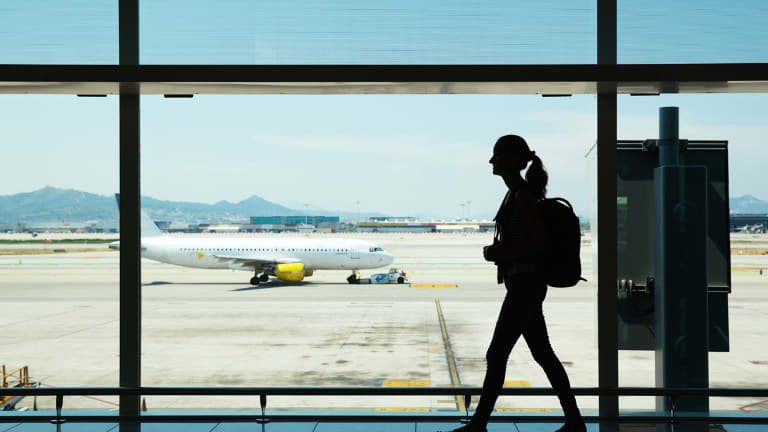 The 3 Big U.S. Airlines Avoid Trade War Shrapnel, for Now
Other industries will deal with tariffs, but airlines will see less of an impact.
Even with the trade war on, experts say it's too early to take a dive on the big three of U.S. airline stocks.
Wall Street may get an inkling of where those stocks are headed on Thursday, July 12, when Delta Air Lines, Inc. (DAL) - Get Free Report , releases second-quarter 2018 earnings. The other two airlines are United Continental Holdings, Inc. (UAL) - Get Free Report   and American Airlines Group Inc. (AAL) - Get Free Report  , whose quarterly earnings come out on July 17 and July 27, respectively. 
"We expect, at least for this summer, strong international traffic," Helane Becker, managing director and senior airlines analyst with Cowen Inc., told TheStreet. It can only help the U.S. airlines that travel between the U.S. and China is brisk, although it represents a relatively small part of each of the three major U.S. airlines' business.
Brisk international travel is coming in spite of the tariffs imposed by the U.S. and China on the importation of its goods to the other's country, which began on July 6, when the U.S. imposed tariffs of 25% on some $34 billion of Chinese goods brought into the U.S. China followed suit immediately with tariffs affecting the same dollar amount of imports to China from the U.S.
Reportedly, the Trump administration is planning to impose more tariffs on $200 billion of Chinese goods on Tuesday, July 10.
While the tariff fires burn, Becker thinks leisure travel between the U.S. and China will increase over the next decade, partially due to a relatively new visa program that allows multiple entries over a 10-year period, making visits between the two countries easier. Prior to that, visas were good for a year or two.  
Before July 6, airline investors began selling off shares. In recent days, however, the stocks have recovered. About the same time, Deutsche Bank downgraded the big three airlines from buy to hold, in anticipation of trade wars between the U.S. and global partners. The analyst's note contended that stocks such as airlines typically underperform in a "world of heightened macroeconomic and geopolitical risks."
Yet, Becker isn't the only one disagreeing with the Deutsche's assessment.
"It's a little premature to be drawing this doom and gloom until we see how these things work out," Kent Gourdin, professor of global logistics and transportation at College of Charleston School of Business in Charleston, S.C. He says premium seating is the main profit source for passenger airlines, and it will be some time before prices for those tickets go up due to tariffs.
What does affect ticket prices is the cost of oil, which has climbed for most of 2018 by about 20%. West Texas Intermediate crude was up slighty Tuesday to $74.11 a barrel.
Another wrinkle could be that airlines lease some of their planes from Ireland-based companies, such as AerCap Holdings NV (AER) - Get Free Report and Fly Leasing Limited Sponsored ADR (FLY) - Get Free Report . While tariffs are applied to aircraft parts, whether those could raise the cost of manufacturing or leasing airplanes remains unclear.
The big three airlines closed the trading day Tuesday relatively unchanged with Delta at $50.60, United, $71.30, and American, $39.12.