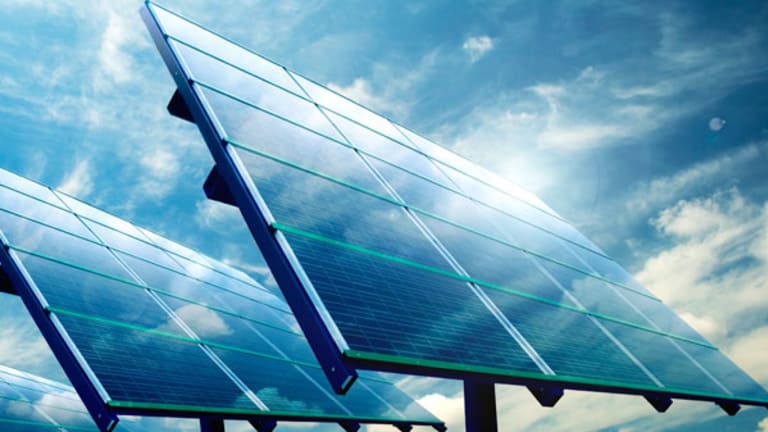 Bidding War for Southern Union No Surprise
Energy Transfer Equity increases its acquisition offer for Southern Union to $40 per share.
Energy Transfer Equity increases its acquisition offer for Southern Union to $40 per share.
(Southern Union, Energy Transfer, Williams Cos. M&A story updated for new Energy Transfer bid)
NEW YORK (
) --
Energy Transfer Equity
(ETE)
increased its acquisition offer for
Southern Union
(SUG)
to $40 per share, up from its original bid of $33 per share, the latest twist in a battle for the energy company that may not be the last move either.
On Tuesday morning, Southern Union shares were above the new Energy Transfer Equity offer price, rising 2.6% to $41.40.
The new offer was forced by
Williams Co.
(WMB) - Get Report
, which made an all-cash $39 per share bid for Southern Union on June 24.
Raymond James has previously suggested that Southern Union could fetch a price as high as $42 per share.
Tom Sandell, founder of Sandell Asset Management and a long-time shareholder of Southern Union who has challenged its management in the past, told
TheStreet
at the time of the Williams bid that he believed Williams would go as high as $41 if forced, and Southern Union's full value could be as high as $43. "This company is worth more than what's on the table now, and Williams has more money in its pocket," Sandell said.
On the other hand, BMO Capital Markets said full value for Southern Union is in the range of $39, and there is a risk of overpaying beyond $39.
In the new Energy Transfer bid, Southern Union shareholders can elect to exchange their common shares for $40 of cash or 0.903 Energy Transfer common units. The maximum cash component is 60% of the total consideration and the common unit component can fluctuate between 40% and 50%, the companies said in a statement Tuesday. The cash and common unit offer is worth $5.1 billion -- Energy Transfer has already secured $3.3 billion in financing from Credit Suisse for the cash component of the deal. The total value of the deal, approved by the boards of both companies, is about $8.9 billion, including debt. The original bid had valued Southern Union at $7.9 billion.
The Southern Union-Energy Transfer deal has faced sharp criticism from shareholders, some of which was a response to aspects of the deal seen as "gifts" for top Southern Union brass. Analysts who cover the company as well as shareholder Sandell say a major sticking point was that the deal gave the appearance of benefiting Southern Union CEO George Lindemann more than the rest of the company's shareholders.
First, the original deal seemed designed to minimize the tax implications for selling shareholders. That's a strategy that's in line with Southern Union CEO's George Lindemann's long-time approach to his personal portfolio management, but was not as attractive to shareholders looking to cash out at the best price.
Gordon Howald, an analyst with East Shore Partners, said there was a rift between how Lindemann and his family, as major shareholders in Southern Union, and other shareholders might view an all-cash offer versus a complicated share offering designed to limit tax implications.
"Just knowing him and how he runs businesses, it's always been by managing the tax bill as aggressively as possible and the Energy Transfer deal demonstrated that," Howald said.
On the tax structure of the deal, hedge fund shareholder Sandell was blunt: "Lindemann hates to pay taxes and the deal was structured just for him."
Second, Lindemann and Southern Union President Eric Herschmann were going to be paid a $10 million fee annually over the next five years for consulting after the Energy Transfer deal closed, and shareholders were not happy that this fee would effectively make Lindemann and Hershmann's shares worth more than what the common shareholder would receive.
On the consulting fee to be paid to Lindemann and Southern Union's president, Sandell said, "This is crazy. I've never seen anything like this consulting fee. That's shareholders money. That $100 million over five years should come to us shareholders. That smacks of bad faith."
Southern Union's CEO and president waived this consulting fee as part of the new Energy Transfer bid.
A number of analysts did not want to be quoted on this contentious issue, but said it had been voiced during the road show by Southern Union and Energy Transfer.
A fund manager and shareholder of Southern Union who did not want to be identified said: "The average investor would rather have $39 in cash rather than $33 per share and a complicated structure."
"You can make the case it's not just about share price. The Energy Transfer offer was advantageous for Southern Union shareholders, but it was very advantageous for George
Lindemann. People have pushed back on the consulting arrangement," an analyst who covers Southern Union told
TheStreet
at the time the Williams bid surfaced. "It's selfish when the CEO is cashing out at an effective price of $40 when everyone else is at $33."
Hedge fund shareholder Sandell also says it's his opinion that Southern Union never really shopped the company, as Southern Union claims occurred leading up to the original offer from Energy Transfer. Sandell Asset Management is the 6th-largest hedge fund holder of Southern Union, with 1.3% of the company's shares, according to
Insiderscore.com
.
"This has been like a beauty contest over the past seven years, not an actual 'shopping of the company.' They've talked to everyone in the world, and had lots of negotiations, but at the last minute Lindemann changes his mind and says 'I have to grow the business more,'" Sandell said. He added that he believes there are at least five strategic buyers who would have made a bid had they known the company was truly for sale.
The original $33 offer from Energy Transfer included a one-year dividend that would rise from 2% to 8.25%. It was structured so that Southern Union shareholders receive preferred shares of Energy Transfer, but these shares could be redeemed at the discretion of Energy Transfer management at the price of $33. "You don't even know as a shareholder if you will be able to participate in the stock," Sandell said. "It' s a horrible structure."
The shareholder continued: "I think it's very true that this deal seemed to take into consideration what Lindemann and senior management wanted personally. The $10 million consulting fee is a fact and these issues are relevant in a discussion of how fair the deal is to everyone. There were unhappy investors who felt this was a better deal for George than for them."
Energy Transfer's MLP structure was also a sticking point for long-only investors and hedge funds, too.
MLPs are publicly traded partnerships that generate K-1 tax statements as opposed to 1099s and generate unrelated business tax income (UBTI). Institutional investors from pension funds to registered investment advisers, foundations, endowments and hedge funds often prefer not to deal with the additional tax work and won't own MLPs for this reason; in fact, some institutions that are tax-exempt can't hold MLPs.
-- Written by Eric Rosenbaum from New York.
>To contact the writer of this article, click here:
Eric Rosenbaum
.