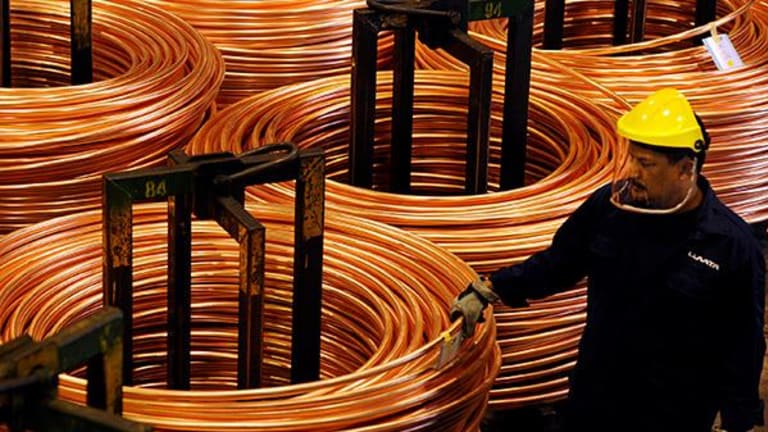 BHP Sees Copper as 'Metal of the Future' as Electric Car Demand Booms
2017 is a 'tipping point' for electric vehicles, BHP says.
Miner BHP Billiton Ltd. (BHP) - Get Free Report thinks this year will be a "tipping point" for electric vehicles that will send shockwaves through the metals industry before hitting the oil business, BHP Chief Commercial Officer Arnoud Balhuizen said, according to Reuters.
"2017 is the revolution year we have been speaking about. And copper is the metal of the future," Balhuizen said. BHP forecasted 140 million electric vehicles taking the roads by 2035, up from the roughly 1 million that are in use now.
Producers will first feel the effects of an electric boom in the copper market, where supply will likely struggle to keep up with demand. Electric models require as much as four times the copper traditional cars require for production. This presents an especially tricky situation, as most of the world's biggest copper mines are aging and there have been few major discoveries in the last 20 years.
BHP is well-positioned despite market concerns, Balhuizen said, as the company has strong global assets and recently spent $2.5 billion to extend the life of its Spence mine in Chile by over 50 years.
Oil markets will feel the effects of the move toward electric cars later than copper producers. Balhuizen said improvements in traditional combustible engines are more likely to impact oil producers over the next 10 to 15 years than electric cars. '
Electric model pricing is largely expected to fall in line with traditional combustible engine vehicles soon, but government-backed subsidies for green transportation are what will boost demand in coming years, BHP added. 
More of What's Trending on TheStreet: