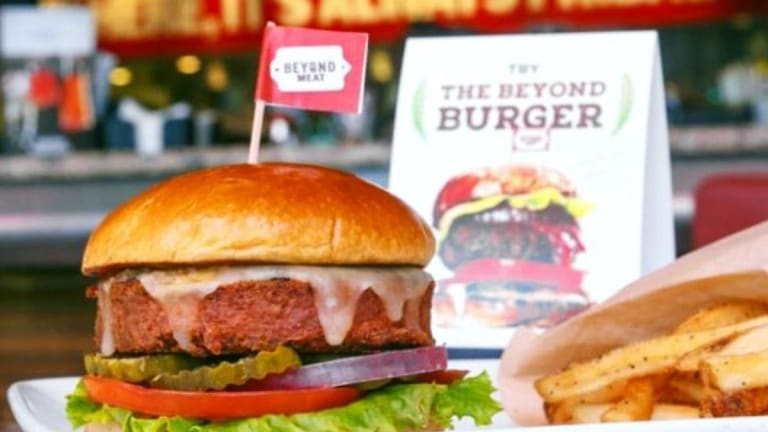 Beyond Meat Sizzles on Nods From JPMorgan, Goldman Sachs Analysts
Goldman Sachs placed a $97 price target on Beyond Meat.
Shares of Beyond Meat (BYND) are up around 8% Tuesday following a pair of mostly positive analyst notes from Goldman Sachs and JPMorgan. 
JPMorgan was more bullish on the company, initiating coverage at overweight with a $97 price target, calling Beyond Meat's growth opportunity "extraordinary." 
The firm expects the market for plant-based meat to reach $100 billion in the next 15 years, which would represent a 100 times multiple over today's addressable market. JPMorgan analyst Ken Goldman estimates that Beyond's sales could exceed $5 billion at full maturity, compared to just $88 million last year: 
"We strive to be conservative in this model. We assume, for instance, that a) only 2/3 of meat is addressable by plant-based options and b) plant-based meat's share maxes out at 10% (versus 13% already for US plant-based dairy, a figure growing each year)," Goldman said. "Within this context, we believe it is reasonable to think BYND's revenue can hit $5B in 15 years, based on our top-down and bottom-up analyses. We do not believe this opportunity is fully priced in, despite the rally post-IPO."
Meanwhile, analysts at Goldman Sachs initiated coverage with a neutral rating and price target of $67 price target: 
"We see BYND as a key early-mover in the nascent and rapidly evolving plant-based protein market, where innovations in ingredients, manufacturing processes, and formulations are disrupting the largest category in food (~$270bn in US and >$1tn globally," said Goldman analyst Adam Samuelson. 
Beyond Meat shares were trading at $86.18 per share.