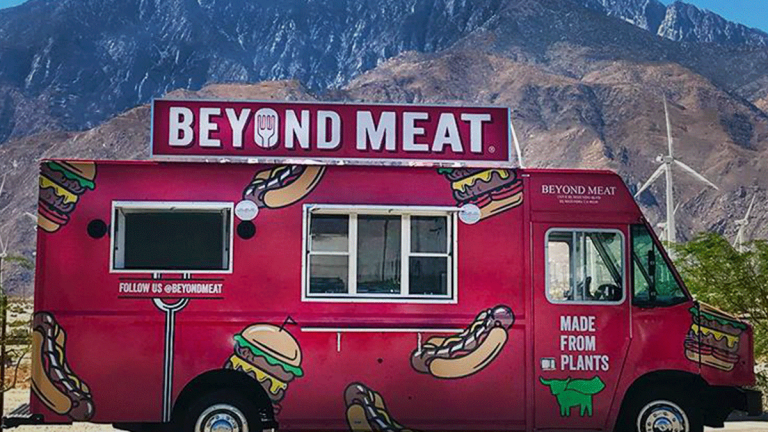 Beyond Meat Shares Slide 10.4% as New Stock Offering Prices at Steep Discount
BYND extended declines after the plant-based food producer priced its secondary-stock offering at a steep discount to Wednesday's close.
Beyond Meat (BYND) shares plunged 10.4% Thursday after the plant-based food producer priced its new stock offering at a steep discount to last night's close as it seeks new capital to support its fast-expanding business. 
Beyond Meat will sell 3.25 million new shares at $160 each, an 18.6% discount to last night's close and just under 32% lower than where the shares were trading late last week. Beyond Meat said the new share offering will raise another $40 million that the company will use to expand its production facilities and boost its marketing campaign.
Beyond Meat shares fell 10.4% to close at $176.04 Thursday, but are still a staggering 600+% higher since floating on the Nasdaq on May 2 at $25 per share.
Goldman Sachs,  JPMorgan and Credit Suisse are leading the offering, with BofA Merrill Lynch and Jefferies acting as book-running managers. William Blair and Raymond James are co-managing the offering, which will see the company sell 250,000 shares while a further 3 million will be sold by current investors. 
Beyond Meat's capital increase comes amid both a rapid expansion in the distribution of its plant-based burgers and sausages and increased competition from rivals in the so-called 'fake meat' marketplace.
Restaurant Brands International's (QSR) Burger King adding the Impossible Whopper, made by Impossible Foods, to the menu on more than 7,000 locations around the country, just three months after introducing it the fast food chain's line up. 
Earlier this week, Beyond Meat posted a second-quarter loss of 24 cents per share yesterday, its first as a public company, around three times more than analysts' forecast, but said revenues nearly tripled from the same period last year to $67.3 million.
The numbers were encouraging enough for Beyond Meat to boost its full-year guidance, which now calls for a modest earnings gain, and said full-year sales are likely to rise past $240 million.
"We are seeing consumers envelop our brand in a broader movement that they are leading," said CEO Ethan Brown. "We believe this movement is imbued with enthusiasm for a future where meat isn't separated from animals, and one where the consumer can enjoy meat absent emerging concerns they may have regarding its health, environmental or animal welfare impact."
Watch: Dunkin' Asked Me to Try the Beyond Sausage Breakfast Sandwich, So I Did