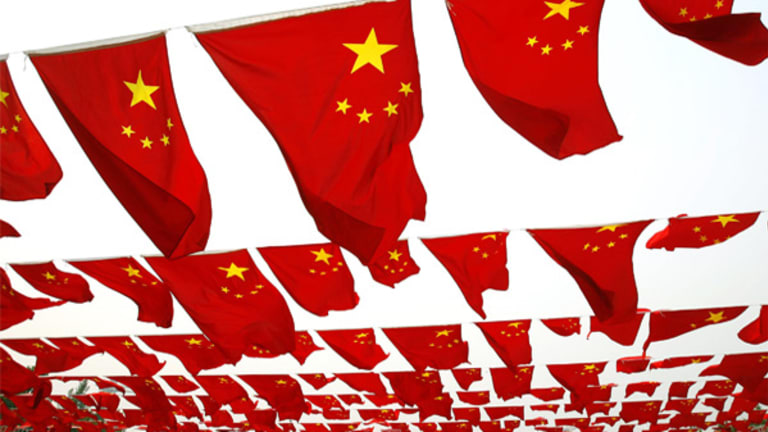 Publish date:
Beware the Chinese Rumor Mill
Watch out for the companies that reverse-split to avoid delisting and then are the subject of explosive rumors. They are rife for manipulation.
Watch out for the companies that reverse-split to avoid delisting and then are the subject of explosive rumors. They are rife for manipulation.
BEIJING (TheStreet) -- Companies such as Cleantech Solutions (CLNT) andChinaBak Battery (CBAK) have been the subject of explosive rumors that have driven their share prices dramatically higher in the space of one to two days.
These are just two examples of companies that have crashed to the pennies but then conducted large reverse splits to avoid a delisting by the
Nasdaq
. As the effect of the false rumors fades, Cleantech is likely to drop back to below $4 where it began. Likewise, ChinaBak will likely fall back to around 80 cents, where it was before the false rumor.
A few years ago there were hundreds of Chinese reverse merger stocks that traded in the US. Initially cheap valuations and seemingly stellar financials often led these stocks to deliver quadruple-digit returns. Unfortunately, it turned out that fraud and mismanagement were rife within these companies and the overwhelming majority ended up crashing. Many were delisted outright due to fraud.
Lately, a number of the straggling survivors that have avoided delisting have shown triple-digit spikes on the back of very specific rumors. This has led some to believe that there may be a resurrection within the space. But all is not what it seems.
>>Also see: As Obama and Xi Prepare to Meet, U.S. Needs to Be Bolder With China >>
Of the remaining companies still trading we can see that there is a common factor driving these stocks, and it is one that investors should avoid getting involved in. The common factor is that these are companies which have conducted a reverse split to avoid delisting and only then are the subject of explosive rumors.
The reverse splits mean that there are very few shares outstanding, creating limited supply. Such stocks are ripe for manipulation by false rumors.
A few weeks ago, CLNT tripled in the space of a few days, from around $3.50 to as high as $10.90. The cause of the spike was a rumor that the company would soon be selling to oil behemoths
Sinopec
(SHI) - Get Report
and
CNPC
. But the rumor was incorrect. The truth was that Cleantech had simply received a simple certification for its products, such that they could be deemed compliant with the oil giants' standards. This is far different than actually selling a product to them.
Had this been a "normal" stock, the rumor might have provided a boost of a few percent to the stock price. But Cleantech is a company that had conducted two reverse splits, a 1:10 as well as a 1:3. The combined effect of these splits was to reduce the company's shares outstanding by a factor of 30. The share count now stands at just 2.7 million shares. Supply and demand then takes over.
In the days that have followed the high volume spike, Cleantech has plunged by around 50% from the highs. Cleantech is audited by Sherb & Co., an auditor who can say that all of its Chinese clients (aside from Cleantech) have either crashed to the pennies or been delisted outright due to fraud. The company's
also raise numerous red flags. These include: no spending on R&D for a high-tech company, a part-time absentee CFO and ineffective internal controls. For these reasons, it is difficult to see how any rational investor could hold shares in the company.
>>Also see: Apple Signs Sony for iRadio: Report >>
The timing of the spike in the share price happened to coincide with a desperately needed $5 million equity registration statement being filed with the Securities and Exchange Commission. The registration statement allows Cleantech to take advantage of price spikes by selling directly to brokers who can then sell into the market from time to time.
The rumor on ChinaBak was far more brazen. Earlier this week a company called
Kandi Technologies
(KNDI) - Get Report
soared 70% on news that its electric vehicles had been approved by the Chinese government. Almost immediately a very specific
emerged that ChinaBak had "confirmed" that it would be supplying this high flyer with batteries. ChinaBak then soared by 65% in a day on massive volume.
Yet,
confirmed that the rumor was entirely false. Yet, clearly the rumor started somewhere and by someone.
The notion that ChinaBak would be supplying to Kandi was absurd from the very beginning. The company is effectively insolvent with over $330 million in debt and virtually no useable cash. Their CFO has already resigned, as has the head of the audit committee. The company was already trading well below $1 before the rumor, and just received its 6th delisting notice from the Nasdaq.
ChinaBak is selling its remaining products at below cost and liquidating its receivables in order to pay off what it owes the banks. The banks now hold the chairman's shares as collateral, such that liquidation of a large block could occur at any time.
Again, no rational investor could justify holding shares of company in such near-term dire straits. Yet, the rumor still cause a dramatic (but short-lived) spike on tremendous volume.
Following the brief 65% spike, the stock is already down by 30% from its highs, and looks set to plunge much lower. The recent delisting notice from Nasdaq has still not been resolved and it looks as if ChinaBak will have no way of avoiding delisting. This would send the stock back to pennies on the pink sheets.
Like Cleantech, ChinaBak had conducted a 1:10 reverse split in order to avoid delisting. Were it not for the benefit of that split, ChinaBak's stock would currently be trading at just 11 cents, and would have already been delisted to the pink sheets.
The emergence of explosive rumors among companies which have dramatically reduced their floats by reverse splits does not appear to be a coincidence. Spreading a rumor on a company with a large float can be expected to have a limited effect.
But with these low-float companies, the effect is predictably explosive. This game has proven to be consistent, and I expect to see it repeated more in the coming weeks and months.
The problem is that any benefit to those who get in late is very short-lived. An even bigger problem is there is often no ability to get out unscathed. Once the share price begins to collapse, the bid evaporates just at a time when sellers are most eager to get out. The result is a steep plunge in price that cannot be avoided.
Investors may show a brief paper gain as the stock is rising. But when it comes time to sell, the lack of a reasonable bid means that losses will be steep and unavoidable. Some investors inevitably are tempted to wait it out after the plunge begins, hoping the share price will recover. But typically the stock just grinds lower over time, trapping the investor in a stock which virtually can't be sold at any reasonable price.
>>Also see: Gen-Yers Delay First-Time Home Buying >>
On a daily basis, Cleantech continues to grind back towards a price below $4, where it began. It is currently down by around 50% from its recent high. Meanwhile, ChinaBak has already begun its descent back towards sub $1 levels, where it began before the false rumor. It currently sits at $1.12.
These are just two examples. But other recent instances of the "low-float rumor game" are numerous. Other stocks include
China AutoLogistics
(CALI)
and
China TechFaith
(CNTF)
. CALI nearly doubled from $2.75 to over $5 on a one-day rumor. That stock has now dropped by 40% from its highs, back to $3. It now trades on almost no volume. China TechFaith briefly soared 50% before collapsing, and now sits at around $1.
As we can see, while it may be tempting to envision gains of a few hundred percent in the space of a few days, the reality is this is a losing proposition for the overwhelming majority of those who get tempted into playing. It remains the case that with these reverse-split rumor stocks, for most investors, the only way to win is not to play.
For those with a high-risk tolerance, shorting these stocks can be an interesting play, which is how I choose to participate. But such investors should make sure that they are aware of the risks of shorting.
At the time of publication the author was short CBAK and CLNT.
This article was written by an independent contributor, separate from TheStreet's regular news coverage.
Rick Pearson is a private investor focusing on U.S.-listed China small-cap stocks. Until 2005, Pearson was a director at Deutsche Bank, spending nine years in equity capital markets in New York, Hong Kong and London. Previously, he spent time working in venture capital in Beijing. Mr. Pearson graduated magna cum laude with a degree in finance from the University of Southern California and studied Mandarin for six years. He has frequently lived, worked and traveled in China since 1992.