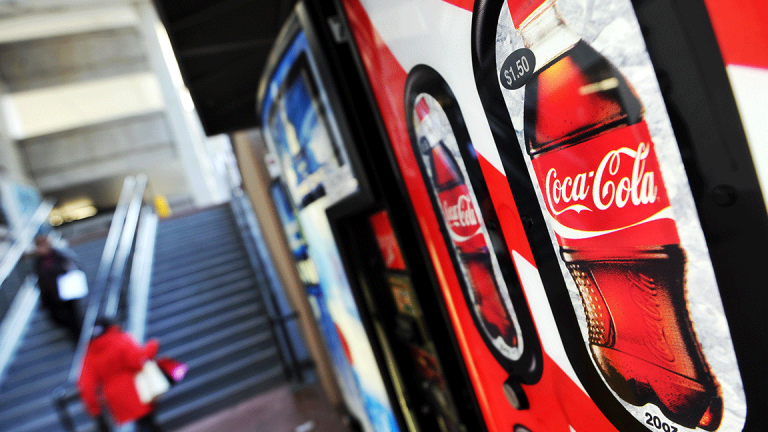 Coca-Cola Is a Better Stock Than Pepsi's, Goldman Sachs Thinks
In a 'spring rating shuffle,' Goldman Sachs analysts upgrade Coca-Cola and downgrade PepsiCo.
Investors haven't been all that hungry for consumer staples in 2018, but it's a different story for high-value beverage stocks, Goldman Sachs analysts wrote this week.
Consumer staples have largely underperformed the broader market so far this year amid increasing fundamental challenges and rising 10-year Treasury note rates, Goldman said. The Consumer Select Sector SPDR ETF (XLP) has fallen 6.6% year to date and Goldman's staples coverage is down 6.5%, compared to 0.2% gains among the broader S&P 500 in the same time frame.
Beverage valuation has been "more resilient," analysts wrote, given more favorable positioning in spite of retailer pushback on pricing and margins, rising commodity and freight cost and private label challenges. "We see the beverage group's premium valuation as mostly justified given industry characteristics that are more attractive versus secularly challenged US-center store food companies," analysts wrote.
Beverage companies have more channel diversification and are less reliant on food grocers, Goldman said. Plus, beverage categories have historically been less prone to threats from private label intrusion than other sectors. They also retain higher pricing power given a deeper level of market and brand penetration. The beverage space has more "breadth in terms of geographic exposure," Goldman added - the average international sales mix is 35% for beverages, whereas it's just 20% for food.
"We believe all these dynamics should drive higher top-line growth and more insulated margin structure for beverage companies vis-à-vis food companies in the U.S. over the next 12 months," Goldman said.
It's worth noting, though, that current valuations suggest room for another 8% to 12% downside for multiples if the 10-year yield continues to rise to between 3.25% and 3.5%. The 10-year yielded 2.84% Tuesday morning.
So far in 2018, Goldman found that convenience stores have underperformed relative to other outlets and alcohol sales have slowed some compared to non-alcoholic ready-to-drink beverages. But emerging markets improvement has benefited multinational corporations, particularly in Latin America.
With that, Goldman engaged in a "spring rating shuffle," repositioning its beverage coverage.
Analysts upgraded Coca-Cola European Partners PLC  (CCE) to buy on its commitment to deleveraging and capital allocation.
Goldman still rates Monster Beverage Corp. (MNST) as a buy given the global expansion of the energy drink category.
Analysts said the are "now more cautious on names with unfavorable grocer/retailer exposure where we still see downside to estimates (Dean Foods Co. (DF) , downgraded to sell earlier this week) and those losing share within categories/lack of catalysts (PepsiCo Inc. (PEP) )."
Goldman upgraded Coca-Cola Co. (KO) to neutral and downgraded Action Alerts PLUS holding PepsiCo to sell. Coca-Cola's organic growth profile looks to improve with 4% or more organic sales growth expected in 2018, whereas Pepsi looks "comparably soft" at 2% to 2.5% growth.
"We now view PEP shares as likely to underperform KO and our beverage coverage given continued share losses in beverage, lack of upside to [Frito Lay North America] estimates and limited strategic optionality near-term," Goldman said.