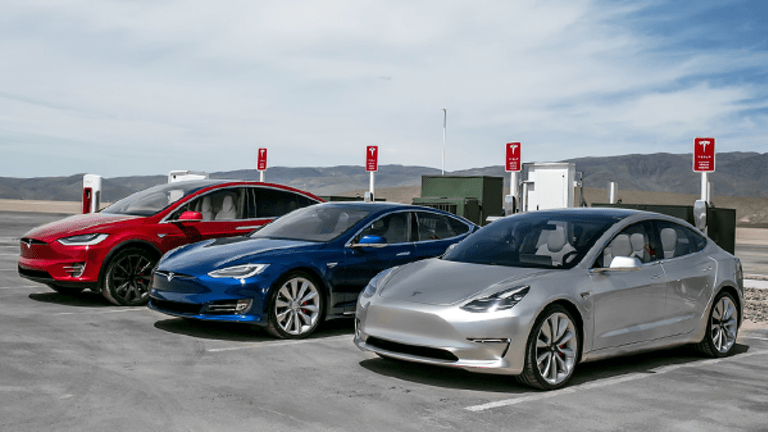 Betting Against Tesla's Future Has Been One of the Dumbest Moves Ever
The Model 3 keeps the momentum alive in this disruptive stock.
The Model 3 keeps the momentum alive in this disruptive stock.
If you're a short seller, the name "Tesla Motors Inc." (TSLA) - Get Report probably sends a shiver down your spine.
That's because Tesla has been the prototypical momentum mover since shares launched onto the public markets. Shares are up more than 70% year to date, stomping the broad market by comparison -- and shares are looking just as energized now as they did back at the start of the year.
That's a problem for short sellers. As I write, 21.9% of Tesla's float is currently being shorted, a big bet on a drop for a stock that's still hanging out just shy of all-time highs this summer. Shorts have trouble with the fact that Tesla's $61 billion market capitalization values the firm more than Ford (F) - Get Report or General Motors (GM) - Get Report despite shipping a fraction of the cars.
It's a hard pill to swallow.
Tesla is a disruptor -- and market participants have shown that they're willing to pay disruptive prices for shares. I had the privilege of visiting Tesla's California factory on a due diligence trip for my firm back in 2012. At the time, the very first Tesla Model S pre-production vehicles were rolling off the assembly line. Back then, the automotive world wasn't even sure if Tesla was able to pull off the technology, let alone a production car.
The amount of skepticism about Tesla was palpable.
And not much has changed, it seems. At least on Wall Street.
But the price action shows that you don't want to get in Tesla's way this summer.
Tesla's latest rally kicked off in earnest at the start of 2017. The good news is that you don't need to be an expert technical trader to figure out what's happening here -- the price action in this big automotive tech company is about as simple as it gets.
Tesla has been bouncing its way up and to the right all year long, rallying in a well-defined uptrend that's propelled shares higher on every successive test of trendline support down at the bottom of the trend channel.
Simply put, Tesla has been a "buy the dips stock" in 2017. And it's still one now.
The latest buyable dip in Tesla came at the start of this month, when shares pushed higher off of their trendline support level for the fifth time since January. If you missed that upward move in Tesla shares, the bull game plan is to pull the trigger on shares as close to the bottom of the trend channel as possible.
Meanwhile, shorts should take their losses before they get even bigger. Betting against Tesla hasn't been a smart move in recent years -- and it's not looking any smarter in 2017.
More of What's Trending on TheStreet:
This article is commentary by an independent contributor. At the time of publication, the author held no positions in the stocks mentioned.