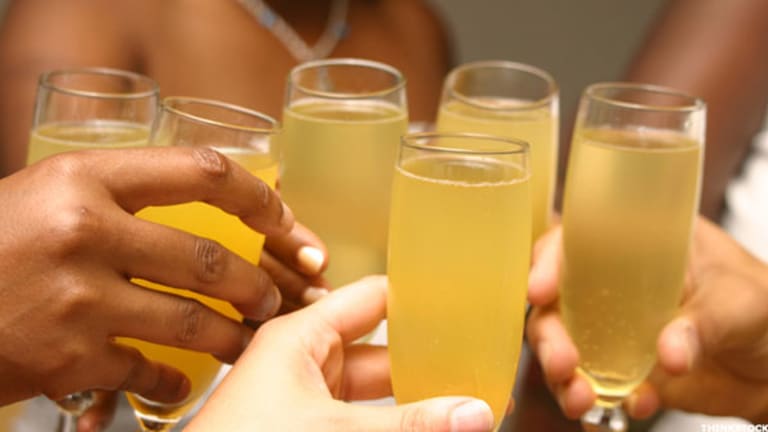 Best Wine Glasses for Gift Giving and Festivities
Selecting the right set of wine glasses can be a daunting task. We did the legwork and found some of the top glasses on the market.
Make your next soiree extra special with a brand new set of wine glasses that will give your next party considerable panache. Purchase an entire set or a unique pair for a romantic evening at home -- wine glasses can enhance your libation and set the mood for any evening, party or celebration.
Not only do sparkly wine glasses set the scene for a magical evening, they make the ideal gift for any wine enthusiast or pal who simply likes to partake in a little wine drinking. From whimsical and novelty glasses to elegant vessels to display and aerate the fermented delight of your choice, we found a number of wine glass styles to make any reveler smile.
Bormioli Rocco Restaurant Red Wine Glasses
Classic, elegant, but also affordable, no home or host should be without a set of these staple wine glasses. These glasses are ideal for guests at any dinner party and make the perfect housewarming gift for nearly anyone.
Each glass holds an 18-ounce drink and is made of desirable lead-free crystal, designed for durability and style. From Italy, the Bormioli Rocco Group has a rich history of glass design tracing back to Parma in 1825. These elegant glasses are dishwasher safe, perfect for any weary host who doesn't want to spend the end of the evening hand washing wine glasses.
Buy the Bormioli Rocco Restaurant Red Wine Glass Set of 4 for $25.00-$24.24 on Amazon
Royal 4-Piece Stemless Wine Glasses Set
Royal has outdone itself with this dazzling set of non-traditional wine glasses ideal for both red and white wines. For the host who wants to keep the party simple and reduce the possibility of wine glass stem breakage, these stemless glasses are both durable and easy to carry and hold during a party.
Dishwasher safe and easy to store, these stemless wine glasses support full-bodied flavor and maintain a consistent temperature, whether you are drinking a heady red at room temperature or a crisp white that needs to stay cool. Glasses hold 15 ounces and are elongated and shatter resistant.
Buy Royal 4-Piece Stemless Wine Glasses Set, Elongated and Shatter Resistant Glass for $29.99-$14.79 on Amazon

Good Day-Bad Day-Don't Even Ask Wine Glass
The quintessential best friend gift, the "Good Day-Bad Day-Don't Even Ask Wine Glass" is a novelty gift with a kick of humor. Arrives in a package of one, this hand-etched glass allows the imbiber to determine how much wine he or she desires based on their mood--good, bad or don't even ask!
Dishwasher safe and holds 12.5 ounces, this whimsical glass is presented in an individual box that can be wrapped on its own or integrated into a larger gift. Partner your glass with the recipient's favorite bottle of wine and other wine accouterments.
Buy Good Day-Bad Day-Don't Even Ask Wine Glass for $14.95 on Amazon
Partners in Wine Glass Set
Share your love of wine with another through this cheeky set of two "Partners in Wine" glasses. Celebrate wine night with a best wine-drinking buddy or give as a gift to your favorite couple, these glasses don't disappoint.
Glasses each hold 12 ounces and are appropriate for both red and white wine. While made of sturdy glass construction, the manufacturer recommends hand washing instead of running these gems through the dishwasher. Sturdy boxed packaging allows for each gift wrapping and giving.
Buy Partners in Wine Glass Set for $34.99-$14.99 on Amazon
Libbey 12-Piece Vineyard Reserve Wine Glass Set
Prestigious and heady, this complete set includes both red and white wine glasses that hold up to 18 ounces of white wine and 19.75 of red. These sturdy, dishwasher safe beauties should be a staple in any home or given as a housewarming or bridal gift.
Each set comes with six glasses for white wine and six glasses for your red, perfect to accommodate any wine tasting or dinner party. The stem base measures approximately 2 ¾ inches, so while they are dishwasher safe, placing them on the top rack is not recommended (unless you lay them sideways). Add a special touch and have these glasses etched with monogrammed initials or a saying when giving the set as a gift.
Buy Libbey 12-Piece Vineyard Reserve Wine Glass Set for $59.50 on Amazon
Riedel Ouverture Red and White Magnum Glass and Champagne Flute
For partiers looking for the whole enchilada of glassware, consider this set that includes four red magnum glasses that hold nearly 13 ounces, four white magnum glasses designed to hold almost 10 ounces and four champagne flutes for toasting almost 10 ounces of bubbly.
Made in Germany, these lead-free crystal pieces of stemware are dishwasher safe and a great deal for anyone looking to stock their bar with glassware. Riedel sells these glasses in separate sets but the Ouverture line allows the host to offer a wide variety of glasses to guests. This set makes for a fantastic gift, packaged with grand presentation in a large gift box.
Buy Riedel Ouverture Red and White Magnum Glass and Champagne Flute for $96.00-$79.80 on Amazon

LOL-OMG-WTF Stemless Funny Wine Glass
The measure of the amount of wine you imbibe may be directly influenced by the mood you bring to the table. The LOL-OMG-WTF stemless wine glass helps you match your mood to your pour by providing delineation lines for each of your changing states. Thanks to the clearly stated feelings on the glass, you won't have to announce how you are feeling--the glass does it for you!
Share with a coworker, friend or just treat yourself, this glass is fun, funny and downright functional. Each wine line level is sandblast etched into the crystal, so the glass is durable enough to withstand time in the dishwasher. This single glass holds 15 ounces of your favorite beverage and is made in the USA.
Buy LOL-OMG-WTF 15 oz Stemless Funny Wine Glass for $14.97 on Amazon
Libbey Classic White Wine Glasses
No home should be without this important staple, white wine glasses are perfect for use with not only wine, but also iced tea and other cold beverages. Sold in a set of four, these dishwasher safe, 14-ounce glasses are classic and durable.
These glasses are a perfect addition for any family or even bed and breakfast owners who must keep stock of wine glasses but constantly worry about breakage. The durability plus affordability factor make these glasses a fan favorite.
Buy Libbey 14-Ounce Classic White Wine Glass, Clear, 4-Piece for $18.00 on Amazon
Luigi Bormioli Set of 4 Romantica All-Purpose Stemmed Wine Glasses
Sexy and romantic, the Luigi Bormioli Romantica line adds flair and flavor to your wine drinking experience. The decorative glass-making craftsmanship allows for a smooth pour and enjoyable drinking experience. The etched design inside the glasses catches the light and color from the beverage, which enhance the experience for any wine lover.
Made from the sparkx machine blown process, these glasses are not only dishwasher safe, they are break resistant. The set of four glasses hold 13 ounces of red or white wine and can add interest to any table setting.
Buy Luigi Bormioli Set of 4 Romantica All-Purpose Stemmed Wine Glasses, 13-Oz. for $46.50-$33.33 on Amazon
Red Wine Glass By Ikea- Svalka Series
IKEA does it again with its streamline design, quality product and affordable elegance with these red wine glasses. The signature minimalist design, the Svalka red wine glass series provides stability, but also class to any dinner table or party.
These glasses are dishwasher safe, come in a set of six and are made in Sweden. This series is a great "starter" pack of wine glasses for a first time homebuyer, college student or ideal to stock inside your second or rental home. Great for everyday use!
Buy Red Wine Glass By Ikea- Svalka Series for $23.01 on Amazon
-- Written by Gina Ragusa