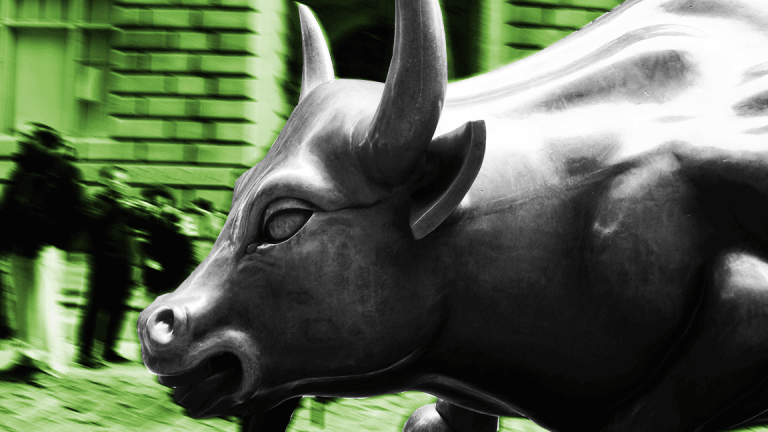 11 Stocks Our Experts Love for November
Top strategists say these names can give you plenty to be thankful for.
The bull is raging on so far in November. Will you grab it by the horns?
As indexes push for new gains time and again, here are some of the top picks of experts who partook in TheStreet's November Trading Strategies roundtable with Jim Cramer:
Liz Ann Sonders, Senior Vice President and Chief Investment Strategist, Charles Schwab & Co.
Sonders likes tech for its "growth at a not-so-unreasonable price."
"The tech sector is not trading out of whack relative to the overall market. That distinguishes it from 2000," Sonders said.
The market watcher also highlighted financials given their impressive net-interest-margin story. Plus, Sonders said market estimates for the number of 2018 Federal Reserve rate hikes will have to move up to meet the Fed's own likely plans of two to three increases next year.
Lastly, Sonders said health care is a "a bit of a value story." Cramer agreed that companies in the industry are "inexpensive" and "great growers," but said he's "afraid of health care" because "there's more risk ... than I've seen in a long time."
Gulfoyle agreed with Sonders on the value in tech.
"Don't sell your techs," he said, adding that investors should "focus on the semis -- ton of semis."
The stockpicker also said players should go long on energy "because you're probably underexposed right now, and I do think that this is a place for oil where it may take off. ... We have a shot at $58 [per barrel] here, honestly."
Guilfoyle said he personally likes Apache Corp. (APA) , an oil firm that reported a third-quarter profit earlier this week. He added that oil giant Schlumberger Ltd. (SLB) is "going somewhere," while Valero Energy Corp. (VLO) has done a good job of late.
Lastly the expert said that bank stocks "are undervalued."
John Eade, CEO, Argus Research
Eade said he looks for stocks with double-digit dividend growth "because it gives that signal -- that clean balance sheet focused on shareholder return -- plus an upbeat outlook for the market. ... The sweet spot on yield [isn't] the 4% yield, it's like 1.5% to 2%."
Using that criteria, some of Eade's top picks are Boeing Co. (BA) , Illinois Tool Works Inc. (ITW) and Stryker Corp. (SYK) . "What we like to see is five years of double-digit dividend increases," he said. "It's not a big subset of companies -- maybe 120 [or] 150," he said.
Jeff Marks, Senior Portfolio Analyst, Action Alerts PLUS
Marks said the team at Action Alerts PLUS, which runs Jim Cramer's charitable trust and VIP club for investors, likes to keep four mini-indexes -- a value index, an income index, a growth index and a blend index.
Among value stocks, Marks likes Citigroup Inc. (C) , which is inexpensive and one of the lowest-priced stocks in its sector in terms of price to tangible book value.
For income stocks, go with DowDuPont Inc. undefined  , Marks said. "Great quarter -- we think there's a lot of value to be had there, he said.
In the growth sector, Marks looked to Broadcom Ltd. (AVGO)  -- especially given its upcoming deal with Brocade Communication systems Inc. (BRCD) , which will serve as a "creator for the company."
And finally, for a blend holding, Marks pointed to Apple Inc. (AAPL) . "It's an investment, not a trade," Marks said. "We're high on the iPhone X. We think [the stock is] going to go higher."
More Trading Strategies for November
Our full November Trading Strategies report
Action Alerts PLUS,
which Cramer co-manages as a charitable trust, is long AAPL, APA, AVGO, C, DWDP, ITW, SLB.