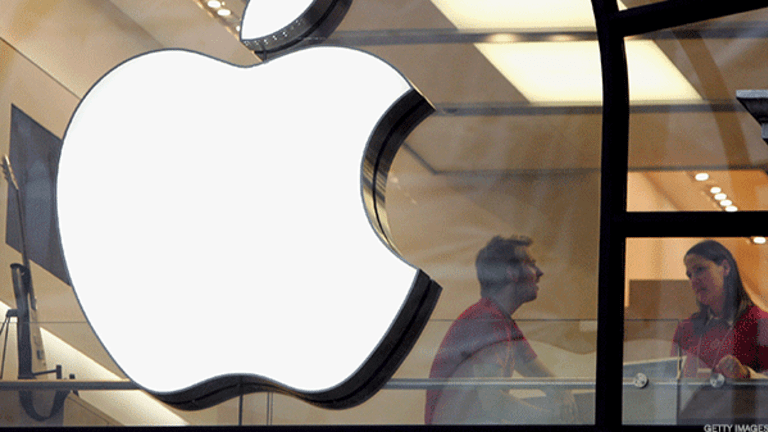 Where to Buy and Sell Apple Stock Once Correction Rocks the Stock Market
Apple has momentum as long as weakness holds these key levels.
Apple Inc. (AAPL) - Get Apple Inc. (AAPL) Reportappears poised to trade as high as my August risky level of $168.53 before Labor Day, even if the Dow Jones Industrial Average, S&P 500 and Nasdaq Composite end August with negative weekly charts.
There is a potential correction looming for the stock market, and Apple is often considered a safe haven during tough times for the market.
Apple closed Wednesday at $159.98, up 38.1% year to date and in bull market territory 53.7% above its post-election low of $104.08 set on Nov. 14. Other popular momentum stocks set their post-election highs between June 6 and July 27. Apple set its all-time intraday high and post-election high of $162.51 on Aug. 16. This shows how Apple can disconnect with other momentum stocks. Here's a scorecard for 6 momentum stocks.
To show how Apple has outperformed the major averages, the stock is above its semiannual and annual pivots of $156.68 and $151.69, respectively, as shown on its positive weekly chart below.
The Dow 30 failed to hold its semiannual and annual pivots of 22,127 and 22,041, respectively, and its weekly chart becomes negative, given a weekly close below its five-week modified moving average of 21,677.
The S&P stayed below its annual risky level of 2,537.9 and its weekly chart will be negative given a close this week below its five-week modified moving average of 2,443.36.
The Nasdaq traded well above its annual pivot of 6,253, but this level became a magnet on a weekly chart that shows declining momentum.
Apple has been above a "golden cross" on its daily chart since Sept. 2 when the stock closed at $107.73. The 50-day and 200-day simple moving averages are $150.73 and $137.04, respectively. A golden cross occurs when the 50-day simple moving average rises above its 200-day simple moving average, indicating that higher prices lie ahead.
Weekly Chart for Apple
Courtesy of MetaStock Xenith
The weekly chart for Apple is positive with the stock above its five-week modified moving average (in red) at $153.96. The 200-week simple moving average or "reversion to the mean" (in green) is $110.61. Notice the buying opportunity at the "reversion to the mean" between the end of April 2016 and the beginning of July 2016 when the average was $93.31. The 12x3x3 weekly slow stochastic reading is projected to rise to 69.28 this week up from 63.79 on Aug. 18.
Investment strategy: Buy weakness to my semiannual and annual pivots of $156.68 and $151.69, respectively, which are the horizontal lines. Sell strength to my monthly risky level of $168.53. Below $151.69, the quarterly and annual value levels are $114.74 and $112.56, respectively.
Watch the replay of Jim Cramer's full NYSE live show:
More of What's Trending on TheStreet:
Apple's Newest Products That Will Pummel Your Wallet Are About to Be Revealed
Ulta Beauty Is Tanking Because It Couldn't Live Up to Everyone's Expectations
This article is commentary by an independent contributor. At the time of publication, the author held no positions in the stocks mentioned.