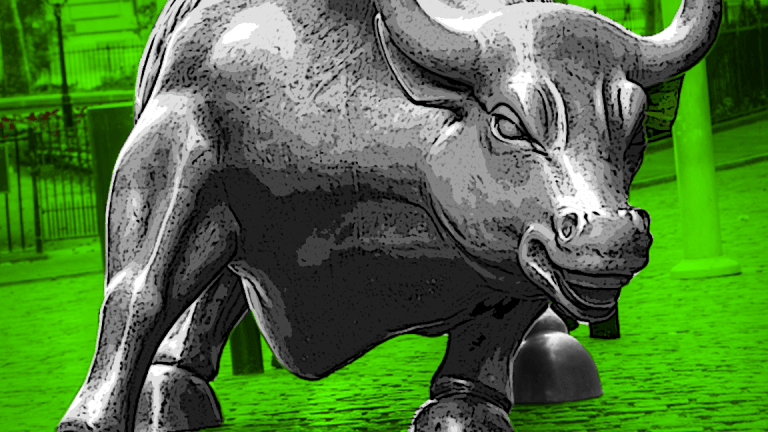 Here Are the Best-Performing Tech Stocks of the 10-Year Bull Market
A $100 investment in the top-performing tech stock since March 2009 would be worth almost $6,500 today. But the biggest gainers aren't just FAANG names.
The past decade's bull market has reaped some handsome rewards for investors, and investors in tech stocks have seen some of the biggest returns.
We're approaching the ten-year anniversary of what many consider the longest bull market in history. On March 9, 2009, the S&P 500 hit a low of 676.53, and -- despite a plunge in December 2018 -- the index has continued its climb, closing at 2,748.93 on Thursday, March 7.
"Coming off of the financial crisis, we've had the most accommodative interest rate policies from the Federal Reserve in the history of our economy," noted Patrick Healey, founder of Caliber Financial Partners.
Within the tech industry, low interest rates over the 10-year period have particularly favored high-growth names such as Netflix or Amazon, he added: "With rates historically low and when there's a recovery, growth names are always going to do better," Healey said.
Below are a few of the tech stocks across the S&P 500's information technology, communication services and internet retail sectors that have delivered the largest investor returns since March 2009.
The media giant was a pioneer in streaming, having led the way in a broader transition from cable entertainment to internet-centric delivery of content. Since shifting away from its original DVD rental format, starting in 2007, Netflix has exploded to nearly 150 million paid subscribers and its share price has grown to match, increasing a whopping 6,493%.
Having started as an online book seller, Amazon has evolved into a juggernaut spanning e-commerce, cloud services, advertising and healthcare, sending shudders through any industry it's even rumored to be entering. With a market cap of around $800 billion as March 7, it's also among the most influential stocks in the market, with the ability to drag other tech stocks in its wake. Since the beginning of the bull market in 2009, Amazon has produced a return of more than 2,600%.
Over the past 10 years, Expedia has carved out a valuable niche in online travel bookings across its conglomeration of sites, which encompass car rentals, flight aggregators, hotel bookings and more. It's rewarded its investors with a share price increase of more than 2,100% since March 2009.
Seagate's chairman and then-CEO, Stephen Luzco, is credited with kicking off a major restructuring at the data storage multinational starting in January 2009. Seagate has also benefited from a rapid evolution in data storage needs. Accordingly, its stock has increased approximately 2,100% throughout the market's bull run.
Long-term investors in Salesforce, an early leader in enterprise cloud software, have seen an increase in the company's share price of more than 1,900% over the course of the ten-year bull market. Its stock has been lifted by a broader shift by businesses to the cloud from on-premise software, as well as Salesforce's ever-expanding portfolio of service offerings.
Amazon and Salesforce are holdings in Jim Cramer's Action Alerts PLUS Charitable Trust Portfolio. Want to be alerted before Cramer buys or sells these stocks? Learn more now.