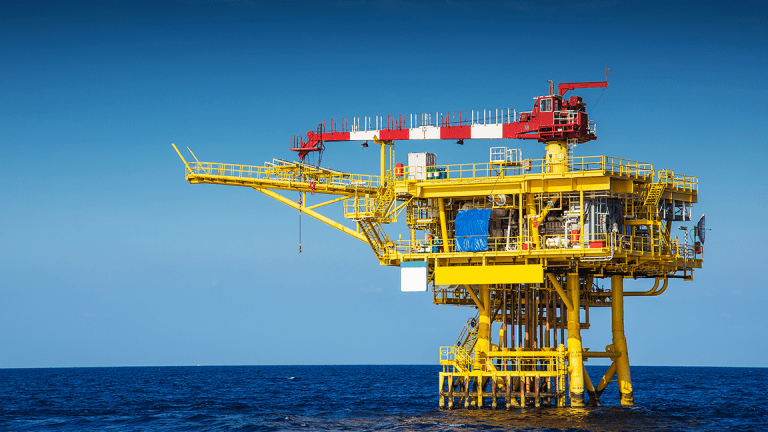 5 Stocks to Buy With Oil Prices Hitting Highs Again
These five companies are big buys as oil prices stabilize and sentiment improves on the sector.
Over the past three months, West Texas Intermediate crude prices have gained roughly 18% as a global supply overhang has dwindled and industry leaders have spoken in favor of extending production cuts across the globe.
In recent weeks, both Russian President Vladimir Putin and Saudi Arabian Crown Prince Mohammed bin Salman have voiced support for extending the current OPEC and non-OPEC production cut beyond March. The remarks, coupled with news that the Cayhan Pipeline, which connects Northern Iraqi oil fields to Turkey, has been shut due to weather, were playing a supportive role in crude benchmarks' improvements Monday.  
In early October, global oil inventories had fallen to under 200 million barrels above the long-term norm, according to KLR Group analysts John Gerdes and Gail Nicholson. That's a long way from mid-2016 when inventories were 400 million barrels above the five-year average. 
According to KLR, all the remaining excess inventory is likely domiciled in industrialized Organisation for Economic Co-operation and Development, or OECD countries such as the United States, which have significant refining infrastructure. 
KLR suspects the remaining inventory imbalance to be drawn down between the second quarter of 2018 and year-end 2018. The firm's 2018 price target for West Texas Intermediate crude is $56.25, while global benchmark Brent crude is expected to trade up at $60.25. 
But an extension of OPEC's production restraint through year-end 2018 is necessary if the industry hopes to normalize global oil inventories and see higher commodity prices, Gerdes and Nicholson warned. 
The firm expects OPEC oil production to average 32.5 million barrels per day this year versus 32.8 million barrels per day in 2016. To normalize global oil supply, KLR suggested OPEC must extend their production cut through year-end 2018 at its Nov. 30 meeting, and the so-called oil cartel's oil output would have to average 32.6 million barrels per day in 2018. 
Of course, there is always the concern that U.S. producers emboldened by a Nov. 30 production cut extension from OPEC will once again rapidly expand domestic production, as was witnessed in the first half of this year when the Baker Hughes undefined rig count soared from 664 rigs to 952 rigs. 
Nevertheless, as industry sentiment improves and oil prices remain stable above $50 per barrel -- a mark above which many U.S. oil producers can squeeze out some profits -- there are several names analysts are keeping on watch. Here are a few of our favorites: 
Andeavor
Energy industry watchers are bullish on the refining space, which is up about 10% since the end of the August, outperforming the S&P 500's 4% gain in the same frame, according to FactSet.
"As oil holds relatively steady above $50, the energy space has found some new legs," Barclays analyst Paul Cheng wrote in note on refiners earlier this month. "But in the case of the refiners, we think the shares may be in for a modest pullback in the coming weeks as several postponed turnarounds keep utilization at a seasonally high level, and as light product stocks likely build."
That being said, Barclays reiterated its positive sector outlook and acknowledged it would be a buyer on any potential dip in stock valuations across the board.
One of the favorite large-cap names among analysts at the moment is Andeavor (ANDV) , the newly named combination of former independent Texas refiners Tesoro Corp. and Western Refining Corp.
Tudor, Pickering, Holt analysts see "meaningful stock performance opportunity" in complex refiners over the next 12 to 15 months, the firm wrote in early October. Andeavor and Marathon Petroleum Corp. (MPC) - Get Free Report remain TPH's top large-cap complex refiner picks, while Holly Frontier Corp. undefined and CVR Refining LP  (CVRR) offer the most direct leverage to the widening spread between West Texas Intermediate crude and Western Canadian Select crude prices.
Another factor to keep an eye out, according to TPH, is the deteriorating Latin American refining operations, which may provide additional support for U.S. refiners.
Barclays's Cheng raised his price target on Andeavor to $121 per share from $118 per share this week. Barclays also sees a potential for investors to add to holdings of Suncor Energy Inc. (SU) - Get Free Report during the quarter for a potential upside surprise, while the firm feels Phillips 66 Co. (PSX) - Get Free Report has the most significant potential for a downside surprise in the near-term.
Andeavor's shares ended trading Friday, Oct. 27, at $105.74 apiece.
EQT Midstream Partners
Energy-focused research firm and investment bank Seaport Global Securities LLC is bullish on midstream energy infrastructure stocks in the final leg of 2017. Earlier this month, analyst Bernie Colson initiated coverage of 12 companies in the space with EQT Midstream Partners LP (EQM) - Get Free Report being among the shares he rates a Buy. 
In a recent research note, Seaport gave EQT Midstream a price target of $96 per share, which represents a 33% increase over the $71.87 closing price of EQT Midstream's shares Friday, Oct. 27. 
"In our view, EQM is an attractive combination of low risk and high distribution growth," Colson wrote. "Its assets are contracted fee-based and long term, and are located in the high-growth Marcellus."
The company follower also acknowledged that EQT Midstream's financial leverage is among the lowest of its peers, while its distribution coverage is among the highest. Moreover, the company has among the highest return on assets of its peers. 
"We acknowledge that a restructuring will become necessary as IDRs pull up cost of capital," Colson warned. "While we recognize this injects uncertainty into the investment case, we believe management will be proactive handling this issue and will do right by LPs."
Colson did not make note of the activism situation unfolding at EQT Midstream's sponsor EQT Corp. (EQT) - Get Free Report , with two of its largest shareholders raising concerns over the company's $6.7 billion deal for peer Rice Energy Inc. (RICE) - Get Free Report . 
But that situation could prove beneficial for the shares of EQT, given that both Barry Rosenstein of Jana Partners LLC and Quentin Koffey of D.E. Shaw & Co. LP have called for an immediate spin-off of the company's midstream assets and a simplification of the company's MLP assets, which will include both EQT Midstream and Rice Midstream Partners LP (RMP) once EQT's acquisition of Rice is complete. 
EQT Midstream's stock could improve as speculation over a potential spinoff, or a merger of EQT Midstream and Rice Midstream gains momentum in the first half of 2018 ahead of EQT's annual meeting in May. 
Other names Seaport suggests in the MLP space include Antero Midstream Partners LP (AM) - Get Free Report , Western Gas Partners LP (WES) - Get Free Report , and Noble Midstream Partners (NBLX) - Get Free Report . 
The firm is bullish on the midstream industry because it feels fundamentals are positive and valuation is attractive with yields driven higher by overwhelmingly negative sentiment. 
"We focus on total return and are positively disposed to companies with high future growth rates where we have high confidence in projections," Colson wrote. "We are willing to accept lower current distribution yields in order to own this type of investment."
Forum Energy Technologies 
Oilfield services company Forum Energy Technologies Inc. (FET) - Get Free Report  is well undervalued on the market as investors do not fully appreciate the capital light, free-cash-flow generating nature of the company, according to Tudor, Pickering, Holt & Co. analysts George O'Leary, Byron Pope, Taylor Zurcher and Eric Glenn. 
"We believe FET is well positioned to capitalize on the fundamental market tailwinds we see moving forward," O'Leary and company wrote in a recent research note. "The company has increased its exposure to completions, well count, stage count, lateral footage drilled, and production technologies (e.g., Artificial Lift). The company's increasing (and outsized vs. OFS manufacturing peers) U.S. onshore exposure will prove a benefit in the upcycle."
Considering Forum Energy produced $1.7 billion in revenues and $340 million in adjusted Ebitda in 2014, TPH estimates the company could produce between $300 million and $350 million in Ebitda by 2019 or 2020. If the company hits $300 million in Ebitda, TPH considers the stock to be worth $25 to $31 per share.
Even if the company makes just $250 million in Ebitda, roughly 75% of its 2014 earnings, the firm said it still believes FET should trade between $20 and $25. 
Forum Energy closed at $13.30 a share Friday, Oct. 27. At the intersection of TPH's conservative and optimistic estimate scenarios, a $25 stock price would represent a 88% premium over its current price point.
Newfield Exploration
Now may be the time to invest in Newfield Exploration Co. (NFX) as the company prepares to report third-quarter financial and production numbers, according to analyst Gabriele Sorbara of Williams Capital Group LP, who told TheStreet recently he rates NFX as his top upstream stock. 
"We believe 3Q17 results will drive an inflection point in NFX shares, as its Anadarko Basin oil volumes are on track to increase [greater than] 20% sequentially from 2Q17 levels," Sorbara wrote in early October previewing earnings. "In our view, and based on our conversations with investors, achieving 20%+ sequential oil growth in the Anadarko Basin should drive a re-rating from the current depressed levels."
Newfield Exploration's stock closed the Friday, Oct. 27, trading session at $30.10. Sorbara has set a $42 price target on the shares, which would represent a 40% premium over their most recent close. 
"In addition to the discounted valuation, our Top Pick status is based on its scale in the Anadarko Basin STACK/SCOOP with more than 350,000 net acres providing a deep inventory of 8,000+ gross locations (as of YE16) with expansion potential via tighter spacing and additional zones, as well as improving recoveries with its well outperformance."
Cheniere Energy
Houston-based Cheniere Energy (LNG) - Get Free Report is a play on the liquefied natural gas industry. Analysts at Tudor, Pickering, Holt initiated coverage of the stock this week with a bullish price target of $64 per share. Cheniere closed Friday's trading session at $45.80 per share, meaning TPH is looking for a 40% upside on this stock. 
The firm sees Cheniere's stock price as undervaluing its 20-year contracted trains by about 15% to 20%. And that's before considering the free upside from marketing, new development and the value of facilities after 20 years. 
The current stock price also only reflects about 80% to 85% of the discounted 7-train cash flow stream contracted with investment grade counterparties, according to TPH.
Tudor sees marketing outlook adding $4 a share and the 50% chance of a Corpus Christi Train 3 adding another $7 to the stock. 
But what gets Cheniere moving in the right direction? 
"We believe investors want some indication that the global LNG market is tightening and that US Gulf Coast LNG will be the incremental supplier," the analysts wrote in a recent note. "We are encouraged to see 2017 winter global LNG prices moving upwards as international utilities need to procure gas. With Cheniere as the market maker for spot LNG, healthier realized spot margins will give investors a reason to look at the LNG market again as the international market moves from oversupply towards undersupply."
More of What's Trending on TheStreet: