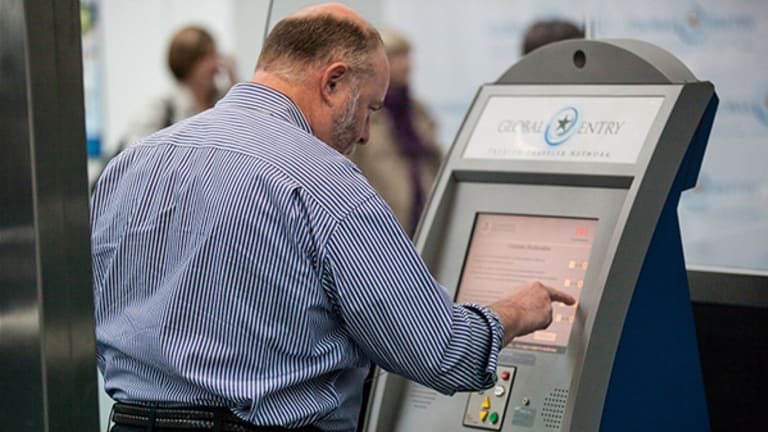 Passport Kiosks Best News in Years for International Air Travel
For years, long lines for customs often have greeted international airline passengers entering the U.S. This summer, airport passport kiosks will provide relief in about a dozen airports.
For years, long lines for customs often have greeted international airline passengers entering the U.S. This summer, airport passport kiosks will provide relief in about a dozen airports.
CHARLOTTE, N.C. (TheStreet) -- Good news is often overlooked, especially in the world of commercial air travel. It is so much easier to write about the complaints, which attract far more page views.
But it needs to be said that this summer's introduction of passport kiosks around the country seem to be solving one of the most annoying and longest standing problems of the airline industry.
For years, U.S. gateway airports -- those airports with international access -- have frequently been plagued by long lines of arriving passengers waiting for hours to get through customs inspection. Periodically these lines would be so long they would rise to the level of news stories.
In the 1990s, I wrote such stories for The Miami Herald and in the 2000s I wrote some for The Charlotte Observer, detailing the problems at Miami International and Charlotte Douglas International airports. Somehow Congress could never come up with the money to fix it. Good for newspaper stories, bad for airline passengers.
Now, amazingly, the problem appears to be being solved: Wait times are being reduced significantly. We do not have Congress to thank, but rather the technology that enables passport kiosks and the airlines who pushed for the kiosks and are generally funding them.
"Every airport that has installed them reports a sharp decline in wait times," said travel columnist Joe Brancatelli. "Clearly, it's good to have these kiosks; they end a lot of entry bottlenecks."
Two weeks ago, Charlotte Douglas and U.S. Customs and Border Protection unveiled 24 new passport kiosks. Officials said the kiosks would cut 10 to 15 minutes from the time required for the average arriving international passenger to move through customs, meaning the average time could drop to about 10 minutes.
This summer, US Airways, now part of American (AAL) - Get Report, will fly from Charlotte to 11 European destinations. (The airport serves about two dozen international destinations.) At times, nine international flights can arrive within one to two hours, said Dalia Ballester, American Airlines managing director for customer care. "There has not been enough capacity to get all those folks through," she said. The airport paid about $2 million for the kiosks.
Charlotte Douglas is among the 10 U.S. global gateway airports to get the kiosks in time for the summer travel season. A CBP spokeswoman did not respond to emails.
In the New York area, Kennedy International, the largest international gateway, has airport kiosks at two terminals, while Newark Liberty International, the fourth largest, expects to have kiosks next month. "New York metro airports are the busiest international passenger gateways in the country, and have suffered from the longest customs lines in the country for too long," said Joe Sitt, founder of the Global Gateway Alliance, which lobbies for airport improvements in the New York area.

"Global Gateway Alliance's customs wait times studies have shown that automated passport kiosks work, cutting wait times by almost half at the two JFK terminals in which they've been deployed," Sitt said, in a prepared statement. "Now it's time to bring these kiosks and proper staffing to all of the international arrivals terminals at New York and New Jersey airports."
Alliance director Stephen Sigmund noted, however, that "kiosks are only one part of the answer. The airports also need "more CBP manpower, smarter staffing (like allowing officers to move between terminals and not having them do back office administrative tasks) and enough money," he said.

Delta (DAL) - Get Report is paying for 190 kiosks to be installed at its hub airports by this summer. Included are 52 at JFK, 74 at Atlanta, 30 at Detroit, 14 at Seattle 10 at LAX and 10 at Minneapolis.  "Improving and speeding up the entry process for our customers has been a top priority for Delta," said CEO Richard Anderson in a prepared statement.
United (UAL) - Get Report too has paid for kiosks in its hubs and is eagerly awaiting kiosks at Newark and San Francisco.
"These kiosks have reduced wait times for customers arriving at Chicago O'Hare and in Houston, and we're excited to offer the same convenience to customers arriving in Newark," said United spokesman Luke Punzenberger. "Another important benefit is that our customers connecting in Newark can get to their connecting flights more quickly."
San Francisco International Airport, the premier U.S. hub for Asia, will issue a request for kiosk proposals next month and expects to have them in place next spring. "The goal would be to select a vendor to implement a total of 40 APC (automated passport control) units, split evenly between our two processing locations within Customs," said airport spokesman Doug Yakel.
San Francisco International has 82 daily international flights including 22 daily to Asia.
On a sour note, it has been a very long wait.  Here we will mention that on Thursday, Lee Moak, president of the Air Line Pilots Association, briefed reporters on an unseemly problem: Sometimes U.S. legislators and regulators -- inhcluding CBP --- act in behalf of foreign airlines at the expense of U.S. airlines.
Recently, a Customs and Border Protection pre-clearance facility opened in Abu Dhabi. The facility allows passengers to the U.S. to clear customs in Abu Dhabi. Yet no U.S. airlines fly to Abu Dhabi. Most Abu Dhabi passengers fly on Middle East airlines.
It appears that the State Department enabled the facility in return for unknown concession in other areas. "It's unacceptable when you arrive in the U.S. and your first experience is the two, three, or four or sometimes five hours you wait to transit customs because of the understaffing and mismanagement at CBP," Moak said. "It seems (to be) in the best interest of the airline industry and America to correct that problem first."
While Customs and Border Protection provides service in Abu Dhabi (Abu Dhabi provides 85% of the funding), it awaits congressional funding to add airport inspectors in the U.S.  Congress, however, has focused as usual on a hot button political issue, "protecting our borders," which, of course, primarily means the border with Mexico, rather than the airports that enable the vast majority of U.S. border crossings.
A recently approved bill funds 2,000 new CBP officers. About 55% of them will be on the Mexican border, and none will be deployed anywhere until next summer.
As for this summer, travelers at airports with passport kiosks will be the lucky ones.  
Written by Ted Reed in Charlotte, N.C.

To contact this writer, click here.
>>Read More: What's Wrong with United Airlines? A Little Bit of Everything.

>>Read More: American Air President: Don't Call Us 'Nickel and Dimers.'

>>Read More: Union President's Final Act: Organize Airbus, Ramp Up Boeing 777X