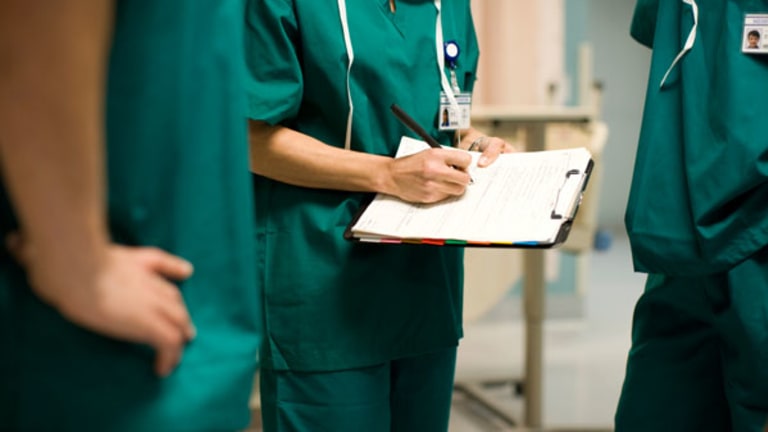 Best in Class: Why Tenet Is the Healthiest Play in Hospitals
Years ago, it was the laughingstock of the health care market. Today, Tenet's focus on quality and data transparency make it the strongest play in the hospital sector.
Years ago, it was the laughingstock of the health care market. Today, Tenet's focus on quality and data transparency make it the strongest play in the hospital sector.
NEW YORK (
) -- Back in July, a group of hospital leaders joined Vice President Joe Biden in announcing a big agreement. As a part of President Obama's larger agenda to remake health care in the U.S., hospitals agreed to contribute some $155 billion in Medicare and Medicaid savings over the next 10 years.
But the reason
why
says more about the hospital industry's current state. Growing unemployment means more uninsured. More uninsured means fewer people able to pay their hospital bills. So, in agreeing to cut Medicare and Medicaid costs, many hospitals are essentially making a bet that whatever health reform legislation passes will ultimately result in more insured patients able to pay their bills.
This episode demonstrates the realities of the for-profit hospital industry -- a heavily regulated sector with so much in flux. Debates may go back and forth about which company reigns supreme here, but an intriguing argument could be made for
Tenet Healthcare
(THC) - Get Report
, and not for the typical financial reasons. Instead, Tenet is the leading hospital operator that puts quality at the heart of its business model -- and may also be the one who understands its own company best.
There are, however, certain realities about Tenet that need to be recognized up front. The hospital operator, which controls around 50 hospitals and more than 13,000 beds in mostly urban locales, is still recovering from some of the darkest episodes in the company's history.
Beginning in 2002, a slew of government investigations struck at the core of Tenet's management. There were allegations that doctors were billing for unnecessary surgeries. Others alleged that the hospital operator was providing kickbacks to doctors in order to win Medicare referrals. Class-action lawsuits followed. There were issues with the Internal Revenue Service. Hundreds of millions of dollars in settlement money has been paid over the years as a result and more than a few Tenet executives were shown the door.
The reverberations were felt in Washington, D.C., too. Senator Chuck Grassley, who heads the Senate Finance Committee and looked into allegations of wrongdoing, wrote in a letter in 2003 that Tenet ''more than holds its own among the worst corporate wrongdoers,'' according to the
New York Times
. ''Tenet appears to be a corporation that is ethically and morally bankrupt.''
Financially, the hospital industry as a whole began a steady downturn after 2003. During that stretch, Tenet sold off a number hospitals, posted losses and missed some estimates.
To make matters worse, when Hurricane Katrina hit land in the summer of 2005, Tenet had six hospitals and a healthy chunk of its workforce stuck in the hurricane's sights.
More recently, industry stalwarts like
Community Health Systems
(CYH) - Get Report
,
Universal Health Services
(UHS) - Get Report
,
Healthsouth
(HLS)
and
LifePoint
(LPNT)
continue to be battered by the current economic recession. Besides the pressure from unemployment, narrowing state budgets have led to shrinking reimbursements, while inpatient volumes have dipped for many.
Despite it all -- or perhaps because of it all -- Tenet began to find its soul. Today, many observers agree that Tenet holds the title of most improved in the hospital sector, and may be the one best poised for the future.
"It's almost exceptional that they're still standing," Deutsche Bank analyst Darren Lehrich said. "They're now in a position to come out as a much stronger company."
"They're making progress, but they do have a ways to go," Soleil Securites analyst A.J. Rice added. "They still have upside to be realized."
Narrow margins, heavy debt, cash flow issues and profitability still remain needling problems for the company, but Tenet has improved on many financial fronts, too. In its second-quarter earnings announcement, Tenet perked up investors with its recent cost-cutting moves, while also bumping up its full-year profit forecast before taxes, interest, depreciation and amortization to between $810 million and $875 million. Tenet shares have gained nearly 275% since the beginning of the year.
And more than a few people have noticed that Tenet has slowly made its move from also-ran to industry leader in more than a few ways.
The company began restoring its reputation, in part, by focusing on quality. It may seem like an intuitive move for a hospital; they are, after all, supposed to care about these things. But considering the wide range of what passes for "quality" among the various hospital operators, the move was anything but intuitive.
But there was a bottom-line motive for the move as well. As its quality and care metrics improve, Tenet can better recruit doctors who are searching for well-run operations and facilities to call home.
"You can't attract doctors if you kill patients," CRT Capital analyst Sheryl Skolnick said. "It's that simple."
To that end, Tenet pioneered the usage of incentive-based contracts with managed care operators that align payments with better quality and clinical outcomes. So, when Tenet turned its eye to improving patient mortality, care, waiting times and treatment of certain diseases rather than strict financial engineering, a funny thing happened -- so did everyone else. Now, Tenet is the undisputed leader in quality care.
"They've gone from being a laughing stock to being a model for their peer group," Skolnick said.
Still, Chief Operating Officer Dr. Stephen Newman is a little disappointed that the slew of quality awards for its hospitals hasn't immediately led to more steerage to those hospitals from managed-care providers. Despite that, Newman claims he can see the apogee coming.
"We believe the big payoff is in the future with the federal government doing value-based purchasing and true pay for performance that results in tiering and steerage to those high quality organizations," Dr. Newman said.
Still, to make these improvements, Tenet had to start by analyzing everything about itself. Unlike a company like
Toyota
(TM) - Get Report
, hospitals aren't exactly known as managed operations that work to maximize efficiencies.
But Tenet understood that in order to improve something, you have to measure it. So, starting in 2004, Tenet began a relentless focus on data gathering. And it's this focus on data collection that has left most observers keenly impressed. Just as the Centers for Medicare and Medicaid Services began collecting and offering comparative data for the hospital industry as a whole, Tenet began tracking its own data internally. That, in turn, allowed Tenet to make changes and improvements quicker than its competitors.
"There, I'd say they're a couple of years ahead of the hospital industry as a whole," Leerink Swann analyst Jason Gurda said.
Of course, analyzing metrics is one thing. Making them transparent and available is another thing all together, and that transparency further sets Tenet apart. To garner a quick feel for what makes the company different, compare Tenet's 10-K or other public disclosures to any of the other hospital majors. Tenet gives intimate and unusually detailed financial portraits on its mix of patients, collection rates and accounts receivables, just to name a few.
Dr. Newman explained that the company's internal metrics are so highly tailored that Tenet can even predict the likelihood of breast cancer in a particular zip code 10 years out. As a result, it says, it can allocate and distribute resources at the right place and at the right moment.
"There is no publicly traded hospital company that shares publicly near as much information as we do," Dr. Newman said. "We're not afraid of that sort of transparency. We embrace it."
"It increases your confidence that they really know where their business is -- that there isn't any metric that they could be measuring that they're not," Skolnick added. "And if you know where your business is, if you're measuring it, that means typically you can manage it and manage it better."
Historically, Dr. Newman says that the federal government underpays to provide high quality care through Medicare, leaving Tenet and other hospital operators little left over to buy new equipment. Tenet noticed that Medicare patients were growing fastest in the largely urban populations that the operator services. As a result, Tenet is now installing a new "Medicare Performance Initiative," meant to drive down costs and eliminate duplication in the system.
"This is where I think the innovation of the company is going to be over the next five years," Lehrich said.
Only time will tell what health care reform legislation will look like. But it is telling that Tenet's explicit commitment to quality, emphasis on metrics and cost-cutting are already so philosophically aligned with proponents of health care reform. With some type of health care reform presumably coming -- and the potential for many more to be added to a Medicare-style payment plan -- cutting costs and wastes in the current system will likely be more important than ever.
"It's a critical part of our strategy going forward," Dr. Newman added.
In other words, Tenet may still have a ways to go as it continues its turnaround, but setting industry standards, aligning profit and care and producing innovative programs is a good start.
-- Reported by Sung Moss in New York
Copyright 2009 TheStreet.com Inc. All rights reserved. This material may not be published, broadcast, rewritten, or redistributed.