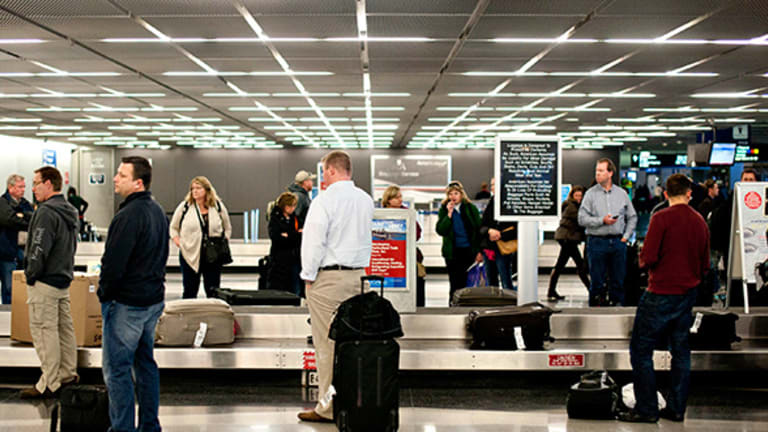 Best Garment Bags for Wrinkle-Free Travel
Choose the right garment bag, and you'll be set to dazzle on arrival.
When traveling either for business or pleasure, you'll likely want to take along at least one nice outfit. Pack that outfit into a standard piece of luggage and chances are that it will be a wrinkled mess when you arrive to your destination. Pack it into a garment bag, however, and your tux, suit or dress will look like you just picked it up from the dry cleaners.
When packing your garment bag, place items onto a hanger, just as if you were dressing yourself -- shirts and pants first, then sweaters, then suit coats. Use hangers with pant rods to keep items from sliding off. This works well for scarves and ties as well. Button or zip all of your clothes as this will help sliding and shifting. Also, stuff sleeves with tissue paper or clothing items like socks and underwear to help prevent creases from forming. You can also try turning suit coats inside out to help keep wrinkles at bay. Lastly, slip clothes in plastic bags such as dry cleaner bags. This will keep them from sliding against each other rather than bunching up.
Take those few steps, choose the right garment bag, and you'll be set to dazzle on arrival. Here are some great garment bags worth considering.
Tumi Alpha 2 Carry-On 4 Wheel Garment Bag, $695
If there is a Cadillac of garment bags, it would have to be this one from Tumi -- and it's got the price tag to prove it!
For your investment though, you get a garment bag that people simply rave about. It's rugged, with a ballistic nylon construction and heavy-duty zippers. It also rolls beautifully, with four independently moving wheels.
In addition to the usual hanger grabber inside, the Tumi Alpha bag also has two removable pouches that work well for toiletries or jewelry. Exterior pockets are ample enough to store shoes or your casual clothes. All of that storage also fits in a space that's small enough to easily make this bag a carry-on candidate.

Get the Tumi Alpha bag on Amazon now
LAT_56 Red-Eye Carry-On Garment Bag, $299
Another garment bag that is well worth the investment is the LAT_56 Red-Eye Carry On Garment bag. This bag was built with the businessperson in mind, boasting a patented system that allows for rolled up suits to come out crease free.
This bag is compact, yet internally roomy, with an additional kit chamber that provides space for dress shoes and accessories. Its unique rectangle shape and hard body make it an ideal companion for long airplane trips.
Like many of the other bags, the strap on the back allows it to be easily attached to rolling luggage. It's carry-on approved, and surprisingly lightweight.
Need a hand-carry to match? LAT_56 makes this high performance holdall, with a detachable wet/dry bag to separate your dirty kit from the rest of your belongings.

Samsonite Silhouette Sphere 2 Softside Deluxe Voyager Garment Bag, $209.95-$329.99
This offering from Samsonite is certainly a hard-working garment bag.
It features split spinner wheels, which help it maneuver easily over tough terrain. The fabric from which it's made is super-tough nylon, and there's a padded gel comfort handle and hidden ID tag pocket. Two large zipper pockets up front create significant space for storage.
Inside, the bag has a flip-out panel with three pockets for even more storage plus a rubber clamp that holds your hangers tightly in place. A true standout feature of this Samsonite bag is that it stands up on its own when it is unfolded and opened. Be aware, though, that this bag is quite large so it needs to be checked rather than carried on.
Get this Samsonite Silhouette Sphere 2 on Amazon now
Samsonite Luggage Lift Carry On Wheeled Garment Bag, $93.04-$189.99
This is a garment bag for those who take their luggage seriously. In typical Samsonite style, the bag is made from super strong material with extra-durable zippers. Plus, it's got wheels and a telescoping handle to make it easy to maneuver through airports and airplane aisles.
The bag lays flat when open and has a clamp to hold your hangers. There's also compression straps to keep things from moving around too much and at the bottom of the inside of the bag is a sleeve that holds two clear plastic toiletry pockets. Your clothes slip behind the sleeve which also helps keep them in place.

Get this Samsonite Garment bag on Amazon now

WallyBags 52 Inch Garmentote Tri-Fold with Shoulder Strap, $136.32
Another tri-fold offering, this one fastens together with sturdy clips on the outside of the bag to keep things secure.
The inside of the bag is lined and has two removable roll bars which help keep everything in place as you travel. There is also a WallyLock clasp that keeps your hangers in place. On the outside of the bag, you'll find large padded pockets for shoes and other items that don't need to hung.
Because this bag is a tri-fold, it compresses down to a size that lets it work well as a carry-on bag.
Get this WallyBags 52 Inch Garmentote on Amazon now
Travelpro Luggage Maxlite3 Garment Bag, $80.81
When a garment bag doesn't have wheels, it means you'll be spending a lot of time carrying it, which means it should be as light as possible.
At just 4.5 pounds, this super lightweight Travelpro bag barely adds any weight to your clothes, yet is made from extremely durable polyester with a stain-resistant coating.
It has a variety of different pockets to hold everything you need for a quick trip away and an ample shoulder strap for easy carrying.
Get this Travelpro bag on Amazon now
RuMe Tri-fold Garment/Clothing Travel Organizer Bag, $60.00
While many garment bags are meant to serve as stand-alone pieces of luggage, this one is meant to go inside another suitcase.
Why stow a garment bag in another piece of luggage? Because it will help keep all your clothes organized and wrinkle free. And, if you're a frequent traveller, you can keep this packed with your work clothes and just throw it in a suitcase when it's time to hit the road.
In addition to having a large compartment for hanging clothes, this RuMe bag also has a set of packing cubes attached on the inside, which help you stay organized and let you fit more clothes into less space while keeping things from sliding around and wrinkling.
Get the RuMe bag on Amazon now
Mercury Luggage Executive Series Tri-Fold Garment Bag, $54.99
All of the other bags in this list so far fold in half when you're done packing them. This one from Mercury Luggage folds in thirds and still manages to keep your clothes wrinkle free.
When folded down, the bag measures just 20.75 inches high and 42 inches wide, so it's easy to carry around -- especially with the included shoulder strap.
Two front pockets allow for easy access to passports or other necessaries while navigating your way through the airport.
Get the Mercury Luggage Executive Series Tri-Fold Garment Bag on Amazon now

Olympia Deluxe Garment Bag, $49.02
This bag from Olympia comes across as a mash-up between a garment bag and a briefcase.
The main compartment is an extra-roomy space to store your clothes. It can easily hold a suit, three shirts, two pairs of slacks and two formal dresses with room to spare.
The front zipper pocket is a convenient place to store pens, paper and other incidentals you might need for business. A strap across the back makes it easy to secure the bag to the handle of your rolling carry-on and a shoulder strap makes it easy to carry if you're lacking a rolling bag.

Get the Olympia Deluxe Garment Bag on Amazon now

WallyBags 45-Inch Extra-Capacity Garment Bag with Pockets, $47.59
In the world of garment bags, the major distinction are those that can be rolled and those that are carried. This lightweight bag from WallyBags falls into the second category, but it does have a unique wrap-around velcro closure that makes it possible to attach to your wheeled carry-on luggage.
Inside, the bag uses the unique WallyLock system that clamps around your hangers to keep items from shifting around.
Once the WallyBag is packed, it folds in half and has two handles that come together for easy carrying. There are also large pockets on the outside for shoes or more casual clothes. The bag can hold about three men's suits and loads from the side, so there's no need to shove your clothes in through a small opening in the front.

Get the WallyBag on Amazon now

World Traveler 40-Inch Hanging Garment Bag, $13.07-$44.99
If you're a woman who cares not only about the style of the clothes you travel with, but also the luggage you pack them in, this garment bag from World Traveler is for you.
The bag comes in 30 different styles ranging from a black and white zebra pattern to a multi-colored peace symbol pattern.
There are pockets on the inside of the bag that could keep fragile items protected and a convenient hook that hangs the entire bag up when you get to your hotel room.

Get the World Traveler 40-Inch Hanging Garment Bag on Amazon now
-- Written by Michael Franco

Disclosure: TheStreet has advertisers and partnerships; we may get a share of the revenue from your purchase.