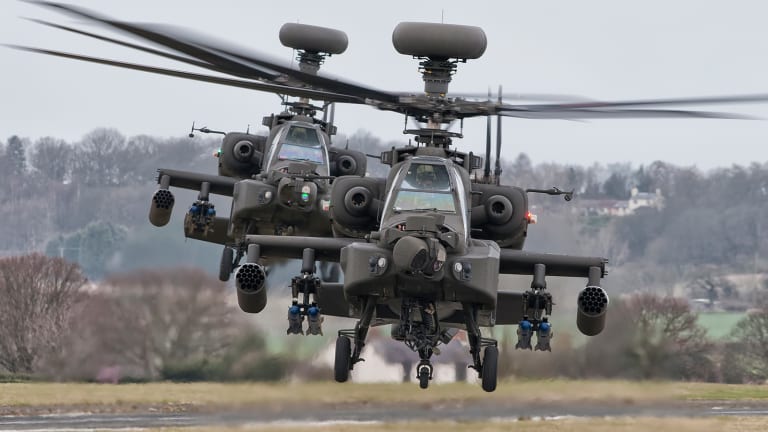 The Most Amazing Innovations in Our Country Are Happening at 2 Defense Giants
Why our Trading Strategies panelists like Lockheed Martin, Northrop Grumman and Kratos Defense & Securities Solutions.
Defense stocks are putting gains in the crosshairs, and experts on our monthly Trading Strategies roundtable like Lockheed Martin Corp. (LMT) , Northrop Grumman Corp. (NOC) and Kratos Defense & Security Solutions Inc. (KTOS) in the space.
The iShares Dow Jones U.S. Aerospace & Defense ETF (ITA) has added some 25% year to date, in part on expectations that President Trump will prioritize defense spending in the federal budget.
"We've got the defense portion of the federal budget starting to rise. I think it's a real good opportunity for that group," John Eade, Argus Research's CEO and portfolio-strategies director, said during our November roundtable of top market watchers.
Eade joined Jim Cramer, Charles Schwab Chief Investment Strategist Liz Ann Sonders and Stocks Under $10 co-manager Stephen Guilfoyle on the roundtable. Defense stocks that panelists liked included:
Lockheed Martin and Northrop Grumman
"Probably some of the greatest innovations in our country are happening at Lockheed Martin and Northrop Grumman," said Eade, who favors both stocks. Lockheed is up some 14% year to date, while Northrop has added roughly 27%.
Cramer added that Action Alerts PLUS, his VIP club for investors, recently put Lockheed on its watch list of stocks to track for possible future purchase.
But Guilfoyle said he recently sold his Lockheed stake when the name hit his price target. "I do want to be in Lockheed going forward, but I think I can probably get it closer to $300 than it is now [about $310 a share]," the stockpicker said.
Kratos Defense & Securities Solutions
Cramer and Guilfoyle both like Kratos, which has surged some 36% since 2017 began.
"I've always loved Kratos," Guilfoyle said.
Kratos did pull back this spring after the company announced a secondary stock offering, but Cramer said secondary offerings aren't always bad in a hot market. "In a bull market ... a secondary can be bullish, [because] institutions just can't get enough" of a stock, he said.
And while Kratos' earnings and cash flow are still negative, prospects of a takeover have buoyed the stock. Northrop Grumman inked a deal in September to acquire Kratos' rival Orbital ATK Inc. (OA) for $7.8 billion, making KTOS a possible takeover target.
"A lot of folks thought after the takeover of Orbital that Kratos was a likely candidate, [but] then nothing happened," Guilfoyle said. "So, I did take about 35% off in Kratos."
Click here to watch a replay of the full roundtable. Or, click below to read more of our special November Trading Strategies special report on how to play markets this month:
Our full November Trading Strategies report