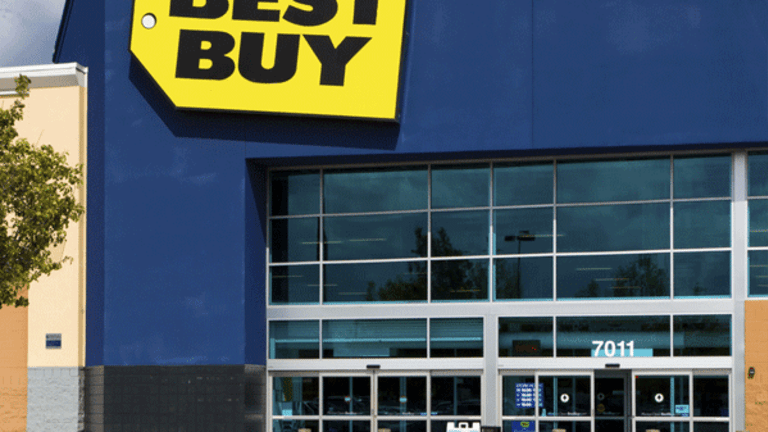 Best Buy Stock Plunges Ahead of Investor Day...Again
Best Buy shares dropped nearly 9% midday.
Best Buy Co. (BBY) - Get Free Report stock is tanking, but CEO and Chairman Hubert Joly claims to be unfazed, as this is nothing new.
"We're interested in the daily fluctuations of the share price, but our management team, as shareholders would like us to, is focused on long-term performance," Joly said on a company media call Tuesday, Sept. 19.
Best Buy's investor day is set to start at 2 p.m. EDT on Tuesday, but midday, shares dived around 8% to $52.64 on disappointing revenue guidance.According to Joly, before its last shareholders conference five years ago, the stock tanked then, too.
"Let's rewind five years," Joly said on the call. "We had to delay our investor day by 12 days because of [Hurricane] Sandy. Second, in the four weeks following our investor day last year, the share price went down 20% and see what we've done."
Earlier on Tuesday, the electronics retailer released 2021 sales guidance of a mere 1.5% compound annual growth rate from 2017. For the 2021 fiscal year, Best Buy expects revenue of just $43 billion, compared to $39.4 billion in fiscal 2017.
Joly said he is confident in Best Buy's long-term growth plans and its earnings per share 2021 outlook of an 8% to 9% compound annual growth rate from 2017. But, as competition intensifies, Best Buy prefers to stay cautious on its sales expectations, Joly added.
In July, reports circulated that e-commerce behemoth Amazon.com Inc. (AMZN) - Get Free Report was forming its own tech services unit to rival Best Buy's Geek Squad.
Best Buy released additional information on its 2020 growth, "Building the New Blue," on Tuesday, too. Under the plan, the retailer said it will remodel all of its stores to include a designated smart-home area; launch its Smart Home by Vivint home automation and security offering to 450 stores and hire 1,500 dedicated smart-home employees.
The company also began testing Assured Living in two markets, a tech service that allows adult children to keep an eye on their elderly parents, and launched Total Tech Support in 200 U.S. stores, allowing customers to bring a product to Geek Squad no matter when or where they bought it.
Read More of What's Trending on TheStreet: