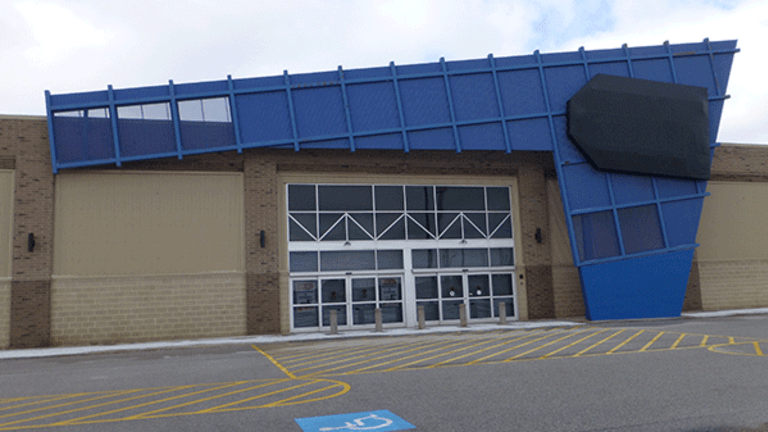 Best Buy Slows Closures as Stores Seen Key to Digital Shopping
The size of the retailer's store base continues to slowly melt.
Best Buy (BBY) is methodically shrinking its store base in the U.S. as it tries to operate more efficiently in the age of digital shopping. Unlike competitors such as Sears Holding Corp. (SHLD) and Macy's (M) , though, the closures come with little hype and from a position of strength.
The electronics retailer said Monday it will close two Baltimore-area locations that employ a total of 120 people, after closing one large box store and four Best Buy Mobile stores earlier this year. Last year, Best Buy closed 13 big box stores and 17 Mobile stores in the U.S., according to the company's store count data. At the end of the second quarter, it had 1,397 stores in the U.S., down from a peak of 1,503 stores in 2013.
The main reason why Best Buy hasn't gotten more aggressive with stores closures is because it simply doesn't have many unprofitable stores - in fact, it's the main electronics-only retailer left standing in many communities. If a person wants to touch and feel a new electronics product such as a watch from Apple (AAPL) , and learn how to use it, a trip to Best Buy is often the only option following the Circuit City bankruptcy. Further, Best Buy's stores have become one of the top destinations during the U.S. housing recovery for major appliances.
"We do not have a list of stores that have negative cash flows, or significant issues with -- so, that's the great news -- we don't have a story to tell about our portfolio that is not performing," former Chief Financial Officer Sharon McCollam told analysts in a call last August. There is support for McCollam's assertion: excluding one-time items, Best Buy has been profitable every year since 1991, according to Bloomberg data, even in face of the disruptive shift to online shopping.
Apple is a holding in Jim Cramer's Action Alerts PLUS Charitable Trust Portfolio. Want to be alerted before Cramer buys or sells AAPL? Learn more now.
Best Buy has been quiet with its store closures.
Another reason for keeping stores open is that brick-and-mortar plays a critical role in digital shopping. About one-third of Best Buy's online orders are picked up in its stores, McCollam said during a call in May of this year. Best Buy's U.S. online sales spiked 23.7% during the second quarter, with execs attributing the gain to faster delivery times, among other factors.
Looking at physical stores as a vital link to online customers is also a theme at department store retailer J.C. Penney (JCP) , which like Best Buy has been reluctant to close hundreds of locations.
J.C. Penney reiterated recently that it will close seven under-performing stores this year in a bid to cut costs. Once the locations are closed, J.C. Penney will have about 1,013 stores left open.
"Leaving stores open helps to lower delivery costs for customers," J.C. Penney CEO Marvin Ellison told analysts during an Aug. 12 presentation.
One way J.C. Penney has sought to lower delivery costs is by launching a buy online, pick-up in-store same-day capability this year similar to the one available at Best Buy. The option will be available chain-wide by the end of August.
Ellison also believes about 50% of online sales touch a store in some way. For example, a person may see a couch or a pair of sneakers they like while visiting a J.C. Penney store, but will then head home to price check the product with those found at rivals. If J.C. Penney ends up having the best deal, the consumer may choose to buy the item from its website.
If the local store isn't there, a sale could be lost.
Sears doesn't seem to care if it loses out on sales by closing a store.
By contrast, some competitors to Best Buy and J.C. Penney seem OK with losing a sale due to no longer having a store open in a given area. For them, it boils down to protecting cash and the bottom line due to a stretch of weak sales.
Sears, which hasn't had a profitable year since 2010, has closed about 80 stores this year, according to calculations done by TheStreet, of which about 58 have been Kmart stores and the rest Sears stores. Back in May, executives said it would close an additional 117 stores, putting it on pace for about 170 store closings this year, so figure about another 90 still to come.
Sears operated 1,592 total stores at the end of the second quarter, down from 1,702 the year earlier. Clearly, shedding stores hasn't helped stop the bloodletting in Sears' cash pile. Cash and equivalents declined to $276 million during the second quarter from $1.8 billion a year ago. As a result, Sears was forced to borrow $300 million from CEO Edward Lampert's investment vehicle ESL Investments.
At Macy's, it plans to close 100 stores by early 2017, or almost 15% of its current 728 locations. The company, which has been profitable despite a spell of tepid sales, will take the savings from operating these low-volume stores and reinvest them in its top-performing locations.
"The way we are looking at this right now is that knowing that you can service your customer on the Internet [in major metro areas] you don't necessarily have to be in weak malls," Macy's soon-to-be CEO Jeff Gennette explained to TheStreet in a phone interview.
 In the end, it's kind of hard to imagine Amazon's (AMZN) Jeff Bezos isn't laughing at all of these tough calls his store-loving retail counterparts are being forced to make. Unlike his bricks and mortar rivals, Bezos and company could just focus on product innovation and getting the latest and greatest TV or pair of pants to people as fast as possible.