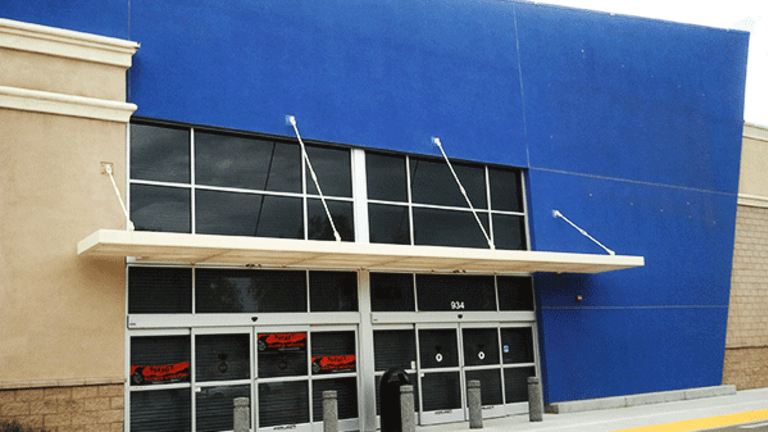 Best Buy's Geek Squad Is a Mess According to Customer Reviews, Opening the Door for Amazon's Entry
Ugly.
Best Buy Co. Inc. (BBY) - Get Best Buy Co., Inc. Report should be even more terrified of Amazon.com Inc. (AMZN) - Get Amazon.com, Inc. Report .
On Monday, July 10, Recode reported that Amazon is quietly posting job notices and hiring IT professionals for its own in-home electronics repair army, to rival Best Buy's Geek Squad. The service has already been rolled out to seven markets.
"Today's news reflects what we know: Consumers love technology but frequently need help getting the most out of it," a Best Buy spokesman said in an email to TheStreet. "We are excited about the range of initiatives we have previously announced that do just that and feel uniquely positioned to serve consumers by offering products, services and support wherever the customer wants it, including in one of our 1,000 stores, on BestBuy.com and in homes millions of times a year."
To be sure, Amazon's test service currently is only being used to help customers set up a "smart home," which means certain utilities like heating and lighting can be controlled by an app. Best Buy's Geek Squad offers a wide range of services including smart home installation, appliance repairs and wearable technology support.
Still, if Amazon decides to expand its service, Best Buy should be wary, not only because the e-commerce behemoth essentially crushes every competitor it faces, spanning retail to tech, but because the Geek Squad, judging by how many customer complaints it's racked up in the last few months alone, has some serious glitches to work out. And it shows in the business' sales results.
Watch More: How to Invest in a Franchise That Amazon Cannot Kill
For its most recent quarter, Best Buy's same-store sales for its services segment, which includes Geek Squad, were up a tepid 4.2%, compared to the year ago period when they plunged 10.7%. According to Best Buy's annual report, its services business is comprised of consultation, design, delivery, installation, set-up, protection plans, repair, technical support and educational classes.
TheStreet sifted through Geek Squad's reviews on ConsumerAffairs. The service had a one-star rating on the site and nearly all of the reviews were negative. Best Buy's spokesman declined to comment on the reviews.
Amazon Could Have Gone on a Retail Shopping Spree Instead of Buying Whole Foods
Don't miss these top stories on TheStreet:
J.C. Penney Won't Die, So Buy Its Stock
Amazon's Instant Pickup Service Shows Clearly Who Jeff Bezos Is Targeting Next
Who Wants to Pay for That?
The Geek Squad service is expensive, and many customers have been left wondering what they're paying for. Plans vary per device but on its website, Best Buy said a Geek Squad protection plan on a phone purchased with the retailer costs $10.99 a month for full coverage, which includes replacing batteries and the phone itself if it is permanently damaged.
However, Best Buy limits a customer to three claims within one year and if a phone does need to be replaced, the customer could be hit with a service fee of up to $199.99.
"They sent me two damaged phones that I returned and would not give me my service fee back for their crappy product that was returned," Andrea of Park City, Utah, wrote on ConsumerAffairs on May 27.
Yasmin of Jersey City, N.J., wrote on the site that she bought the $10.99 a month protection plan with her purchase of a Samsung Electronics phone at Best Buy on April 21. After dropping it soon after, she said her phone cracked but was working fine. When she took it to be repaired, Geek Squad allegedly forced her into replacing it, charging her the $199.99 fee.
"I was told that they will get it replaced and won't be able to repair as they don't repair ANY devices," Yasmin wrote on May 22. "If this is so, then what is the point of the protection plan?"
At That Rate, Just Go Buy a New One
Speaking of expenses, the price you could end up paying to repair a damaged gadget with Geek Squad might be more, or almost equivalent, to buying a brand new product altogether.
User TrinityandAutumn of St. Louis wrote on April 10 that her 14-year-old daughter broke her computer and, in trying to hide her mistake from her mother, brought it to Geek Squad for a quick fix. Oh, kids.
Not only did the user say she was upset that Geek Squad accepted the damaged laptop from her under-aged daughter, but she was shocked when an agent called to tell her that "the cost of the repair would be more than the price that was paid when purchased less than a year ago."
Geek Squad Should Invest in a Watch
TheStreet read a multitude of complaints on ConsumerAffairs about the excessive amount of time Geek Squad takes to respond to customers and actually repair devices. Customers complained of waiting up to 30 minutes on the phone just to report a problem with Geek Squad. Then they waited days to get their electronics back to them.
"If you are like me, who needs his computer to work, it's too costly to be waiting multiple days for a fix that can be done by another tech support company online remotely in an hour," Peter from San Diego wrote on July 4.
Felecia of Dallas wrote on June 9 that her husband bought a television on May 6, only to find that it didn't work a month later. When she called Geek Squad, she was allegedly told that an agent wouldn't be available to come to her home to even assess the damage for nearly one week.
"We are missing the playoffs," Felecia wrote. "My husband was told they didn't have any earlier dates. Next day went back to the Farmer's Branch Store Best Buy spoke with the store manager. He would not exchange the TV."
Quiz:How Much Do You Know About the Hottest Fall TV Shows?
For its part, last August, Best Buy began testing a faster Geek Squad, "on demand," program, which could provide same-day services.
You Can Probably Figure It Out Yourself
When one pays to have a service done by an expert, that person probably expects to deal with the utmost knowledgeable person on the subject. That's not always what customers find at Geek Squad.
"I had my laptop 'repaired' three times where they kept it, in total, for almost three months," Aaran of Lockhart, Texas, wrote on May 5. "The first repair resulted in more damage as they improperly reattached the screen causing it to crack when opened."
Carmen-louise of Gatineau, Quebec, wrote on April 21 that she brought her Apple AAPL laptop to the Geek Squad after she noticed Safari wouldn't open. What she got was, an agent who didn't back her computer up properly, resulting in the loss of all her emails and contacts. Plus, she claimed that now not only was Safari not working, but of all of her applications were bugged.
On a recent earnings call, Best Buy Chairman and CEO Hubert Joly said the company would be "investing in labor expertise across our sales associates in our Geek Squad agents."
Apple is a holding in Jim Cramer's Action Alerts PLUS Charitable Trust Portfolio. Want to be alerted before Cramer buys or sells AAPL? Learn more now.
Geek Squad Should Take a Drive Into 2017
Best Buy's entire Geek Squad service is reportedly sluggish, archaic and needs to be digitally revamped.
Lisa of Ventura, Calif., wrote on June 25 that she called Geek Squad to assist her in connecting her newly-purchased audio system to her DVD player.
"Ordered the service on-line and received an email stating to call their number to schedule an appointment," Lisa said. "When I called, their automated answering service kept directing me to the wrong menu. I got frustrated and decided to call the Best Buy store I bought it at instead of the 1-800 number."
Lisa said that the store representative was also unhelpful, telling her only that she could not access the order because it was made online. When Lisa finally reached a customer service representative at the 1-800 number, the person could not find her address in the system. It took two employees 30 minutes to find her order on what one can only assume is an outdated system.
Who knows how long it took after that before Lisa was actually able to install her audio system to her DVD player.
Best Buy's shares fell 3.9% to $53.96 in psotmarket trading on Thursday.
Don't miss these top stories on TheStreet:
J.C. Penney Won't Die, So Buy Its Stock
Amazon's Instant Pickup Service Shows Clearly Who Jeff Bezos Is Targeting Next