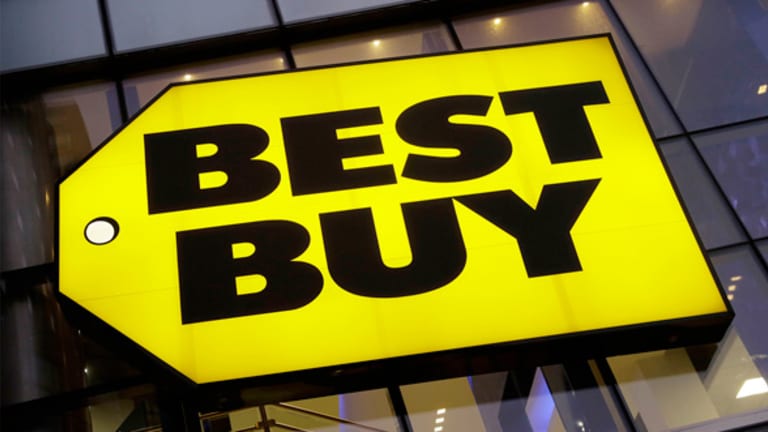 Best Buy Rises on Positive Quarter, But It Is Not a Long-Term Play
The brick-and-mortar big-box retailer beat Wall Street's expectations; however, it is unlikely to be able to compete with Amazon and other e-commerce sites.
Yesterday's big stock headlines arrived courtesy of Best Buy (BBY) , which surprised analysts and investors with an earnings beat for the second quarter. 
Profits were up 16%, to 57 cents per share for the quarter, beating the consensus estimates. But the biggest surprise was a 0.8% increase in comparable sales having said in May that sales would be flat for the quarter. 
Best Buy's happy surprise sent shares soaring nearly 20% during trading. The stock is up about 50% since January. Still, the sales gains that the company touted and investors celebrated are not sustainable over the long run. 
Big-box retail stocks, including old favorites like Target and Wal-Mart,have been suffering from intense headwinds thanks to continued post-recession spending malaise among consumers and the rise of e-commerce superpower Amazon.
Best Buy has benefited from brisk online sales, as well as something that many people can't do on Amazon: An ability to purchase appliances, such as stoves and refrigerators, and have them installed for a reasonable fee. 
To be sure, it is possible to purchase major household appliances on Amazon.  Amazon currently sells installation and maintenance services online, sending professionals out to your house, but these services are limited in scope, relatively expensive, and not available in all markets.
Most consumers will continue to opt for services via brick-and-mortar retailers in the short term. Even department store retailer J.C. Penney is banking on this, reintroducing appliances at locations for the first time in years.
Amazon will eventually figure out a way to take a major share of the appliance market. That makes Best Buy an okay play for the short term. Long term, investors shouldn't count on it as Amazon and e-commerce take larger market shares.
---
A crisis is coming. And when it hits, weak companies and their investors will be washed away. Don't let that happen to you. I've found seven companies you should own no matter what the economy is doing. Each one of these powerful, yet overlooked companies barely notices when the market tumbles. And they'll skyrocket when it rebounds. You can pick all seven up for pennies on the dollar right now. But that'll change the instant average investors catch wind of just how bad things really are. Get their names here before it's too late.
This article is commentary by an independent contributor. At the time of publication, the author held no positions in the stocks mentioned.