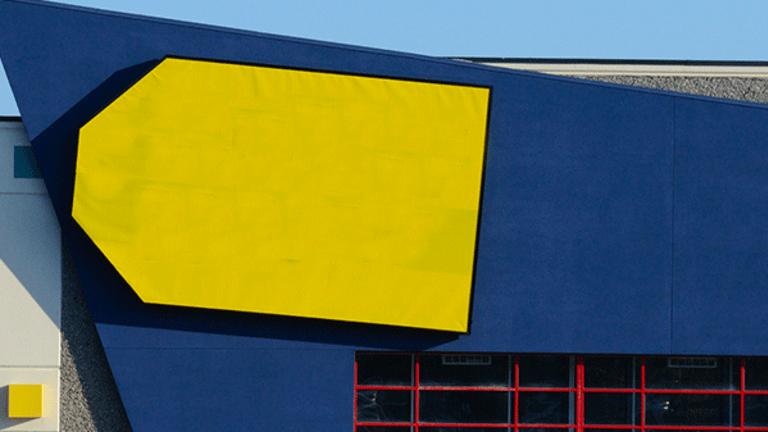 Best Buy Has No Reason to Exist in the Age of Amazon, Veteran Analyst Warns
Amazon is dominating.
With Amazon.com Inc. (AMZN) - Get Report invading its space, there may not be a place for Best Buy Co. Inc. (BBY) - Get Report .
Consumers either use Best Buy as a showroom to test out new products or for its Geek Squad services [comprised of consultation, design, delivery, installation, set-up, protection plans, repair, technical support and educational classes], Wedbush Securities analyst Michael Pachter said in a recent interview with TheStreet.
With a lack of new products coming out from tech companies such as Apple Inc. (AAPL) - Get Report -- the Apple Watch was the latest major release in 2015 -- and with the recent Recode report that Amazon is quietly posting job notices and hiring IT professionals for its own in-home electronics repair army to rival Best Buy's Geek Squad, Pachter said "there's really no reason for Best Buy to exist."
"There's always going to be people who shop at Best Buy's stores," Pachter said. But since the rise of Amazon, which Pachter estimates has put an Amazon Prime subscription in 50% of American households, Best Buy has lost about 10% of its sales to the e-commerce behemoth.
Pachter said customers still go to Best Buy to buy their first iPhone or flat-screen television, for example, but after that, they'll order the next one online or directly through the manufacturing company. Plus, he said, very few people go to Best Buy's stores to buy small items like a replacement phone charger - those are the sales that have primarily been lost to Amazon.
"Consumers love technology but frequently need help getting the most out of it," a Best Buy spokesman said in an email to TheStreet in response to the news about Amazon's possible hirings. "We are excited about the range of initiatives we have previously announced that do just that and feel uniquely positioned to serve consumers by offering products, services and support wherever the customer wants it, including in one of our 1,000 stores, on BestBuy.com and in homes millions of times a year."
There are many on Wall Street who are still betting on Best Buy though.
"Services are a small part of Best Buy's business. Best Buy has been able to withstand the wrath of Amazon on the product side, so they will be able to withstand the wrath of Amazon on the services side," BTIG analyst Alan Rifkin told TheStreet.
Best Buy's services segment, which includes Geek Squad, typically only drives about 5% of Best Buy's total sales.
5 Key Takeaways for Apple, Google and Others From the Latest Mobile Stats
Piper Jaffray analyst Peter Keith agreed, saying that when Amazon first popped up, Best Buy was being used as a showroom - where consumers went to test new products and then bought them online - but this is not the case anymore, as Best Buy has since reinvested in price and new shops inside its stores.
"For a period of time, Best Buy was the poster child for stock lost to Amazon," Keith said in an interview with TheStreet. "But Best Buy is the only retailer that really has taken the brunt of Amazon share loss and restructured and reshaped the business to be a very viable omni-channel retailer, one of the only retailers that can really hold their own."
Best Buy certainly has not seen the same destruction to its business like other retailers, mainly in the apparel space, have from Amazon, including Sears Holdings Corp. (SHLD) and J.C. Penney Co. Inc. (JCP) - Get Report . While Best Buy's revenue growth has been weak over the past several years, it has managed to consistently beat Wall Street profit forecasts via a combination of cost cuts and stock buybacks.
Best Buy will report earnings on Tuesday morning. 
More of What's Trending on TheStreet: