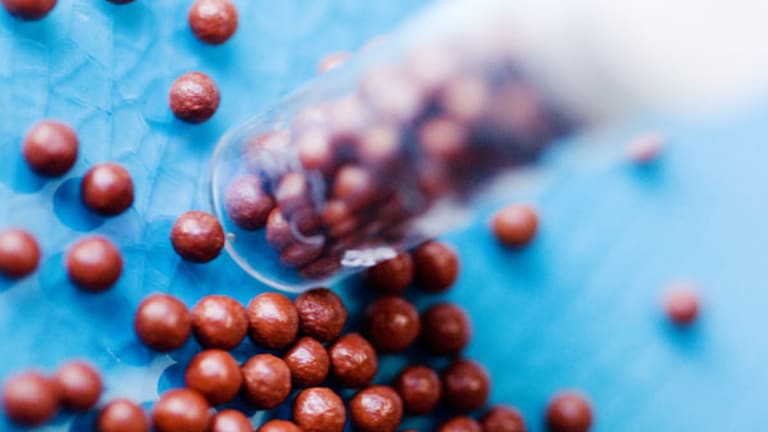 Best Biotech CEO of 2013: Your Vote Counts
The CEOs from NPS Pharma, Onyx Pharma, Bristol-Myers Squibb, Celgene and Ligand Pharma vie for the coveted title of Best Biotech CEO.
NEW YORK (TheStreet) -- Stock performance has always been an important measuring stick for the Biotech CEO of the Year award. But in a year when seemingly every bio-pharma company -- even the worst of the bunch -- managed to deliver outsized returns, worthy nominees for Best Biotech CEO of 2013 had to bring more than a double-digit (or even triple-digit) jump in their stock price.
I actually had more worthy nominees (15) for the award this year than slots (5) in the final, which further exemplifies the kind of magical year it's been in bio-pharma land. To vet the crowd, I decided to group the potential Best Biotech CEOs into four categories -- Orphan Drugs, The Acquired, Big Pharma and Big Biotech -- and then pick a finalist from each. I tacked on one more nominee who didn't fit the categories but still deserved mention.
Without further adieu, the finalists for the Best Biotech CEO of 2013 are Francois Nader of NPS Pharmaceuticals (NPSP) , Tony Coles of Onyx Pharma (now Amgen (AMGN) - Get Amgen Inc. Report), Bristol-Myers Squibb's (BMY) - Get Bristol-Myers Squibb Company Report Lamberto Andreotti, Bob Hugin of Celgene (CELG) - Get Celgene Corporation Report and Ligand Pharma's (LGND) - Get Ligand Pharmaceuticals Incorporated Report John Higgins.
One of these executives will win the Swanson Trophy, named in honor of Robert Swanson, Genentech's founding CEO. He will inherit the award from last year's winner, Regeneron Pharma's (REGN) - Get Regeneron Pharmaceuticals, Inc. Report Leonard Schleifer. Like in past years, your input will help choose this year's Best Biotech CEO.
Please read the nominating summaries and vote for your favorite candidate in the interactive poll at the end of the story. I'll tally your votes and award the trophy next week.
Francois Nader, NPS Pharmaceuticals
Investors like companies developing drugs for rare, orphan diseases. Investors love companies which can get these orphan drugs approved and launched successfully. Nader has done both exceedingly well, which is why he's a finalist for this year's Best Biotech CEO award.
NPS secured FDA approval of Gattex for adult short bowel syndrome in December of last year and launched the drug in early 2013. The drug was priced aggressively, which worried some people (myself included... ahem) about possible hiccups with reimbursement, but Nader and his NPS employees proved doubters wrong. On all measures -- patient demand, reimbursement, compliance and duration of treatment -- Gattex has exceeded expectations.
And then there's Nader's encore. NPS will be seeking FDA approval soon for its second orphan drug candidate -- Natpara for the treatment of hypoparathyroidism. If approved, Natpara will launch in the back half of 2014 with a significant commercial potential that isn't really factored into the value of the stock yet.
Who did Nader beat out in the Orphan Drugs category? Marc Beer of Aegerion Pharmaceuticals (AEGR) deserves big-time kudos for overseeing the strong launch of Juxtapid. He could have easily won the finalist slot except for his CNBC miscue and lingering concerns about the long-term sustainability of Juxtapid revenue. [Aegerion lacks a second orphan drug to fall back on.]
Alnylam Pharma's (ALNY) - Get Alnylam Pharmaceuticals, Inc Report John Maraganore and Isis Pharma's (ISIS) Stanley Crooke are leading teams making big strides in RNA interference and antisense technology, respectively. Both companies still fall into the speculative, development-stage camp but their achievements in 2013 are noteworthy.
Tony Coles, Onyx Pharmaceuticals (now Amgen)
I normally disqualify CEOs from contention for the award if they're no longer sitting in the big chair. It's my contest so I can change the rules if I want to, so this year I'm considering CEOs who sold their companies and rewarded shareholders.
No CEO engineered a better buyout for shareholders this year than Coles when Amgen acquired Onyx for $10 billion, or $125 per share. Lots of CEOs sell their companies but few buy an asset for less than $1 billion and sell it four years later for $10 billion. This is what Coles did, which is why he's a Best Biotech CEO finalist for the second year in a row. Well deserved.
Other honorable mentions in "The Acquired" CEO category: Viropharma's Vince Milano for the $4.2 billion takeout by Shire (SHPG) - Get Shire PLC Sponsored ADR Report; Jeff Stein of Trius Therapeutics, acquired by Cubist Pharmaceuticals (CBST) ; and Astex Pharma's James Manuso, who persuaded Otsuka Holdings to pay more than anyone else thought possible.
Lamberto Andreotti, Bristol-Myers Squibb
Why the hell is a Big Pharma CEO earning a nomination for a Best Biotech CEO award? Good question, but again, it's my contest so I'll do whatever I want. Besides, have you looked at Bristol's performance this year? The stock is up 56%, which is incredible for Big Pharma -- dare I call it "biotech-esque?"
Bristol -- and Andreotti, by proxy, owes its good fortune this year to the tremendous buzz surrounding a new class of cancer immunotherapies (PD-1 inhibitors) which are demonstrating breakthrough results in early and mid-stage clinical trials. In a three-way race to get anti-PD-1 drugs to market and capture billions of dollars in sales, Bristol's nivolumab is the frontrunner, ahead of programs underway at Merck (MRK) - Get Merck & Co., Inc. (MRK) Report and Roche (ROG) - Get Rogers Corporation Report.
The runner-up in the Big Pharma category is Ian Read of Pfizer (PFE) - Get Pfizer Inc. Report for spearheading a dramatic reshaping of the world's largest drug company and the very successful spin out of its animal business Zoetis.
Bob Hugin, Celgene
Once upon a time, Celgene was a one-drug company That one drug is the multiple myeloma blockbuster Revlimid, which wasn't necessarily a bad problem for Celgene to have. But when Revlimid hiccuped, which has happened, Celgene's stock price often came down with a bad case of agita.
Today, Celgene, under Hugin's leadership, is way more than just Revlimid. There's Pomalyst, a second-generation multiple myeloma drug that has gotten off to a great start commercially. There's apremilast, which looks poised to make big gains in psoriasis and related anti-inflammatory disorders. Investors no longer wonder if Celgene overpaid for Abraxane now that the drug's growth is poised to explode with new use in pancreatic cancer.
Perhaps Hugin's smartest move has been using the cash generated by Revlimid to write checks to an astounding number of small biotech companies, thereby assuring Celgene a piece of emerging and potentially lucrative drug development technologies. This week, Celgene inked a cancer stem cell drug partnership with OncoMed Pharmaceuticals (OMED) - Get OncoMed Pharmaceuticals, Inc. Report. I don't have room here to list all the licensing and partnership deals done by Celgene recently, but they include Morphosys, Bluebird (BLUE) - Get bluebird bio, Inc. Report, Agios Pharmaceuticals (AGIO) - Get Agios Pharmaceuticals, Inc. Report and Epizyme (EPZM) - Get Epizyme, Inc. Report.
Celgene's pipeline, inside and out, is stacked.
It's been a remarkable year for big-cap biotech, so while Hugin gets the Best CEO nomination, Gilead Sciences' (GILD) - Get Gilead Sciences, Inc. (GILD) Report John Martin and Biogen Idec's (BIIB) - Get Biogen Inc. Report George Scangos are far from slouches. Both men are running companies operating at peak efficiency with an almost ridiculous number of wins to their credit.
John Higgins, Ligand Pharma
I didn't have a category for Higgins, but maybe it should be "shareholders best friend" because there are few executives in healthcare today who are better stewards of other people's money than the CEO of Ligand.
Under Higgins' watch, Ligand has turned sustainably profitable because of smart deal-making, a growing portfolio of royalty-generating products and a bean counter's obsession with frugal spending.
There's nothing sexy about the way Ligand operates under Higgins' leadership but that's the entire point. Keeping risk and costs low while generating better-than-average returns from a fractional ownership of a diverse product portfolio has been a remarkably effective strategy for Ligand in 2013 and sets up the company well for the future.
You've read the nominations, now it's your turn to choose the Best Biotech CEO of 2013. Please vote in the poll below:

Who is the Best Biotech CEO of 2013?
Francois Nader, NPS Pharma
Tony Coles, Onyx Pharma
Lamberto Andreotti, Bristol-Myers Squibb
Bob Hugin, Celgene
John Higgins, Ligand Pharma
or View Results
Create your own poll at Flisti.com
Adam Feuerstein writes regularly for TheStreet. In keeping with company editorial policy, he doesn't own or short individual stocks, although he owns stock in TheStreet. He also doesn't invest in hedge funds or other private investment partnerships. Feuerstein appreciates your feedback;
to send him an email.