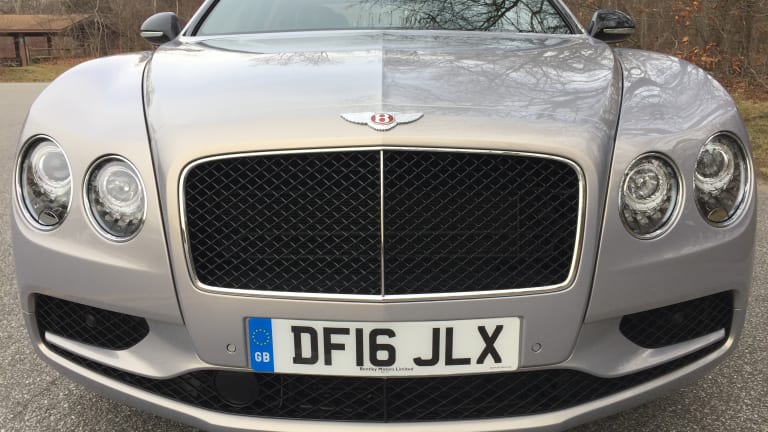 Bentley's Stunning New $240,000 Super Car Is a Fun Buy With Your Stock Market Profits
The new Bentley Flying Spur is beyond impressive
It takes more than 130 hours to handcraft each Flying Spur that rolls off the assembly lines at Bentley's factory in Crewe, England.
And believe me, Bentley's historically obsessive attention to detail showed up in the Flying Spur V8 S in "extreme silver" (a $5,715 option) that I had in my possession recently. In fact, writing a lengthy review that details every nook and cranny of this $240,000 friend of the ultra wealthy is almost a complete waste of time: the bottom line is that Bentley may have created the perfect super-luxury car.
For a car weighing over 5,400 pounds, the 2017 Bentley Flying Spur corners like an auto 1,000 pounds lighter. The 4.0-liter V-8 churns 521 hp, effortlessly (and somewhat frighteningly) rocketing the car from 0 to 60 mph in 4.6 seconds. Trust us that going 150 mph in this car happens very quickly, and almost without any notice. Top speed is 190 mph, something that is easily reachable down any deserted highway.
As for the interior, it's typical Bentley in that everything--from the radio control buttons on the steering wheel to seat adjustment buttons to gear shifter--is easy to use and done first rate. In an age of over-engineered car interiors, Bentley wins high marks for continuing to keep things simple. I will take Bentley to task a wee bit for its in-dash infotainment system, which is slightly clunky to use (especially the navigation). But other than that minor gripe, there isn't much to complain about. The diamond-stitched seats are quite comfy, there is a refrigerator in the backseat (a $2,220 option) and the car gets a respectable 14 mpg city, 24 highway (17 combined) in gas mileage. 
Having this car in my possession served as reminder to keep working hard because some day a trip to a Bentley dealership could be an option.
But here are the photos of the $240,000 super-luxury car that you probably came here to see.
The 2017 Bentley Flying Spur certainly has presence. 
The rear styling could be punched up slightly to fit with the front's more aggressive cues.
Every detail was considered in the Flying Spur's interior. Loved the metal gear shifter.
Everything was easy to use ... and not over-engineered. 
Twin 10-inch flat screens, fold down tray tables and a refrigerator. Life is good. 
As luck would have it, I found another new Bentley to park near at the mall (it was two-door).
Here is our video review of the $400,000 Bentley Mulsanne, which was also jaw-dropping. 
More of What's Trending on TheStreet: