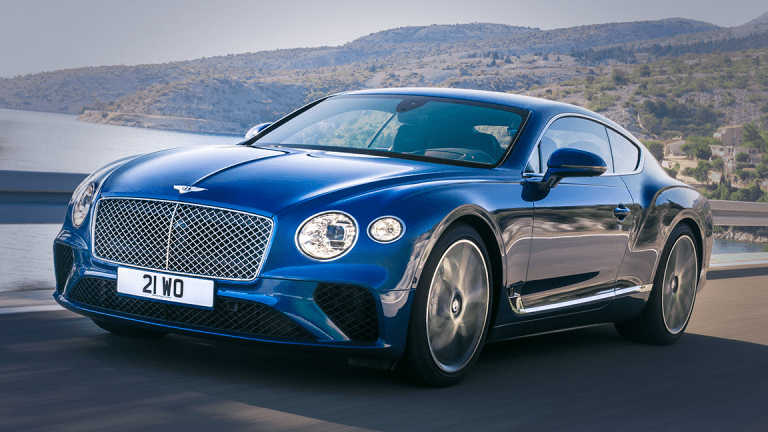 Bentley's $245,000 Flying Spur Is Over-the-Top Luxury
Bentley's Flying Spur is something to behold. Take a look inside via this video from TheStreet.
Bentley's Flying Spur is something to behold. Take a look inside via this video from TheStreet.
Bentley makes serious rides for seriously wealthy folks.
It takes more than 130 hours to handcraft each Flying Spur that rolls off the assembly lines at Bentley's factory in Crewe, England.
Bentley's historically obsessive attention to detail showed up in the Flying Spur V8 S in "extreme silver" (a $5,715 option) that TheStreet reviewed. In fact, writing a lengthy review that details every nook and cranny of this $240,000 friend of the ultra wealthy is almost a complete waste of time.
The bottom line is that Bentley may have created the perfect super-luxury car.
For a car weighing over 5,400 pounds, the 2017 Bentley Flying Spur corners like an auto 1,000 pounds lighter. The 4.0-liter V-8 churns 521 hp, effortlessly (and somewhat frighteningly) rocketing the car from 0 to 60 mph in 4.6 seconds. Trust us that going 150 mph in this car happens very quickly, and almost without any notice. Top speed is 190 mph, something that is easily reachable down any deserted highway.
As for the interior, it's typical Bentley in that everything--from the radio control buttons on the steering wheel to seat adjustment buttons to gear shifter--is easy to use and done first rate. In an age of over-engineered car interiors, Bentley wins high marks for continuing to keep things simple.
We will take Bentley to task slightly for its in-dash infotainment system, which is clunky to use (especially the navigation). But other than that minor gripe, there isn't much to complain about. The diamond-stitched seats are quite comfy, there is a refrigerator in the backseat (a $2,220 option) and the car gets a respectable 14 mpg city, 24 highway (17 combined) in gas mileage.
Hat tip, Bentley. 
How to Play Today's Risky Markets. Click here and register for free to watch what top experts from Bank of America, Fisher Investments, Invesco and Wells Fargo say smart investors should do now.