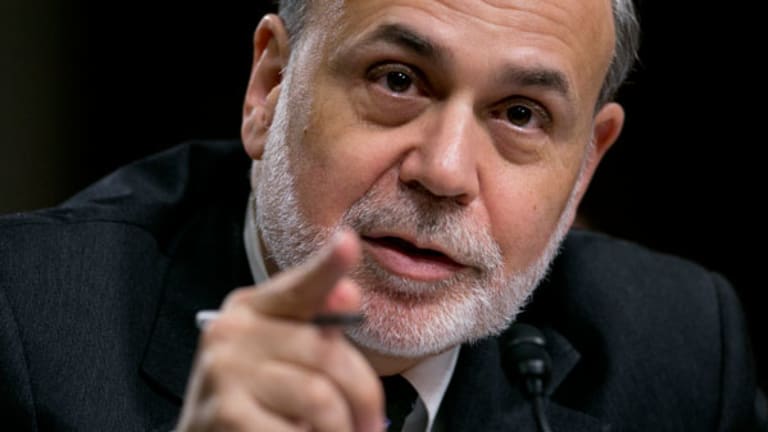 Publish date:
Ben vs. Bernie on Too Big to Fail
Fed Chairman Ben Bernanke debates "too big to fail" and other issues with Vermont independent Senator Bernie Sanders
Fed Chairman Ben Bernanke debates "too big to fail" and other issues with Vermont independent Senator Bernie Sanders
NEW YORK (
) --
Federal Reserve
Chairman Ben Bernanke said in testimony Wednesday that he believes the best approach to solving "Too Big to Fail" would be to require banks to hold more capital.
In an exchange with independent Senator Bernie Sanders of Vermont, Bernanke said that the Fed was doing a "lot of things" through the Orderly Liquidation Authority as part of the Dodd-Frank Wall Street Reform and Consumer Protection Act, to address the issue.
Regulations based on Dodd-Frank aim at making banks safer by requiring them to hold more capital and restricting risk taking activities, while preventing future bailouts.
Still, the market perception that some banks are so big that the government would bail them out in the event of failure, has not gone away. A number of solutions have been proposed to resolve this problem, including mandating caps on the size of banks, increasing capital beyond the levels proposed by Basel III and bringing back Glass-Steagall, a defunct act that prohibited commercial banks from engaging in investment banking activities.
"Glass-Steagall is not the solution," Bernanke told Sanders, pointing out that both independent investment banks and independent commercial banks failed during the last financial crisis.
Also see: Big Bank Phobia - Glass Steagall Would Be Folly >>
Instead, Bernanke said that of all the solutions proposed, requiring big banks to hold more capital was likely the most effective because there is an increasing cost that comes with being large that might automatically force some banks to break up.
Also see:Big Bank Phobia:Liquidity Stupid, Not Just Capital >>
Sanders also asked Bernanke if the Fed's policy of paying interest on excess reserves that banks park with the central bank was limiting lending.
Bernanke said that banks had no control on the level of excess reserves in the system. He also said the interest rate that the Fed paid was not high enough to prevent banks from lending, as banks could get much higher yields on commercial loans.
Another issue that bothers Sanders is the "absurdity" in the Fed's charter that allows people like JPMorgan Chase CEO Jamie Dimon to sit on the board of the Federal Reserve Bank of New York, a clear example of a "Fox guarding the hen house."
Under the current structure, all regional reserve banks have a nine-member board of directors. Three of the directors are bankers in their respective districts, known as Class A directors. The remaining six, known as Class B and Class C directors, represent the interests of the public.
The Fed says the inclusion of bankers allows it to get input about actual local economic conditions.
Bernanke said he would be happy to work with Congress on making any amendments to the charter but assured the Senator that there was a "wall" between the supervisory and advisory functions.
-- Written by Shanthi Bharatwaj New York.
>Contact by
.
Disclosure: TheStreet's editorial policy prohibits staff editors and reporters from holding positions in any individual stocks.