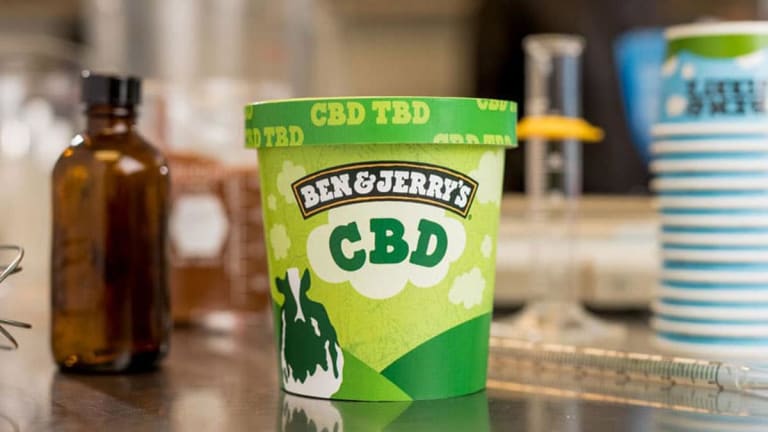 Ben & Jerry's Wants to Get in on CBD Craze
The company's announcement comes ahead of an FDA's public hearing on the legalization of CBD-infused foods and beverages on Friday.
Ben & Jerry's Ice Cream wants to get  in on the cannabis business buzz.
The Unilever-owned (UL)   ice cream maker is throwing its support behind the federal legalization of CBD-infused food products, announcing in a statement Thursday that it will create a CBD-infused ice cream flavor should CBD products be legalized at the federal level.
The announcement comes ahead of Friday's Food and Drug Administration public hearing on the legalization of CBD-infused foods and beverages. The company said that it has submitted a comment to the hearing in support of legalization. 
"We're doing this for our fans," said Ben & Jerry's CEO Matthew McCarthy in the statement. "We've listened and brought them everything from Non-Dairy indulgences to on-the-go portions with our Pint Slices. We aspire to love our fans more than they love us and we want to give them what they're looking for in a fun, Ben & Jerry's way."
The company said that it would use sustainably-sourced CBD from its home state of Vermont in any future CBD products.
Unilever shares rose 50 cents, or 0.82%, to end at $61.68 Thursday.
Cannabis related stocks were generally lower Thursday.
cbdMD shares (YCBD) rose 14 cents, or 2.23%, to $6.43.
Green Organic Dutchman shares (TGODF) fell 12.14 cents, or 4.19%, to $2.78.
The Alternative Harvest ETF (MJ) fell 50.3 cents, or 1.55%, to $31.94.
The AdvisorShares Pure Cannabis ETF (YOLO) fell 14.01 cents, or 0.58%, to $24.22.
The Horizons Marijuana Life Sciences ETF (HMLSF) fell 14.8 cents, or 1.02%, to $14.32.
Large cap stocks with notable cannabis initiatives were mixed.
Shares of Anheuser-Busch InBev SA/NV Sponsored ADR (BUD) rose $1.08, or 1.33%, to $82.38. The company is in a joint venture with Tilray to develop cannabis beverages.
Shares of Molson Coors Brewing Company Class B (TAP) fell 74.5 cents, or 1.34%, to $54.72. The company is working to develop beers infused with cannabis for the Canadian market.
| | | | |
| --- | --- | --- | --- |
| Name | Ticker | Price | % Chg |
| cbdMD | | 6.28 | 2.23% |
| General Cannabis | | 1.47 | 2.04% |
| Corbus Pharmaceuticals | | 7.22 | 0.84% |
| Greenlane Holdings | | 15.31 | 0.46% |
| New Age Beverages | | 5.31 | 0.09% |
| Canopy Growth | | 43.02 | -0.78% |
| Aphria | | 6.94 | -1.00% |
| Aurora Cannabis | | 8.09 | -1.23% |
| Cronos Group | | 15.06 | -2.10% |
| CannTrust Holdings | | 5.61 | -2.41% |
| GW Pharmaceuticals | | 177.34 | -2.50% |
| Hexo | | 6.84 | -2.62% |
| Tilray | | 39.91 | -4.06% |
| Tera Tech | | 0.70 | -4.17% |
| Green Organic Dutchman | | 2.82 | -4.19% |