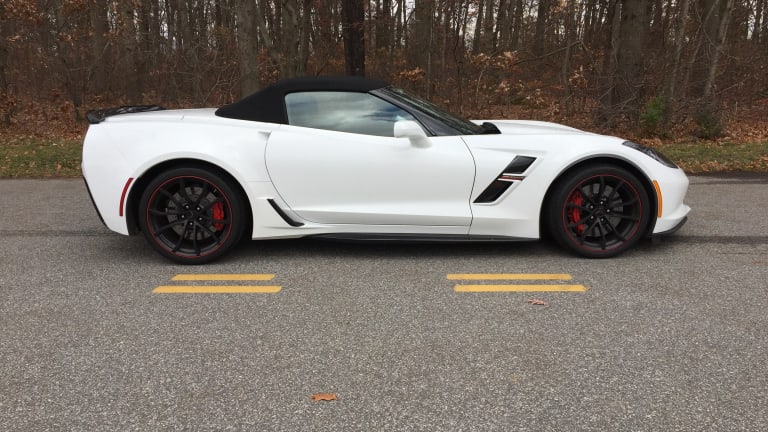 Believe It or Not: GM Made the Top Supercar of 2016
A tip of the hat to the engineers at General Motors (GM).
From the stunning McLaren 570GT to the mind-blowing Bentley Mulsanne speed, TheStreet has tested its fair share of amazing new supercars this year. 
But when all is said and done, it's an icon of America's roads that receives our award for "Top Supercar of 2016." That is none other than General Motors (GM) - Get Report newest Corvette with the "Grand Sport" trim package. The 2017 Corvette Grand Sport is an intimidating looking car that when set to sport mode let's out a proud thunderous roar with a quick tap on the gas pedal. A 6.2 litre 460 horsepower V8 engine propels this updated American legend from 0-60 mph in 3.6 seconds, faster than the 4 seconds it takes for the Corvette base model Stringray.
A supercar is supposed to be fun to drive. It shouldn't conjure up constant worry to the driver of losing control on a dry highway or being absurdly intimidating to take on a short cruise to the the beach. To be sure, the $88,000 Grand Sport didn't suffer from either factor.  
Meanwhile, there is a performance package option that adds big red Brembo brakes, extra wide and sticky Michelin tires and a carbon fiber spoiler. Oh, and don't forget the carbon fiber ground effects that give the Grand Sport the youthful manliness that many Corvette's of yesteryear lack. The interior is no slouch either. From Apple CarPlay in the dash to a convertible top that goes down in seconds to leather seats that may be some of those most comfortable in the Corvette's competitive class, the Grand Sport offers quite the impressive ride.
A tip of our hats to the engineers at General Motors. We may very well be back here in 2018 offering praise to an all-new Corvette engine, which has been rumored recently to be in development. 
The Corvette Grand Sport had all the bells and whistles in the interior.
The Corvette Grand Sport's styling is on the aggressive side.
All supercars need huge brakes.
The Corvette Grand Sport's look pays homage to Corvettes of yesteryear.