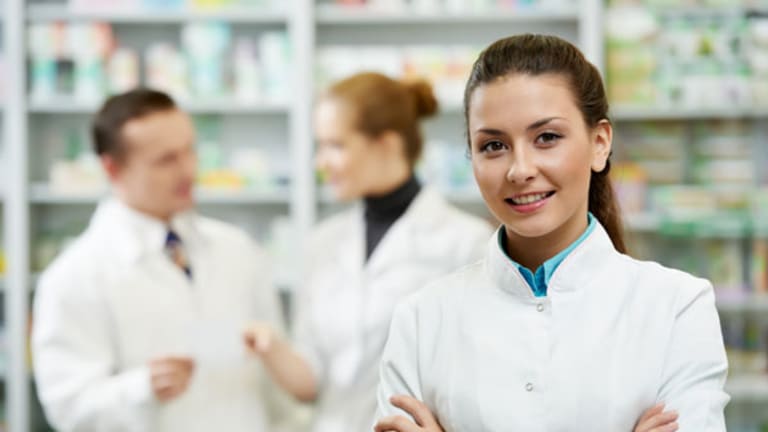 Publish date:
Merck Hep C Drug Draws More Atttention Than Job Cuts
Merck reports another major round of layoffs and record sales, but Wall Street seems more interested in a drug that only had sales of $21 million in the second quarter.
Merck reports another major round of layoffs and record sales, but Wall Street seems more interested in a drug that only had sales of $21 million in the second quarter.
NEW YORK (
) -- There were plenty of big pills to swallow in the second-quarter earnings report from pharmaceutical giant
Merck
(MRK) - Get Report
, from another major round of layoffs -- up to 13,000 -- hinting at the headwinds in the drug sector to a record level of quarterly sales, but it was a $21 million drug that attracted the most attention attention from Wall Street analysts during the Friday conference call.
Merck was on the defensive, and analysts were left frustrated by Merck's outlook for Victrelis, a drug that just launched in the growing hepatitis C market and has been positioned in a battle for market-share dominance with biotech company
Vertex Pharmaceuticals
(VRTX) - Get Report
and its drug, Incivek.
Merck CEO Kenneth Frazier
Merck shares were off by 2% on Friday, while Vertex shares rose by more than 8%.
Vertex reported its results on Thursday night, and the results confirmed that
against Merck in the hepatitis C market, even if it's still early days. Vertex reported initial sales of $75 million for its Hep C drug, Incivek, while Merck disclosed $21 million in sales from its Hep C drug, Victrelis.
The 75%/25% market share split in sales between Vertex and Merck had been expected by analysts who cover Vertex, based on third-party drug tracking firm data.
It's obvious that Merck would prefer to be on the 75% market share side of the equation, but no one expected that to be the case, even if Vertex performance was better than existing high expectations.
It's hard to imagine $21 million making a big difference to Merck's profit & loss statement from a simple arithmetic standpoint. The company just booked over $12 billion in sales in the second quarter, up 7% year over year and a record sales level, albeit a record likely inevitable due to consolidation in recent years. Sales in key emerging market regions of Asia-Pacific and Japan grew too, with Asia-Pac up 25% and LatAm up 7%, even as sales in Eastern Europe and the Middle East remained laggards. Merck outlined plans for another 12% to 13% reduction in its work force as part of its multi-billion restructuring program, which it now sees saving the company $4 billion to $4.6 billion annually by the end of 2015.
Yet the layoffs are a defensive measure, while new drugs are the driver of revenue sales for the pharmaceuticals companies. The hepatitis C drug market, in particular, is growing in absolute terms and in market share opportunity for both Vertex and Merck. Analysts expect the U.S. market opportunity alone to produce at least $2 billion to $2.5 billion in annual sales and some estimates see the market growing to $3 billion to $4 billion in sales annually.
Vertex analysts said there had been a fear that Merck, through its partnership with
Roche
, might surprise to the upside in its Hep C drug sales, and so the latest results put that fear to rest, at least temporarily, while on the Merck side of the equation it only added to the uncertainty about its competitive positioning.
Even if Merck wasn't expected to be on the 75% market share side of the equation, Merck could use a surprise to the upside from a drug in a growing market. Merck investors were tripped up when one of new CEO Kenneth Frazier's first acts when announcing fourth-quarter results back in February was to pull Merck's long-term guidance for high-single-digit growth through 2013, for among other reasons,
major hiccups in the high-profile vorpaxar
clinical program.
Wall Street wasn't just looking for a beat from Merck in the second quarter -- it reported the 95 cents a share and $12 billion in sales that Wall Street expected -- but a bigger vision from the company about the drugs of the future. Instead, analysts said industry headwinds seemed to prevail in the commentary from the big pharma company, and that by default, this led to a search for positive catalysts, such as the hepatitis C market.
"From austerity measures in Europe to pricing pressure in the U.S., there are headwinds for this industry and the Merck outlook was indicative of the situation," said Damien Conover, analyst at Morningstar. Pipeline setbacks will delay new drugs, and the Food and Drug Administration will continue to ask for longer-term studies. "This just reconfirmed what people thought, with the environment forcing Merck to do cost cutting to adapt," the Morningstar analyst said.
In addition, the Morningstar analyst said the industry-wide negative catalysts, with the looming expiration of Singulair in 2012, makes new drug efforts getting off the ground right now from Merck a more important issue, and this may have played into the high degree of focus on Victrelis on Friday, too.
"There has been a lot of uncertainty about Victrelis, and it is potentially a big enough market to move the needle," Conover said. "There was uncertainty at the time of the launch, and Merck hasn't cleared it up," the analyst added.
Thomas Russo, an analyst at R.W. Baird who covers Vertex, said the biotech company was more forthcoming than Merck about the hep C market, but he stressed that it's in the best interest of a small biotech company to disclose more information about a key drug.
"By any measurement, Vertex is winning the market share battle meaningfully, but everyone needs to agree it's still early days," Russo said. "A successful hepatitis C drug is a multi-billion dollar opportunity and for the next three years the story is Merck versus Vertex," the analyst added.
If Vertex was more forthcoming about the drug because it's more important to it to provide a greater degree of granularity, Merck analysts were still left wondering whether the big pharma company was simply playing the part of big pharma, where one new drug isn't worth the focus, or was being defensive.
Analysts on the Merck call said the company didn't seem willing to endorse the same third-party prescription data that Vertex pointed to from IMS Research which showed a 75% to 80% market share for Vertex's Incivek. Analysts said it wasn't clear whether Merck fundamentally disagreed with the third-party data or just was trying to stall until the numbers turned in its favor. One key distinction between the Merck drug Victrelis and Incivek is that the Merck drug has a longer treatment period, making the comparison not exactly apples-to apples between the drugs, a point Merck made on Friday, though analysts said this still didn't change the market share split.
Amid a broader pharmaceutical landscape that is changing significantly and not for the better in terms of profitability, maybe Merck analysts were just looking for clarity on one drug as a starting point. If so, they didn't get the clarity they sought. "People are trying to gauge the split of the market between these two revolutionary advancements in the hep C space and we don't know what's happening," Morningstar's Conover said.
-- Written by Eric Rosenbaum from New York.
RELATED STORIES:
>>Pfizer's Spin on Spinoffs a Turnoff
>To contact the writer of this article, click here:
Eric Rosenbaum
.