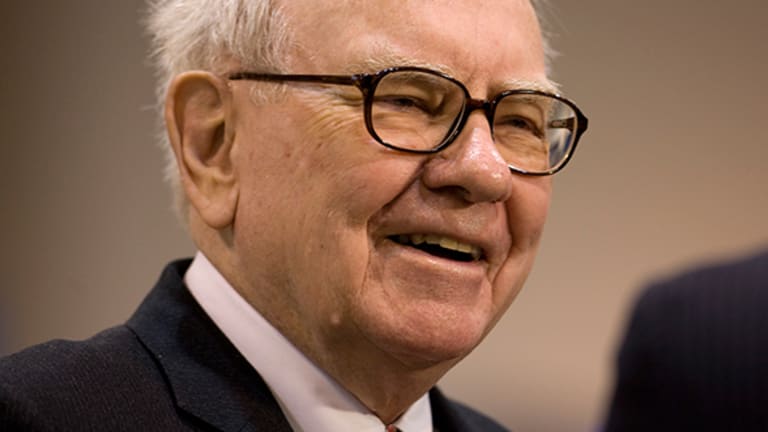 NEW YORK (TheStreet) -- Warren Buffett famously decried investments in airlines and aircraft manufacturing, even though at worst he broke even on his much-bemoaned 1989 investment in US Airways. But apparently he has had a change of heart.
The planned $37 billion acquisition ofPrecision Castparts (PCP) by Buffett's Berkshire Hathaway (BRK.A) - Get BRK.A Report (BRK.B) - Get Berkshire Hathaway Inc. Class B Report represents a bet on continuing demand for aircraft manufactured by Boeing (BA) - Get Boeing Company Report and Airbus. Precision Castparts primarily supplies parts to the two manufacturers as well as to engine makers General Electric (GE) - Get General Electric Company (GE) Report and Rolls Royce (RYCEY) .
"Investors have poured their money into airlines and airline manufacturers for 100 years with terrible results," Buffett declared at the 2013 Berkshire Hathaway annual meeting, responding to a question about airline investing.
"It's been a death trap for investors," he said.
Still, demand for air travel has grown consistently for decades, and the Airbus/Boeing manufacturing duopoly has come to represent "a safe haven in the world economy," said Teal Group aerospace analyst Richard Aboulafia. "It's shockingly resilient.
"Since the dawn of the jet age we've had generally consistent growth at or just below 5%, and we're building hard assets, which are a great hedge against inflation, which everybody wants to finance," Aboulafia said. "I'm surprised it took this long for this kind of big deal to take place using private capital -- but who has $37 billion?"
Boeing and Airbus have never been shy about projecting strong demand as far as the eye can see.
"Over the next 20 years, we are forecasting a need for 38,050 airplanes valued at more than $5.6 trillion," said Boeing in its current market outlook. "Aviation is becoming more diverse, with approximately 40% of all new airplanes being delivered to airlines based in the Asia Pacific region."
The Airbus forecast is similar, projecting 32,585 aircraft deliveries through 2034. Commercial airline traffic has grown 85% since the Sept. 11 terrorist attacks and will double by 2029, the forecast said.
Speaking Wednesday at an investment conference, Boeing CFO Greg Smith declared that the fuel efficiency of the new generation of aircraft contributes to increasing demand.
"You look at what we're bringing into the marketplace as far as efficiency, you look at what our competitors bring into the market efficiency, and these are very efficient aircraft," Smith said. "The value that those aircraft are bringing into the market is really creating a lot more demand, which is very different than the prior cycles."
Buffett's aversion to airline investing dates to his 1989 purchase of $358 million worth of debt in US Airways, then called USAir, at 9.25%, convertible in two years to stock at $60 a share, up from the trading price of $52.  US Airways merged with American (AAL) - Get American Airlines Group, Inc. Report in 2013.
The deal originated when US Air President Ed Colodny went to Omaha to talk with Buffett about protecting the airline from a potential hostile takeover by hedge fund manager Michael Steinhardt. Colodny and US Air CFO William Loftus joined Buffett for lunch at Gorat's Steak House, a Buffett favorite.
"We spent a couple of hours talking about the airline, a very friendly casual conversation, and I had a great T-bone steak" Colodny said, as quoted in my book, American Airlines, US Airways and the Creation of the World's Largest Airline.
"At the end of the discussion, Warren indicated he was interested in making an investment. We set up a small team to meet with his folks and two weeks later we had an agreement to sell him convertible preferred stock at 9.25%. After we made the deal, Michael Steinhardt went away. We never had any real problems with him."
Buffett subsequently served a few years on the US Air board. The shares never appreciated, and Buffett never converted.
"He wrote down his investment at one point, and he cashed out as soon as he was able," Colodny said. "I think at the end of the day he got all his dividends paid and his principal back."
Nevertheless, Buffett has regularly repudiated airline investing ever since. He famously said, "I have an 800 number [for free calls] now that I call if I get the urge to buy an airline stock. I call at two in the morning and I say: 'My name is Warren and I'm an aeroholic.' And then they talk me down."
Although the U.S. airline industry has finally become profitable, due to a model that combines the impact of consolidation, capacity discipline, newfound ancillary revenue and lower fuel prices, historically it has been aircraft manufacturers, airports and employees who made money from airlines, rather than aircraft investors.
Investing in related industries has been far more profitable than investing in the carriers themselves, Aboulafia noted.
"You don't pan for gold, you sell blue jeans and buckets to the guys panning for gold," Aboulafia said.
This article is commentary by an independent contributor. At the time of publication, the author held no positions in the stocks mentioned.