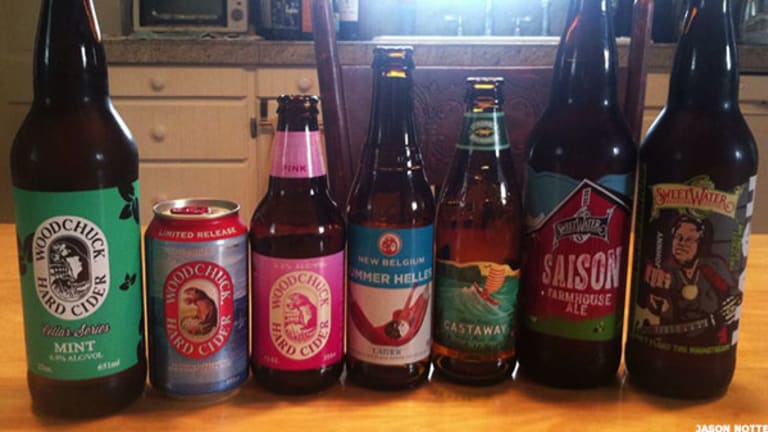 Beer Mailbag: Kona Brewing Goes IPA, Woodchuck Cans Cider
Craft beer is shifting into summer mode and New Belgium, SweetWater, Kona and Woodchuck are all looking ahead to lighter, more refreshing offerings.
Craft beer is shifting into summer mode and New Belgium, SweetWater, Kona and Woodchuck are all looking ahead to lighter, more refreshing offerings.
PORTLAND, Ore. (TheStreet) -- So this is how this is going to work: When the home office fridge fills with more beer and cider than I think I can sample without doing myself some serious Alan Richman Man vs. Food damage, you're going to see one of these rundowns.
I'm also going to note that there's some brand repetition in this installment. There's a reason for that: It's typically the larger brands that send beer. They have the marketing budgets to do so, they have the capacity to spare and they have professional public relations staff on payroll. That's just how it is.
Of this week's submissions, all are from larger breweries and cidermakers. The smallest brewer behind this week's offerings was Atlanta-based SweetWater with 110,000 barrels of production. The next smallest, Kona, is part of the larger Craft Brew Alliance that pumps out roughly 675,000 barrels. New Belgium (765,000 barrels) and Woodchuck Cider (not nearly as big, but the second-largest cidermaker in the country after being bought by Ireland's C&C) round out the lineup.
Just so you're aware, the lineup does occasionally change. San Francisco-based brewpub chain Gordon Biersch just notified us that they're sending some items along, while Lyons, Colo.-based Oskar Blues and Boston's own Boston Beer and its Samuel Adams brand have as well. I don't solicit these items, but won't refuse unless its value is exorbitant (in this case, even low two figures puts me in a tricky position).
As a result, the mailbag is a bit smaller this month. It is, however, packed with just enough summer offerings to make us curse the fact it's still early May. Seriously, could we part with just a few extra degrees and put that whole Polar Vortex nonsense behind us at some point in the near future? The only chill I want to feel within the upcoming months is that from my beer fridge as I reach for styles resembling those below:
Hotlanta turns up the heat
Back in December when we visited SweetWater's brewery in Atlanta, we were introduced to a colorfully painted fermentation tank that was far smaller than those in its newly expanded facility. Dubbed the Dank Tank -- since the brewery behind 420 Pale Ale would naturally name its tank for experimental batches after a weed vaporizer -- it held the brewery's small, potent limited-release batches.
SweetWater's distribution has grown so much in recent years that the "small" batches now outstrip the Dank Tank's capacity, but the Dank Tank line of beers is still a seasonal offering heavy on the kick and light on subtlety. The latest installment, Johnny Hash, was released back on April 24, and has less to do with the man behind Folsom Prison than it does with the Citra hop hash that SweetWater's brewers scraped from the machines that reduce fresh Citra hops into nugget for brewing.
Citra is a tart, citrusy hop that takes some getting used to in the first place, but the hop hash is basically held together with the lupulin resin that gives the hop its flavor and aroma. In this 8.5% alcohol by volume Double IPA, that means some lovely, citrusy goodness from the first sniff and a brawny grapefruit flavor that comes with minimal bitterness. It's a fun, tasty beer to drink and a great harbinger of warmer days ahead, but the 22-ounce bomber bottle should provide fair warning for those considering more than one.
SweetWater's other tip to the season was its 17th Anniversary beer: A Saison Farmhouse Ale. Brewed in much the same fashion as the style's standard bearer, Belgium's Saison Dupont, this 9% ABV bears little resemblance to the low-alcohol brew served to farmhands in the 18th century. But its two months of fermentation and cellaring give it the same yeasty funk as its Belgian predecessor while packing slightly more punch.
Frothy and light, this is the spicy summer beer for folks who've graduated from their local pub's drafts of wheat beer with citrus slices and up to slightly more complex Belgian varieties. At 17, you're on the cusp of adulthood and full maturity, and a Saison is the perfect beer style to embody that stage.
IPA takeover continues
It seems that just about every time I write about a particular trend in beer styles, I get a new example of it just after the story runs.
It happened with stouts just before the last beer mailbag and it's happening with year-round IPA this week. Just after offering a 10-beer sampler of that particular style and explaining how craft brewers are drifting toward IPAs high on hop flavor and aroma but slightly more conservative with their alcohol volume, we got two bottles of Castaway IPA from Kona Brewing.
More to the point, we got those bottles and this thing:
Don't recognize it? Maybe it's because it's recycled promotional material from a Tom Hanks movie that was released 13 years ago. If you just turned 21 this year, you were 8 when Castaway came out. We realize the film and the beer share a name, but why samples of this beer were sent with a promotional movie item depicting the lone volleyball friend of a man marooned on an island is beyond us. Kona's aesthetic is that of island escapism, and slowly losing one's sanity amid drifting FedEx boxes as your wife leaves you for another man and your family starts its life over without you probably isn't the kind of beachfront scene Kona had in mind. Moreover, it just distracts from the beer.
Dubbed a "Hawaiian-style IPA," Castaway drinks much like an original English IPA. Kona used a bunch of Galaxy, Citra, Simcoe and Millennium hops that should have given it the fruity, citrusy flavor they were looking for, but what we tasted was a balanced beer with none of the "mango and passion fruit" notes Kona claims, but with a lovely, mellow flavor and smooth finish that makes it a nice summer substitute for bitter, tongue-scraping, seldom refreshing standard IPA. With 6% ABV and 55 international bitterness units that would be low even for an IPA made 20 years ago, Castaway gives newcomers to the IPA a fighting chance to relax and enjoy something a bit hoppier.
Just don't tell those IPA novices that someone hacked a hole into their imaginary volleyball friend's head and then suggested that beer writers plant flowers in it or use it as a cooler.
Lawnmower beer weather
When the air warms up, the grass rises and you're working in the yard with gas- or electric-powered machinery that could slice your digits clean off your hand just as easily as it could chop some dandelions, a high-alcohol beer isn't exactly what you want to cool you off.
This wasn't such an issue when U.S. beer was wall-to-wall light lager with alcohol volume of 5% or less. You just cracked a can, fired up the mower and went. With craft beer, it's been a bit different until about the past four years or so. That's around the time small brewers started follwoing Oskar Blues' lead and canning their beers, while other brewers toned down alcohol content to make diverse styles more "sessionable" -- meaning you could drink more than one in a sitting without getting silly.

With each passing summer, those worlds came just a bit closer. This year, New Belgium diverged from its traditional Belgian brewing routine and reintroduced its own spin on classic German lager. The Fort Collins, Colo.-based brewer originally brewed its Summer Helles for the 40th anniversary of the Telluride Bluegrass Festival last year, but brought it back this year because, well, it's a refreshing summer beer. Soft and gold like the light lagers of old, Summer Helles is a fairly basic blend of pale and pilsner malts with spicy Target, Tettnang and Hallertau hops on the back end for just a bit of flavor. At 5% ABV, it's an all-day beer great for a bluegrass festival or barbecue. With that healthy mix of malts, however, it's just a bit more substantial than a can of modern light lager.
What we've really appreciated since the return of the can, however, is the diversity of styles that have made their way into it in recent years. In England, Scotland and Ireland, cans of hard cider are fairly commonplace and not a bad way to enjoy a Strongbow or Bulmer's. It's been a slightly harder find here, however, though Boston Beer's Angry Orchard has made the transition quite nicely in recent years -- even sending out a full picnic set and recipes for cider-can chicken with its launch last year.
Not to be left out, Vermont Hard Cider has started canning its Woodchuck line of hard ciders and sent us some samples of its Summer cider in 12-ounce cans. It's tough to disapprove. While Woodchuck's other three seasonal ciders are tinged with maple, brown sugar, nutmeg, cinnamon and other Vermonty flavors and spices, Summer comes in as a lighter version of Woodchuck's traditional Amber cider. Instead of a dry cider, Woodchuck makes Summer a touch sweeter without going too far overboard. That balance makes it a rare refreshing hard cider and, at only 5% ABV, makes it one of the few sessionable ciders out there.
Woodchuck Summer was a treat before it ever found its way into a can, but we can't help thinking that it's finally found its perfect home.
Finishing with cider
Cider's just kind of a nice way to finish out the mailbag, and Woodchuck's ample contribution to this month's installment made it a natural stopping point.
One offering from the brand's Private Reserve line of limited releases caught our eye not just for its rosy hue and dry finish, but for the reason it was made. Woodchuck Pink uses grape skins to make it pink, but the cider itself is secondary to the cause it supports: Survivorship NOW, a Vermont-based nonprofit dedicated to offering wellness programs to cancer survivors. Founded by Dragonheart Vermont, a Vermont-based dragon boat racing team made up solely of breast cancer survivors, the group was founded to help cancer survivors after their treatment ends.

Ordinarily, that might sell a few bottles on its own. The pleasant surprise is that the cider behind it is actually outstanding. At 5.5% ABV, it drinks like a rose riesling without being quite so stiff. It would make a great year-round offering, but it's particularly pleasant around this time of year largely because it's so light and refreshing.
Woodchuck's Mint cider, meanwhile, might be a tougher sell. Seeing that "Mint" on the label is kind of jarring, and hearing that there are notes of spearmint in the mix conjures images of sucking cider through a wad of Wrigley's, but that's really not the case here at all. The mint is really just a subtle accent to the Vermont McIntosh and Irish bittersweet apples, which remain firmly in the fore.
Those spearmint notes are there, however, and give a bit of kick to a cider that has no lack of it. At 6.9% ABV, this cider julep returns firmly to hard cider territory and makes a better nightcap than an all-day sipper. Approach with an open mind and small glass, but enjoy the surprisingly invigorating play on your palate.
-- Written by Jason Notte in Portland, Ore.
>To contact the writer of this article, click here: Jason Notte.
>To follow the writer on Twitter, go to http://twitter.com/notteham.
>To submit a news tip, send an email to: tips@thestreet.com.
RELATED STORIES:
>>Beer Mailbag: SweetWater and New Belgium Ring In Spring
>>More Beer Niches, Buyouts Coming in 2014
>>How Consistency Kept BridgePort Brewing Afloat
Jason Notte is a reporter for TheStreet. His writing has appeared in The New York Times, The Huffington Post, Esquire.com, Time Out New York, the Boston Herald, the Boston Phoenix, the Metro newspaper and the Colorado Springs Independent. He previously served as the political and global affairs editor for Metro U.S., layout editor for Boston Now, assistant news editor for the Herald News of West Paterson, N.J., editor of Go Out! Magazine in Hoboken, N.J., and copy editor and lifestyle editor at the Jersey Journal in Jersey City, N.J.