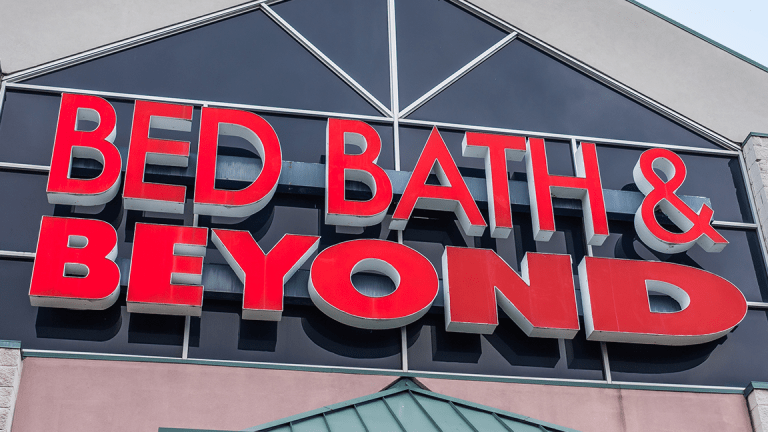 Bed Bath & Beyond's Stock Gets Hammered -- What's Going On With This Company?
Bed Bath & Beyond continues to struggle mightily. Investors should finally call for change in the C-suite here.
Bed Bath & Beyond's (BBBY) - Get Bed Bath & Beyond Inc. Report latest earnings stink as bad as shower mildew. 
Yet somehow, there continues to be little -- to no -- accountability at the top for years of bad results and an obsession for repurchasing a stock that often only knows one direction, down.
Shares of the home furnishings retailer crashed 19% on Thursday as it said fiscal year earnings will be about $2 to $2.50 a share. Wall Street was looking for $2.77 a share. Fiscal fourth-quarter same-store sales fell 0.6%, slightly better than estimates for a 2.3% drop, but still nothing to write home about. Earnings of $1.41 a share beat forecasts for $1.39 a share.
"Many of the same issues continue to pressure sales, margins and expenses and Bed Bath & Beyond is struggling to get its footing as it plays catch-up in digital," writes Jefferies analyst Dan Binder. "The lack of visibility around where operating margins will bottom needs to improve before we get more constructive."
The retailer's stock has lost roughly 68% in value over the last five years. Given current CEO Steven Temares has led Bed Bath & Beyond since 2003, looking at the stock price during a longer period of time is a key analysis for investors. 
7 Things At $BBBY That Should Disturb Any Shareholder
CEO Steven Temares at the helm since 2003, unusually long for any CEO but especially in the retail space. 
Co-founders continue to be co-Chairmen.
A board of directors with virtually no retail experience and limited tech experience. One would think that in the age of Amazon , having board experience in both areas would be vital. Amazon is a holding in Jim Cramer's Action Alerts PLUS. 
Same-store sales have declined in eight of the last 10 quarters, according to Bloomberg data. 
Fiscal year 2012 gross profit margin: 41.38%/fiscal year 2018 gross profit margin: 35.97%, according to Bloomberg data. Those Bed Bath & Beyond coupons take their toll.
Despite the poor performance, Bed Bath & Beyond has pushed forward with new store openings. Over the past 10 years, the company's store base has swelled about 50% to more than 1,560 locations. 
Despite the plunging stock price, Bed Bath & Beyond has repurchased some $6.2 billion in stock the last five years according to Bloomberg data. That's akin to tossing money in a dumpster fire.  
As TheStreet's Cathaleen Chen reported in January, it borders on shocking that Bed Bath & Beyond hasn't been attacked by an activist investor. 
"It boggles my mind that an activist hasn't gotten involved with Bed Bath already," said Anthony Chukumba, an analyst and the senior vice president at Loop Capital. Chukumba publishes a regular "Activist Attractiveness Framework" report, and each time, Bed Bath & Beyond is at the top of the list, he told TheStreet.
"Bed Bath & Beyond's long string of financial struggles, stock underperformance, insular senior management, and lack of investor transparency could attract activist investors," Chukumba wrote in his most recent report in July, also highlighting the chain's "repeated history of self-dealing," in which its two latest acquisitions - buybuy BABY and Chef Central - are owned by the two co-chairmen's family members.
Watch below an old school video (TheStreet's video has evolved significantly since then, watch more here) of yours truly from 2014 voicing concern on Bed Bath & Beyond's governance. Interestingly, not much has changed at the company since that segment (see stats above). But, the argument could easily be made that things need to change at the retailer, and fast.