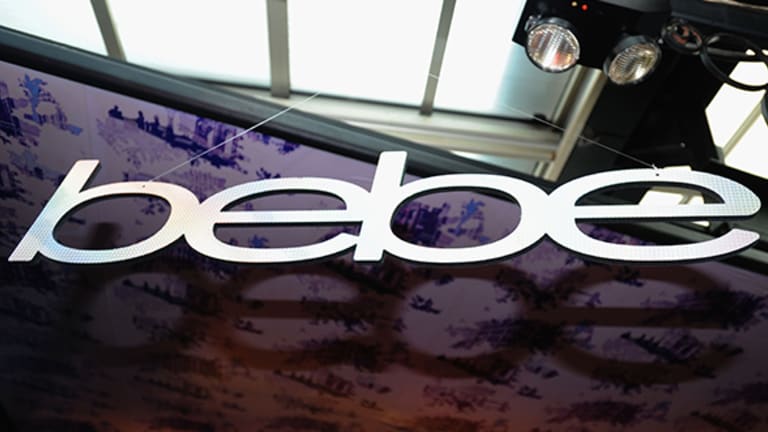 Bebe Announces Restructuring Plans As It Appears To Be The Latest Retailer to Go Bust
Bebe will likely follow the slew of retailers filing for Chapter 11.
Bebe will likely follow the slew of retailers filing for Chapter 11.
Bebe Stores (BEBE) stock is soaring 16.32% to $4.49 a share in Wednesday's after-hours trading after its Board of Directors announced it is exploring strategic alternatives.
Bebe said it retained B. Riley & Co. to lead the turnaround efforts, plus "a real estate advisor to assist with options related to its lease holdings."
"There is no assurance that this process will result in any specific transaction and it does not expect to disclose further developments during this process unless and until the Board of Directors has approved a specific transaction or otherwise determined that disclosure is appropriate," Bebe said in a statement.
Shares of Bebe tanked nearly 47% on Tuesday after sources told Bloomberg that, in an attempt to restructure out of court, the struggling teen retailer plans to shutter all of its stores and focus solely on e-commerce.
The retailer is trying to conduct turnaround efforts without filing for bankruptcy protection under Chapter 11, but Bloomberg reported that it may have to give in if its landlords aren't willing to negotiate.
The Brisbane, Calif.-based retailer sells apparel aimed at young girls at 134 stores in the U.S. and through its e-commerce site.
In February, Bebe reported second fiscal quarter total net sales of $101.9 million, a 16.8% slip from the year-ago period. The retailer posted a net loss of 65 cents a share and a same-store sales decline of 10.5%.
Last year, Bebe eliminated 45 jobs at its headquarters, representing 14.6% of its workforce, to cut costs. The move was estimated to save Bebe $6 million in annual expenses. During that time, Bebe also brought back founder Manny Mashouf as CEO and Walter Parks as president, COO and interim CFO. Former CEO Jim Wiggett and CFO Liyuan Woo were ousted. Mashouf founded Bebe in 1976.
If Bebe is forced to file for bankruptcy, it will join a growing list of its peers that recently succumbed to insolvency amid diminishing mall traffic and intense competition from e-commerce players like Amazon (AMZN) - Get Report .
Just in the past few weeks, Wall Street saw bankruptcy filings from sporting goods retailer Gander Mountain, RadioShack successor General Wireless Operations, everyday value price department store operator Gordmans Stores (GMAN) - Get Report  and appliances, electronics and furniture retailer HHGregg (HGG) . Last Wednesday, children's apparel retailer Gymboree cautioned it was running low on cash and may not survive.
The retail industry remains bleak with an increasing list of retailers shuttering stores, including Sears Holdings Corp. (SHLD) which is teetering on the brink of insolvency.