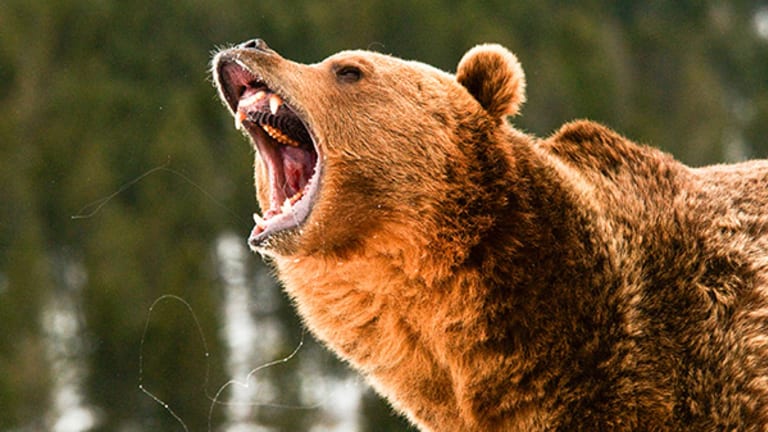 Publish date:
Bear Thesis on Corbus Pharma Could Cause a Crash Landing for High-Flying Biotech Stock
The market is acting like resunab is a real drug, which is why my investor source is short Corbus.
The market is acting like resunab is a real drug, which is why my investor source is short Corbus.
Corbus Pharmaceuticals (CRBP) - Get Report is the top-performing biotech stock of the year but it's headed for a big fall.
Says who? My most reliable and skeptical healthcare investor source says so. I can't share this fund manager's identity with you, but you've read his accurate biotech bear calls before in my columns. Most recently, he was short Mast Therapeutics, CytRx, Immunomedics, NewLink Genetics, Chiasma and Celldex Therapeutics before they all blew up.
Now, he's short Corbus. Resunab, the only drug in Corbus' research pipeline, doesn't work, he says. The drug is a zero, but you wouldn't know that based on bullish analyst reports and a stock price that has gone from $1.50 per share in January to almost $10 per share earlier this month. Corbus shares closed Monday at $8.90, giving the company a market value of $390 million.
The market is acting like resunab is a real drug, which is why my investor source is short Corbus. He says he knows better. The verdict comes later this quarter when Corbus announces top-line results from a mid-stage clinical trial of resunab.
Every stock has a bull and bear thesis. Unfortunately, investors pay too much attention to the former and too little time understanding the latter. Drug development is a super-risky business, so it's vital to know what could go wrong with your favorite biotech stock.
I'm turning over the remainder of this column to my investor source. In his own words, he'll explain the bear thesis on Corbus and why he predicts the upcoming resunab clinical trials results will be a failure. Again, he's short Corbus.
Corbus Pharmaceuticals' lead drug is resunab. It's derived from marijuana, though synthesized chemically, designed to hit the CB2 receptor with nine times the affinity as the CB1 receptor. The CB1 receptor is found in the brain and is usually cited as the cause of the high from smoking marijuana. The CB2 receptor is found outside the brain on immune and other cells. It's not clear what the CB2 receptor does, or if it does anything.

Resunab, also known as ajulemic acid or JBT-101, was invented by Sumner Burstein back in the 1990s. He licensed resunab to Atlantic Pharmaceutical, which ran it through a clinical trial for pain. The study was conducted at a single center in Germany and published in 2002. If you squint, you can see some p values at some time points that say the drug "works."

The drug then was sublicensed to Indevus Pharmaceuticals, and according to the 10-K of Corbus, Indevus examined this trial and all the other animal data in pain and decided to terminate the license in 2008.

Indevus' decision to ditch resunab was probably also guided by a study of Hu-308 (another CB2 agonist with almost identical structure to resunab) in animals where it was statistically significantly better than control vehicle, but inferior to indomethacin, a nonsteroidal anti-inflammatory (NSAID) pain reliever. There's also a phase II study of GW842,166x in dental pain (GW842 binds CB2 with similar affinity as resunab) that was identical to placebo and inferior to ibuprofen, another common NSAID. Pharmos tried to develop a CB2 agonist but it also showed no effect in dental pain.

Undaunted by the mound of negative clinical evidence, JB Therapeutics stepped in to license resunab in 2009 and ultimately merged with Corbus in 2014 to form the Corbus Pharmaceuticals in operation today.

How does a company like Corbus justify developing a drug with a mechanism of action proven not to work? By changing the drug's mechanism of action and diseases it can treat.

Corbus ditched the pain indications and instead is developing resunab in scleroderma (a type of arthritis affecting the skin and lungs) cystic fibrosis and dermatomyositis, an inflammatory disease that affects the muscles and skin.

Why? Because Corbus believes resunab had shown efficacy in the bleomycin model of lung fibrosis in rats and in a cystic fibrosis inflammation rat model. The company also presents what it describes as proof of anti-inflammatory activity from a healthy human volunteer study and claims to see an antifibrotic effect in human cells taken from scleroderma patients.

Some investors might believe in miracles. I don't. Dig into the published papers, like I did, and you'll find Corbus' resunab data are weak and inconsistent. The data culled from cells of scleroderma patients show no impact on any measure of fibrosis at the doses currently being tested in phase II clinical trials. Resunab may "work" in animal lung models but so did 200 other drugs. How many of these drugs have been proven to be antifibrotic in humans? One. And that drug, pirfenidone, failed in scleroderma. Corbus' animal data in cystic fibrosis are completely contradictory and nonsensical.

Resunab (and other CB2 agonists) have been found to be inferior to common NSAID pain relievers like ibuprofen, but Corbus wants investors to believe that this drug is somehow going to conquer a serious disease like scleroderma, which has no approved drugs to treat it, or inflammation associated with cystic fibrosis, again, nothing currently approved to treat it.

What Corbus is attempting with resunab is similar to a hunter trying to kill a rhinoceros with a BB gun.

Corbus is conducting a phase II study of resunab compared to a placebo in 42 patient with scleroderma The primary endpoint of the study is a composite measure of efficacy that assesses skin change, lung function and global assessments of benefit by patients and physicians. Corbus is expected to announce top-line results from this study before the end of the year.

I would give you the data on a randomized, placebo-controlled trial of ibuprofen in scleroderma to use as due diligence on the resunab study, except no one has bothered to do it.

I wish Corbus good luck. They'll need it. Other companies have tried to develop CB2 agonists but gave up. Corbus remains. Maybe resunab can make medical history after 30 years of failed efforts. Maybe, but I doubt it.
Adam Feuerstein writes regularly for TheStreet. In keeping with company editorial policy, he doesn't own or short individual stocks, although he owns stock in TheStreet. He also doesn't invest in hedge funds or other private investment partnerships. Feuerstein appreciates your feedback; click here to send him an email.