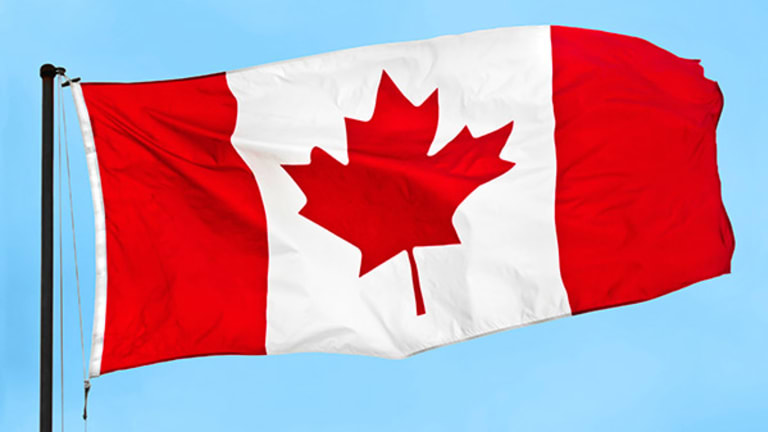 BCE Is the Best Telecom Yield Play in Ultra-Safe Canada
The Bell Canada parent dominates telecommunications in the Great White North, a country typically a safe haven during troubled times such as these. The stock's yield is robust and sustainable.
Consumers instinctively dislike monopolies or oligopolies, but investors love the steady profits they generate.
Which brings us to BCE (BCE) - Get BCE Inc. Report , the largest of the Canadian telecommunications and media companies. With a market cap of about $40 billion, BCE is part of the oligopoly that dominates the Canadian communications space, with the juicy dividend and growing earnings to show for it.
Now sporting a dividend yield of 4.77% and on track for quarter-after-quarter profit increases, BCE is the best yield play in Canada, a country that's traditionally a safe haven during the sort of economic and geopolitical risks we're seeing today.
The Montreal company provides wireless, wireline, internet and television services to residential, business and wholesale customers in the Great White North.
BCE subsidiary Bell Canada on Monday announced an ambitious plan to invest $854 million in a project designed to connect millions of homes and businesses in Montreal with its fastest broadband fiber technology. The move is one of the largest-ever communications infrastructure projects in Quebec and should drive revenue and earnings growth for BCE for years to come.
BCE has an outstanding history of uninterrupted and growing dividends. You should be interested, however, in identifying those companies that have not only done well in the past but are able to sustain that performance. And that description fits BCE.
BCE keeps a rock-solid balance sheet and comfortable interest-coverage ratios. The company also generates ample free cash flow (operating cash flow minus capital expenditures) that easily covers dividend payments.
BCE boasted $639.6 million in total cash on hand as of Dec. 31 and trailing 12-month operating cash flow of $4.98 billion. The operating margin is a healthy 23.94%.
With government bond yields now so low, yield-starved investors will find BCE attractive. The company can increase its profits and dividends steadily over time, with limited competition and real pricing power.
BCE also owns equity interests in several highly valuable companies, including Q9 Networks, a leading provider of outsourced data center solutions; Maple Leaf Sports & Entertainment, owner of the Toronto Maple Leafs and several prominent real estate assets; the Montreal Canadiens hockey club and its home, Centre Bell; The Globe and Mail; Virgin Mobile; and The Source, an electronics retail chain with 550 stores throughout Canada.
The average analyst expectation is that BCE's year-over-year earnings growth will reach 4.6% next year and 4.81% over the next five years on an annualized basis. The stock's trailing 12-month price-to-earnings ratio is 17.89, roughly in line with its peers Verizon (VZ) - Get Verizon Communications Inc. Report (15.3) and AT&T (T) - Get AT&T Inc. Report (19.8), as well as the industry (18.3).
I "Sold My Soul" for This One Irresistible Stock ...
High-flying tech stocks have a nasty tendency to nosedive without warning. So much so that it's been nearly two decades since I've been tempted to buy one. But when I discovered this state-of-the-art facility just 4 minutes from my office, I couldn't help myself. This company has it all: explosive growth potential (with none of the risks that usually come with trendy tech stocks), steadily increasing dividend payments, and the buy-in of a group of Silicon Valley's top CEOs. ... Wouldn't you break your own rules for a piece of that action? Click here to tap into its $8.47/second income stream.
John Persinos is an analyst with Investing Daily. At the time of publication, he owned stock in Verizon.