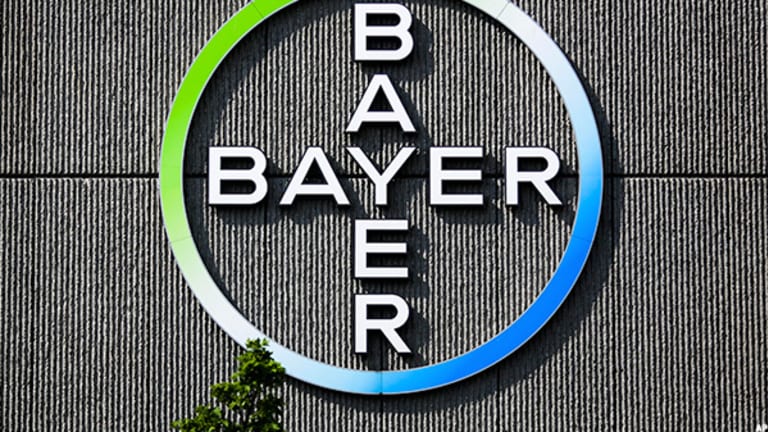 Bayer Completes $100 Million Quality Control Facility in Berkeley
The Berkeley site, which includes Bayer's global biotechnology development and product supply organizations, is the company's single plant that manufactures and distributes its Hemophilia A treatments
Pharmaceutical giant Bayer Corp. (BAYRY) on Wednesday announced the completion of a new, $100 million quality control facility at its Berkeley, Calif. campus intended to help develop the company's Next Generation Hemophilia Treatments.
The new facility will be crucial in guaranteeing treatments produced at its Berkeley location are safe and effective.
The Berkeley site, which includes Bayer's global biotechnology development and product supply organizations, is the company's single plant that manufactures and distributes its Hemophilia A treatments in more than 70 countries, according to Bayer.

What's Hot On TheStreet
Volvo is no longer feeling gas engines: Ford's (F) founder Henry Ford may be rolling over in his grave on this one. Volvo Cars said Wednesday that all of its cars will feature an electric engine from 2019, as it embraces of the new technology in the face of industry-wide adoption. The Swedish car maker will roll out a mix of all-electric, hybrid and mild hybrid cars from 2019 and will no longer offer vehicles that carry just a traditional internal combustion engine, TheStreet reports.
"This announcement marks the end of the solely combustion engine-powered car," said CEO Hakan Samuelsson. "Volvo Cars has stated that it plans to have sold a total of 1 million electrified cars by 2025. When we said it we meant it. This is how we are going to do it." Meanwhile, Nissan said Wednesday that its new all-electric Leaf will hit markets starting September 6.
About Tesla's (TSLA) Model 3...
Microsoft on the clock: With speculation swirling of impending layoffs, TheStreet takes a look back at how Microsoft CEO Satya Nadella has reshaped the tech giant. Since taking over in 2014 from the energetic Steve Ballmer, Nadella has completely reorganized Microsoft by driving better internal collaboration and via the purchase of LinkedIn. The stock market has rewarded Nadella accordingly: Microsoft shares hit an all-time high in January after better than expected earnings.
Summer paychecks for tech interns are no joke: It doesn't beat working as a summer intern for Apple (AAPL) . Apple pays an average of over $7,000 per-month in pay (plus paid overtime) for college interns, along with free housing near its San Francisco Bay-area headquarters, TheStreet reports.
Wait, we stand corrected. Being a college intern and logging into work for Alphabet (GOOGL) and Facebook (FB) isn't too shabby, either: you can pull in the equivalent of $96,000 a year.
Costco has been crushed: Shares of the membership club retailer have plunged 13% to $158.82 inside of a month, as investors have grown worried about a world where Amazon (AMZN) owns organic food pioneer Whole Foods (WFM) . Costco's market cap has fallen a shade more than $9 billion, TheStreet points out. The more one looks at the grocery store landscape, the stock market has good reason to be concerned about Costco's future.
Apple, Facebook and Alphabetareholdings in Jim Cramer'sAction Alerts PLUS Charitable Trust Portfolio.Want to be alerted before Cramer buys or sells AAPL, FB and GOOGL? Learn more now.
Visit here for the latest business headlines.