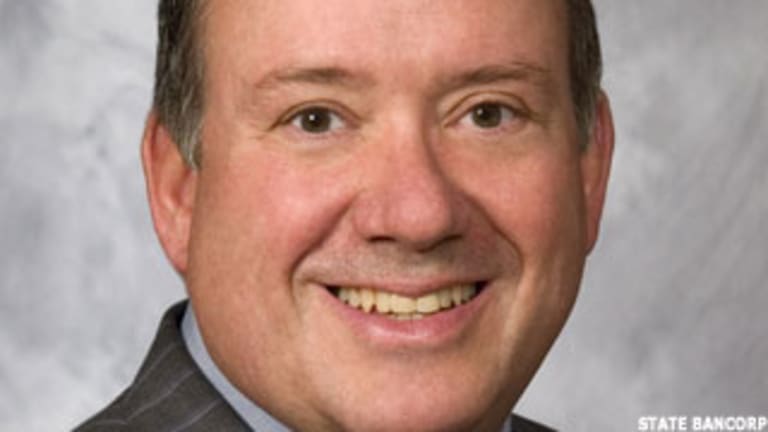 Battling Against the Big Guys: State Bancorp CEO Q&A
In an exclusive interview with <I>TheStreet</I>, State Bancorp president and CEO Thomas O'Brien discusses the bank's merger with Valley National Bancorp, regulatory challenges and the market conditions for banks on Long Island.
NEW YORK (
) -- Thomas O'Brien -- president and CEO of
State Bancorp
( STBC) of Jericho, New York -- told
TheStreet
in an exclusive interview Wednesday about the challenges that led to his company's decision to merge with
Valley National Bancorp
(VLY) - Get Free Report
.
Valley National of Wayne, N.J. in April
agreed to acquire State Bancorp
in an exchange of shares valued at $222 million. SNL Financial said the deal's value was 1.9 times State Bancorp's book value, which is a healthy premium in the current environment for bank mergers.
State Bancorp president and CEO Thomas M. O'Brien.
State Bancorp's market area of Nassau and Suffolk Counties on Long Island is dominated by
JPMorgan Chase
(JPM) - Get Free Report
,
Capital One
(COF) - Get Free Report
and
Citigroup
(C) - Get Free Report
, which had a combined 47% deposit market share as of June 30, 2010, according to the
Federal Deposit Insurance Corp.
The local institution with the largest market share in the two counties was
Astoria Federal Savings
-- the main subsidiary of
Astoria Financial
(AF)
of Lake Success -- with 8.5% of deposits, for the fourth-place market share.
Bank of America
(BAC) - Get Free Report
placed fifth, with a 6% market share, and State Bancorp's main subsidiary
State Bank of Long Island
was in 15th place with a 1.4% deposit market share.
In an interview with
TheStreet
, O'Brien discussed the challenges for community banks trying to make a decent return in the evolving regulatory environment, and the opportunities for the combed Valley National and State Bancorp on Long Island.
TheStreet:
What size will a community bank need to reach, in order to remain viable?
Thomas O'Brien:
A community bank's critical size will be a function of location. Consequently, in the metro area I think $5 billion in today's dollars probably gives one critical mass.
Perhaps in more rural areas of the U.S., with lower cost of living, the number might be $1 billion. Keep in mind that this is all a function of net-interest margin generating net revenue sufficient to cover operating costs and generate capital. Capital requirements are moving higher and shareholder returns are moving lower.
Smaller banks will struggle to attract capital and sustain valuations that support their balance sheets.
Community banks will continue to have a place but the number will decline and the more classic size expectation of "community" will likely move to larger size.
TheStreet:
Can you outline the expense challenges brought about by the regulatory changes?
O'Brien:
All of these laws that pass and then implemented, with CRA
the Community Reinvestment Act and RESPA
the Real Estate Procedures Settlement Act as examples, always end up costing us more and more money as an industry. This one
the Dodd Frank Wall Street Reform and Consumer Protection Act, signed into law by President Obama last July is hitting the revenue side too, not just the expense side.
Plus, capital levels are going higher, not that I disagree with that, but for smaller banks with smaller revenue opportunities and tighter interest margins it will be harder and harder to pay for the compliance infrastructure you're are going to need to properly run a company.
CRA started as a two-sentence law, and now we have armies of regulators, consultants and advisors. It has become a cottage industry.
Same with RESPA -- it started with good intentions and has turned into an incredibly complicated form that people throw away and don't use.
It's cumbersome for a smaller bank to afford the staff for all these rules and regulations. A community bank tends to do a little bit of everything. It's not like any business line has an enormous business stream.
You layer in all these costs, including the reporting and examination and hiring a consultant to find ways to fine-tune it. You have to look at statistical anomalies and try to conform to the standards.
We lend in our communities and we live in our communities. We don't need a lot of national or super-regional type rules or regulations to tell us how to do what we do. It's in our DNA.
For shareholders, we have to look at an appropriate return, since they capitalized our business. How much should go to compliance expenses?
TheStreet:
How was your bank affected by the "opt-in" rule for ATM/Debit card overdraft protection?
O'Brien:
To the extent that our customers used overdrafts, they had credit lines so we weren't affected as much.
TheStreet:
What about the Durbin Amendment
Dodd-Frank's limitation on interchange fees charged by banks with total assets greater than $10 billion on debit card purchases?
O'Brien:
It concerns me as much philosophically as it does financially. It is inappropriate price fixing by the government, and everybody's expenses are different.
The idea that the fed can craft a perfect formula is just absurd. At the end of the day, they have a clause that will not affect a smaller bank, but that is exactly what it will do. The merchants won't take smaller banks' cards. The community banks will get hurt again.
I don't think the government has any business fixing prices in the market place and this is just unworkable.
TheStreet:
How's the Long Island Economy?
O'Brien:
It's reasonably OK. Unemployment is still an issue and property taxes are a related issue, because high property taxes serve as a damper on the value of homes.
You have a couple of banks in our market with late-stage credit problems, but the market is OK and as you get into the New York City area, Manhattan is reasonably firm and the outer boroughs a little weaker.
TheStreet:
Deposit gathering in Nassau and Suffolk is dominated by JPMorgan Chase, Capital One and Citigroup. What advantage do the smaller local players have over the big banks, in your market?
O'Brien:
The big advantage local banks have is that we tend to be more hands-on, more responsive and for most of the client base, we can provide the same level with commercial credit facilities the large banks can. They know us.
The general responsiveness and familiarity with the staff are attractive to a lot of commercial customers.
TheStreet:
And after the merger is completed?
O'Brien:
It will be all the same people and facilities, and the bigger balance sheet will be a big help. Long island is still a higher-credit-demand market than more rural areas. We have customers that are family big businesses. Their credit needs can be significant. The company's still going to be at a size that retains responsiveness and familiarity. It's a good fit.
TheStreet:
Where are the lending growth opportunities on Long Island, for the combined banks?
O'Brien:
Long Island has a whole host of professional service firms, law firms and accounting firms, which are pretty good opportunities for us. Real estate is a good opportunity. Long Island has several different pockets of relatively high commercial density. There are substantial numbers of family owned businesses. Those are the best.P/>
TheStreet:
Where are the lending growth opportunities on Long Island, for the combined banks?
O'Brien:
My sense is that it will create a little bit of a headwind. The economy's strong enough to get over it. In the normal course, we should see interest rates start to come up a little bit, but it is not going to be a severe drag or severe jump in interest rates.
RELATED STORIES:
10 Community Bank M&A Targets >>
Valley National to Buy State Bancorp >>
Bank Dividends Threatened by Overregulation >>
Bank Dividends with Room to Rise >>
--
Written by Philip van Doorn in Jupiter, Fla.
>To contact the writer of this article, click here:
.
>To follow the writer on Twitter, go to
http://twitter.com/PhilipvanDoorn
.
>To submit a news tip, send an email to:
.
Philip W. van Doorn is a member of TheStreet's banking and finance team, commenting on industry and regulatory trends. He previously served as the senior analyst for TheStreet.com Ratings, responsible for assigning financial strength ratings to banks and savings and loan institutions. Mr. van Doorn previously served as a loan operations officer at Riverside National Bank in Fort Pierce, Fla., and as a credit analyst at the Federal Home Loan Bank of New York, where he monitored banks in New York, New Jersey and Puerto Rico. Mr. van Doorn has additional experience in the mutual fund and computer software industries. He holds a bachelor of science in business administration from Long Island University.