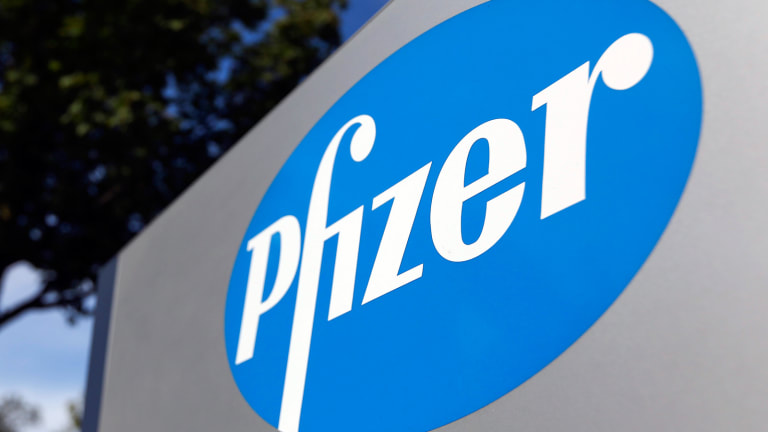 Battle of the Pharmaceutical Bigwigs: GlaxoSmithKline vs. Pfizer
Here is a look at two big pharma stalwarts to determine the better stock to buy for growth and income.
Here is a look at two big pharma stalwarts to determine the better stock to buy for growth and income.
Health care stocks remain a good bet for dividend income chasers.
Not only do the stocks provide relief during downturns, they also ensure fixed income.
In a match-up between dividend health care stocks GlaxoSmithKline (GSK) - Get Report  and Pfizer (PFE) - Get Report , which one is the better choice? GlaxoSmithKline has a yield of 4.6%, and Pfizer has a slightly lower 3.5% yield that is backed by six years of dividend growth.
Surprisingly, when it comes to safe and stable dividends, investors should bet on Pfizer.
Picking great dividend opportunities isn't only about looking for drug companies with bigger yields.
The health care-related companies with the best yields are GlaxoSmithKline, Sanofi (4.3%), Pfizer, AbbVie (3.5%), Novartis (3.3%), Merck (about 3%) and Bristol-Myers Squibb (about 2.75%), according to Dividend.com.
Bristol-Myers Squibb is a holding in Jim Cramer's Action Alerts PLUS Charitable Trust Portfolio. See how Cramer rates the stock here. Want to be alerted before Cramer buys or sells BMY? Learn more now.
But yields can be misleading. Establishing why a company is paying high dividends is essential.
Is the yield number big because of a falling share price?
Sanofi's yield, for instance, looks great, probably because the stock has dropped by as much as 11% in the past year. GlaxoSmithKline's yield, thankfully, isn't a mirage, and neither is Pfizer's.
After paying rising dividends annually from 2006 to 2014, GlaxoSmithKline cut dividends slightly last year. This is a big negative.
In the past three years, the average dividends-per-share growth rate for GlaxoSmithKline was 1.90% annually, according to Gurufocus.
In the past five years, the average annual rate was 6.70%, and during the past 10 years, it was 7.70%.
Since 2010, Pfizer has paid rising dividends annually.
The average dividends-per-share growth rate was 9.10% annually in the past three years, higher than GlaxoSmithKline's, according to Gurufocus.
In the past five years, that rate was 6.70% per year for GlaxoSmithKline and Pfizer. In the past 10 years, this rate for Pfizer was 1.7% annually, lower than GlaxoSmithKline's.
So while GlaxoSmithKline paid growing dividends, its rate has slowed in the past three years. Pfizer's dividends have been more stable.
Both companies have a plethora of drugs and solid pipelines. However, finances and future earnings can tell investors which one is a better dividend income potential.
First, look at GlaxoSmithKline's 76.9% dividend payout ratio versus Pfizer's 48.8%. This demonstrates why it is smart to avoid stocks with more than a 75% ratio, unless they are real estate investment trusts.
GlaxoSmithKline didn't increase dividends last year. Adding up its forthcoming dividend shows that 2016 too could be a down year.
We are heavily biased against companies that report declining free cash flow. GlaxoSmithKline's annual free cash flow fell consistently between 2009 and 2012 and again after 2013.
This isn't a good sign.
By comparison, Pfizer, despite its challenges, since 2010 has tried to maintain stable free cash flow between $13 billion and $18 billion.
In terms of earnings, both GlaxoSmithKline and Pfizer have good prospects. Although Pfizer is expected to deliver 6.5%-plus earnings-per-share growth annually over the next five years, GlaxoSmithKline is projected to post a 10% run rate during the same period.
Remember, Pfizer is about double the size of GlaxoSmithKline so it is that much more difficult to grow fast.
The verdict: Pfizer is the better growth-and-income play.
---
If you're looking for new and exciting growth opportunities in this turbulent market, we've found a genius trader who turned $50,000 into $5 million by using his proprietary trading method. For a limited time, he's guaranteeing you $67,548 per year in profitable trades if you follow his simple step-by-step process. Click here now for details.
This article is commentary by an independent contributor. At the time of publication, the author held no positions in the stocks mentioned.