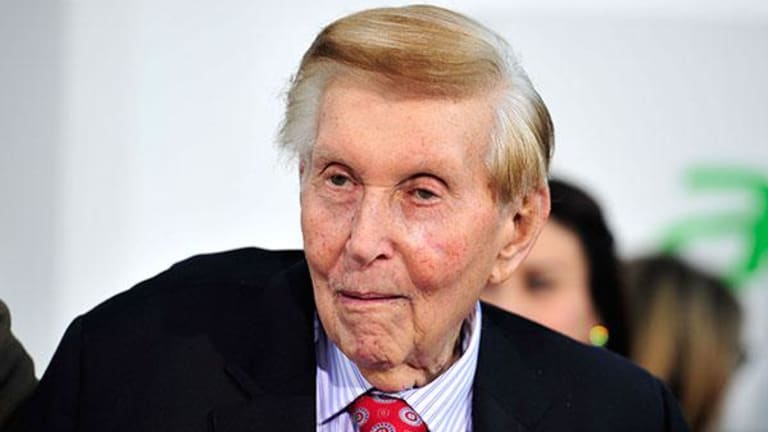 Battle for Viacom's Board to Proceed in Delaware
A trial over Sumner Redstone's board purge will start in October.
A trial over Sumner Redstone's dismissal of Viacom (VIAB) - Get Report board members will proceed in the Delaware Chancery Court, a judge ruled Friday, July 29. The dispute is part of sprawling litigation that stretches from Delaware to Massachusetts and California.
Redstone has 80% of the voting power of Viacom shares via holdings in National Amusements. In June, Redstone and National Amusements dismissed five Viacom directors, including CEO Philippe Dauman, and directors George Abrams and Fred Salerno.
Lead independent director Salerno sued Redstone, daughter Shari and National Amusements in June, and National Amusements had asked Delaware Chancery Court Judge Andre Bouchard to dismiss the suit.
Bouchard said Friday that a trial would commence in October, and that he would consider Redstone's mental capacity. Bouchard wants a report on how discovery will proceed next week.
The parent of MTV, Comedy Central, Paramount Pictures and other media properties dropped 54 cents, or 1%, to $49.64 on Friday.
The decision comes a day after Judge George Phelan in Norfolk County, Mass., Probate and Family Court ruled that he would hear related legal actions in October.
"We are pleased the court has recognized the need to swiftly proceed to determine the serious issues of undue influence and Mr. Redstone's capacity," said a Viacom spokesperson in a statement. "This is the second court in two days that has refused to dismiss the matter and ruled that discovery will go forward. We look forward to revealing the truth as we prepare for trial in both Massachusetts and Delaware in October."
Redstone and National Amusements have argued that the executive's mental capacity is a moot point. A trust that would assume control of Redstone's holdings if he were incompetent also ratified the board changes. The entire board of National Amusements approved the move, the company stated.
"Today's ruling does not constitute a judgment on the merits of this case," National Amusements said in a statement.
"National Amusements exercised its indisputable rights as Viacom's majority shareholder to make changes to Viacom's board," the company stated. "We look forward to demonstrating the integrity of these changes, which were ratified unanimously by National Amusements' board and would be approved again by a majority regardless of the outcome of this case."