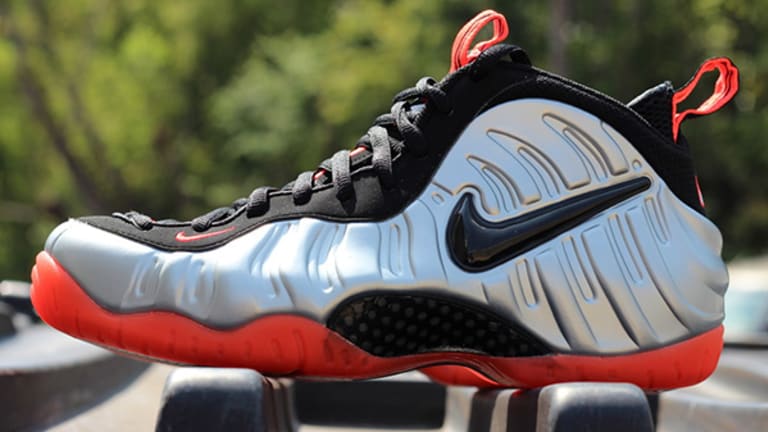 Basketball's Draw Continues to Boost Nike's Sales
Nike and basketball sounds like an obvious combination, but in fact basketball footwear is one of the growth drivers rocketing Nike forward.
NEW YORK (TheStreet) -- Nike (NKE) - Get Free Report and basketball. It sounds like an obvious combination considering how long Nike has been selling sneakers branded with the legendary Chicago Bulls basketball player, Michael Jordan. But in fact, basketball footwear is one of the growth drivers rocketing Nike forward.
"Basketball clearly is continuing to become much more of a global sport," Nike's President Trevor Edwards said during the company's third-quarter earnings call in March. "I think the fact that more people have a chance to see this sport all around the world, obviously, they watch the NBA with the great players that we have from Kobe, LeBron, KD, I think people have the chance to really experience how those players are just keeping the excitement in the marketplace."
"In terms of in the future, we continue to feel that the consumers are becoming increasingly excited about the sport, and we look at basketball as just a tremendous growth opportunity," he said. "And all the work that we're doing with Foot Locker (FL) - Get Free Report at the House of Hoops, the work that we're doing in our DTC [direct-to-consumer] stores, are really helping to solidify the marketplace."
For the Beaverton, Ore.-based sports apparel and footwear retailer, sales from basketball jumped 21% in fiscal 2013 to $2.63 billion. Yet it represented a small portion of across-the-board Nike revenue, which includes footwear, apparel, equipment and other businesses, of roughly $25 billion in 2013, according to its annual filing with the Securities and Exchange Commission. (Nike's fiscal year ends in May.) That compares to sales from running, which brought in $4.27 billion last year, up 16% from 2012.
Sneakers at Work Are Running Up Sales for Nike, Foot Locker
3 Lessons American Apparel and Lululemon Need to Learn
Here are 5 Retailers With Big Short Interest
American Apparel, Is It Fit for a Buyer?
Nike reports fourth-quarter and fiscal 2014 earnings on Thursday after the markets close. Analysts are expecting Nike to post earnings of 75 cents a share for its fiscal fourth quarter, down 1% from the year-earlier quarter, although revenue is expected to rise 10% to $7.34 billion, according to Thomson Reuters.
"Both the NIKE and Jordan brands continue to deliver the very best in basketball, with innovative products and groundbreaking experiences. Q3 was the 10th consecutive quarter of double-digit growth for our basketball category. And as the game becomes increasingly global, this growth story is just getting started," Edwards said.
Industry observers and analysts say the company's commitment to technology in relation to improving shoe performance, the potential for sales growth outside the U.S., especially in Europe, and Nike's ability to dig into its archives and "re-release" older popular shoes, such as Air Jordan's with newer technology or colors, for instance, are several tailwinds for the company's basketball merchandise.
For the last four years, sales from basketball-specific gear have been growing in double digits, according to Camilo Lyon, managing director of equity research at Canaccord Genuity. And while it's true that the "law of large numbers" is catching up to Nike in North America, "this is the year they've had the most amount of new product releases," Lyon says. "It's not only Jordan, its LeBron, its Kobe, its Melo. There's multiple key athletes that have driven a lot of the shoe growth whereas before it has been really Jordan."
This is positive not only for Nike but for retailers as well including Foot Locker, Finish Line (FINL) and Hibbett Sports (HIBB) - Get Free Report.
"From the conversations I've had with buyers that have visibility into the product line nine months [out], they continue to be excited about it," Lyon says. "So for the foreseeable outlook it looks like it can continue to be as robust."
Nike is also focusing on international sales for its basketball line up, and it is likely to give a boost to sales in Western Europe and in China, an area where Nike has been struggling. "It's been all about basketball of late -- the expansion of trend not only with core consumer, but also the trend in Europe as well," he adds.
So-called sneakerheads are willing to pay. A pair of Air Jordan 11 Gamma Blue would sell for $170 on Nike.com or at select outlets (good luck finding them). On eBay (EBAY) - Get Free Report, one bid for the Air Jordan 11 Gamma Blue Concord Space Jam went as high as $1,125 on June 1 after 42 bids for the sneakers.
The New York Post ran a story on June 15, profiling a tenth grade student in Harlem who opened his own high-end sneaker pawn shop in Harlem, showing the demand for the fashion-forward sneakers Nike is producing. The June 15 article noted that the store's priciest pair -- LeBron Crown Jewels -- went for as much as $1,400 compared to the $270 sticker price. However, some sneakers can be worth thousands.
"Pretty much Nike is the best. A regular consumer ... They shop for value, but a person who's looking for style, color, who's on social media, Nike is going to be the best for them," Clyde Edwards, creative director of Inside The Sneakerbox, a Miami-based creative advertising and marketing agency that works with retailers and brands. "Adidas does a great job -- especially for quality and price point, but Nike is No. 1."
"Besides that [Nike has] the best designers and the best innovations when it comes to new products, their archives, their history, their athletes and their ability to tell a story to a lot of people -- some just call it a huge marketing company that sells shoes -- that's what really connects a lot of people to their products," he says.
Nike is far and above other competitors including Under Armour (UA) - Get Free Report, Adidas (ADDYY) and Reebok, essentially wrapping up more than 90% of the basketball market between Nike and Jordan brands, according to a note by Sterne Agee analyst Sam Poser, citing SportScanInfo.
"Basketball footwear sales increased 49.9% last week and 32.7% in the last four weeks versus 9.4% in the four weeks ending May 17," Poser writes in a June 19 note. "The recent acceleration is due to the strong Nike and Jordan launches, beginning on May 24. Higher price points in men's and kids' continue to drive [year over year] sales increases. In the [last four weeks] men's footwear prices $100-$250 increase 45% and sales of kids' footwear priced $75-$125 increased 59.8%. This weekend's highly anticipated launches have price points in the $200 area."
Basketball continues to be strong driven by the Jordan and Nike launches. "Retailers commented that Jordan or Nike basketball shoes were the only shoes that customer's desire," Poser wrote in a June 4 note following the Fashion Footwear Association of New York show.
Yet Nike's stock has fallen 4% this year, along with the broader retailing market, however Under Armour has had an impressive 32% share price increase.
Lyon attributes one reason for the stock performance to concerns about gross margin for Nike, particularly with increasing costs for leather and chemicals and labor costs. "That has started to mitigate some of the benefits they've seeing on pricing increase," he says. Lyon has a "hold" rating on the stock.
--Written by Laurie Kulikowski in New York.
Disclosure: TheStreet's editorial policy prohibits staff editors, reporters and analysts from holding positions in any individual stocks.