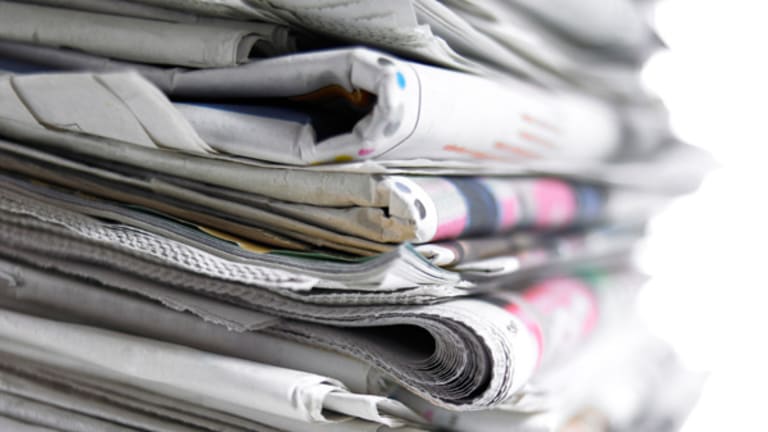 BASF Revenue Beats, AIG Tax Benefit Boosts Profit: Hot Trends
BASF reports fourth-quarter sales that beat analysts' expectations.
NEW YORK (
) -- Popular searches on the Internet Friday include
BASF
after the German chemical, plastics and oil company reported fourth-quarter sales that beat analysts' expectations and predicted record profit and sales to continue.
BASF reported fourth-quarter revenue that rose 10% to €18.07 billion ($24 billion) and announced a €2.50 dividend. The company said higher raw materials costs were in most part passed on to its clients through higher pricing.
BASF chief Kurt Bock predicted a moderate start to 2012 but forecast that the global economy will improve as the year goes on, aiding in the company's targets of increased sales and earnings. Research and development spending this year will be boosted to €1.7 billion.
American International Group
(AIG) - Get American International Group Inc. Report
is trending Friday after reporting profit that rose 77% in the fourth quarter to $19.8 billion as the company booked a large tax benefit.
Profit was largely driven by a $17.7 billion tax benefit the company took as it released some of its deferred tax assets. The tax assets will allow the company to offset tax payments on more than $40 billion in income in coming years. AIG reported operating profit of $1.6 billion, or 82 a per share, above analysts expectations.
AIG is still 77% owned by the U.S. Treasury following its bailout during the financial crisis. The company said it repurchased $70 million of its own shares in the quarter.
Commonwealth Edison
is another popular search after the Illinois Commerce Commission approved a $36.7 million refund for ComEd customers, saying the company wrongly inflated consumer electricity rates.
The chatter on Main Street (a.k.a. Google, Yahoo! and other search sites) is always of interest to investors on Wall Street. Thus, each day, TheStreet compiles the stories that are trending on the Web, and highlights the news that could make stocks move.
-- Written by Brittany Umar
.
Brittany joined TheStreet.com TV in November 2006 after completing a degree in Journalism and Media Studies at Rutgers College. Previously, Brittany interned at the local ABC affiliate in New York City WABC-TV 7 where she helped research and produce On Your Side, a popular consumer advocacy segment.