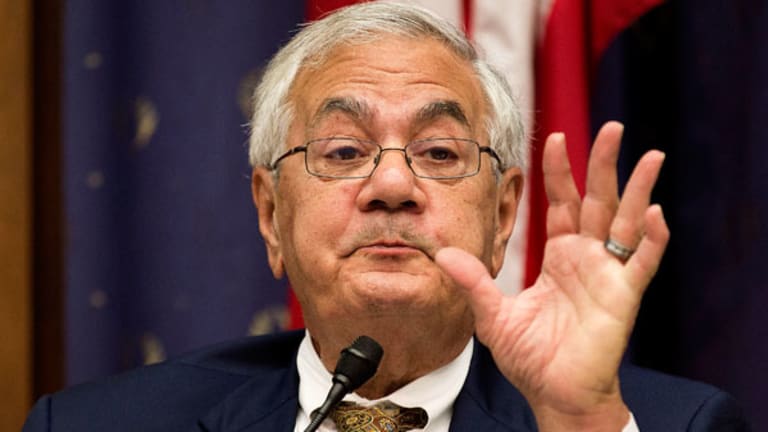 Barney Frank Addresses Fannie and Freddie Shareholders
The former congressman says shareholders should get any money left after debts are repaid but has little sympathy for 'vultures.'
NEW YORK (
) -- Former Massachusetts Rep. Barney Frank says private shareholders in
Fannie Mae
(FNMA)
and
Freddie Mac
(FMCC)
"would be entitled to a pro-rated share" of the entities' profits if there is money left over after they repay the government. However, he says he "has little sympathy with the vultures" betting on a rebound in shares of the government-sponsored enterprises (GSEs).
While Frank is no longer a member of Congress, his views may offer an indication of how Democrats who still hold public office are likely to assess the claims of preferred and common shareholders in Fannie and Freddie.
"The problem of having a surplus left over in Fannie and Freddie after we've settled all the debts is a problem I'd love to have. I'm skeptical that we will," Frank said.
Others who are likely following the situation more closely are less skeptical, however.
CRT Capital Group analyst Michael Kim estimated in a March 20 report that Freddie will be able to repay the Treasury by 2014, while he believes Fannie can do so by 2015 to 2016.
Also see: Salmon: Argentina's Desperate Exchange Proposal >>
Indeed, Fannie Mae, which is set to report its fourth-quarter earnings this week, had to delay the report due to unexpectedly strong results which may allow it to recapture at least a portion of a more than $60 billion deferred tax benefit.
Several hedge funds have been
in Fannie and Freddie shares ever since shortly after the GSEs were put into conservatorship by then-Treasury Secretary Hank Paulson in 2008 at the height of the subprime mortgage crisis.
The question of whether it makes sense to invest in beaten-down preferred or common shares in Fannie and Freddie is not merely financial, however. Politics is likely to play an important role. That's because politics will help determine what profits Fannie and Freddie report, where those profits go and whether the GSEs will be privatized once the government has been paid back.
Indeed, the profits of Fannie and Freddie are continually at risk of being used as a "piggy bank." In May, Senator Dianne Feinstein (D-Calif.) proposed using increases in the insurance fee charged by Fannie and Freddie to help "underwater" home owners refinance their mortgages. In December, the House of Representatives voted to use fee increases to pay for a student visa program. Proposed bipartisan legislation called the "Jumpstart GSE Reform Act," offered last month by Senators Mark Warner, (D-Va.,) David Vitter, (R-La.), Elizabeth Warren (D., Mass.) and Bob Corker (R., Tenn.) intends to address the "piggy bank" issue. It would prevent the use of revenue from increased guarantee fees from being used to offset other government spending.
A separate question is whether the profits are being reported accurately. As is the case with all financial companies, how assets such as mortgages are valued on the balance sheet may bear little resemblance to what they would fetch on the open market. In his report of the GSEs, CRT's Kim estimates "$140 billion of hidden value may benefit the bottom line over the next few years."
Still another issue is whether Fannie and Freddie will ultimately be returned to the private market. Former U.S. Treasury Dept. officials Jim Millstein and Phillip Swagel proposed doing so in an
Oct. 12 essay in The Washington Post.
Under such a scenario, holders of GSE junior preferred shares (i.e., preferred shares not owned by the Treasury) could be the "
natural source of future capital," according to the report from CRT's Kim.
Also see: Wealth Effect in Housing? It's Real >>
The Jumpstart GSE Reform Act, however, would prohibit the Treasury from selling its stake in the GSEs without the passage of legislation specifically instructing it to do so.
Currently, Fannie and Freddie's profits are being swept into the Treasury. Until that changes, private shareholders will not see a cent, no matter how profitable the GSEs become.
John Hempton, who manages a hedge fund called Bronte Capital, argues Treasury has trampled on the fifth amendment rights of private shareholders, which prohibit the taking of private property for public use without just compensation.
I asked Frank if he believed the government takeover of the GSEs violated the fifth amendment. He started out by claiming responsibility for the takeover.
"Let me, um -- confess -- involvement there," he said. "It's my bill under which that happened. I know there was this myth that we protected Fannie and Freddie. In fact it was under the Republicans until 2006 that Fannie and Freddie were left alone. One of the first things we did when we became the majority in 2007 was to put them into -- to give Paulson the power to do that and if you read the Paulson book
On The Brink: Inside the Race to Stop the Collapse of the Global Financial System
he begins by saying, 'I realize I had to put them into conservatorship and I thought they would fight me.' So he called me, and I said 'Do what you have to do.'"
Also see: 'Game of Thrones' Secrets Revealed >>
Frank then expressed regret over losses suffered by community banks that had purchased preferred shares in Fannie and Freddie shortly before they were put into conservatorship, though he noted they were given tax relief and added that the GSEs were in such dire financial condition the preferred shares would soon have been worthless.
"The government didn't cause that loss, it simply recognized it," Frank argued.
On the other hand, he said he has "little sympathy with the vultures," and he questions their ability to use the fifth amendment to profit from their investment.
"We didn't take any of their property. They're buying up property that we've taken from other people. I don't know enough about takings law to tell you what the answer is on that. I would say this: I wouldn't take it before a jury if I were they."
I asked Frank if he considered hedge funds unsympathetic, and he responded, "No. Vultures are unsympathetic.
Oh my god. Look at poor me. I bought this stuff up at eight cents on the dollar and they won't give me the dollar back
."
--
Written by Dan Freed in New York
.
Disclosure: TheStreet's editorial policy prohibits staff editors, reporters and analysts from holding positions in any individual stocks.