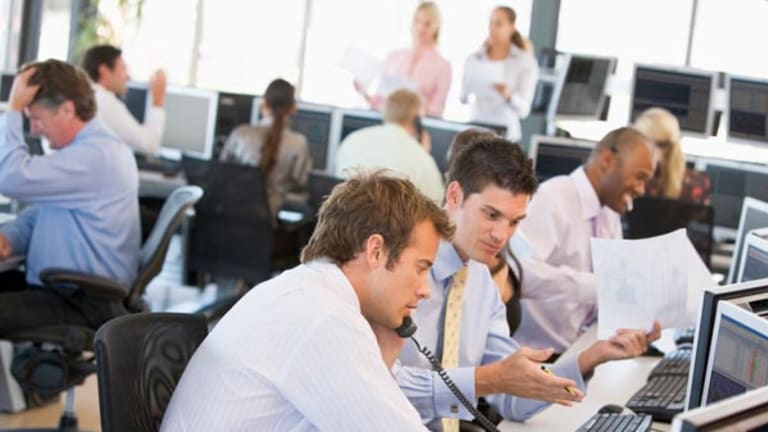 Barclays Names Antony Jenkins as CEO: Hot Trends
Barclays names Antony Jenkins, former head of its retail and business banking operations, as its new CEO.
NEW YORK (
) -- Popular searches on the Internet include
Barclays
(BCS)
upon news the bank has appointed a new CEO.
Barclays announced 51-year-old Antony Jenkins, former head of its retail and business banking operations, as its new chief executive. Jenkins will become CEO immediately. He will fill the position left open by the resignation of Bob Diamond, who stepped down after a scandal at the bank involving attempts to manipulate the London interbank offered rate.
Jenkins said he will outline his plans for the company during the first quarter of next year.
The news follows an announcement from the bank Wednesday that it is the subject of another investigation by Britain's Serious Fraud Office. The investigation focuses on Barclays' payments related to agreements between Barclays and Qatar Holdings LLC. That investigation is in addition to the rate-rigging scandal investigation, also being done by the Serious Fraud Office.
In a statement, Jenkins said, "We have made serious mistakes in recent years. We have much to do."
Citigroup
(C)
is trending as the company has agreed to pay $590 million to settle a shareholder lawsuit relating to the global financial crisis.
The settlement puts claims to rest that shareholders ended up with huge losses after the bank hid tens of billions of dollars in toxic mortgage assets and failed to take timely write-downs on collateralized debt obligations. Lawsuit plaintiffs alleged Citigroup used a "quasi-Ponzi" scheme to hide the bank's exposure to CDOs, which were often tied to subprime mortgages. Plaintiffs claimed Citigroup told investors it had sold billions of dollars of CDOs and was no longer at risk of being tied to subprime mortgages.
The settlement pertains to shareholders from Feb. 26, 2007 to April 18 2008. The deal would be one of the largest settlements by a Wall Street firm stemming from the financial crisis.
U.S. District Judge Sidney Stein in Manhattan granted preliminary approval to the agreement on Wednesday and set a hearing for Jan. 15.
Microsoft
(MSFT)
is another popular search. The company announced it is axing a bunch of features of Zune Music this week.
As of Friday, Zune Music users will no longer be able to stream or purchase music videos through desktop software, use mixview playback, and channel playlists will also be unavailable. Social aspects of Zune Music will also be eliminated -- like the ability to send and receive messages, invite friends and share music. When users upgrade their computers, they will also no longer be able to download previously purchased music videos again.
The changes come ahead of the launch of Xbox Music later this year. Microsoft said the new Xbox Music service will let users access music on Xbox, phones and tablets. The service will include 30 million available songs.
Microsoft indicated that the changes to Zune Music will not affect music streaming or downloading through Zune Music Pass, songs purchased from Zune Marketplace, or users' ability to stream music videos on Xbox 360.
The chatter on Main Street (a.k.a. Google, Yahoo! and other search sites) is always of interest to investors on Wall Street. Thus, each day, TheStreet compiles the stories that are trending on the Web, and highlights the news that could make stocks move.
-- Written by Brittany Umar
.
Brittany joined TheStreet.com TV in November 2006 after completing a degree in Journalism and Media Studies at Rutgers College. Previously, Brittany interned at the local ABC affiliate in New York City WABC-TV 7 where she helped research and produce On Your Side, a popular consumer advocacy segment.