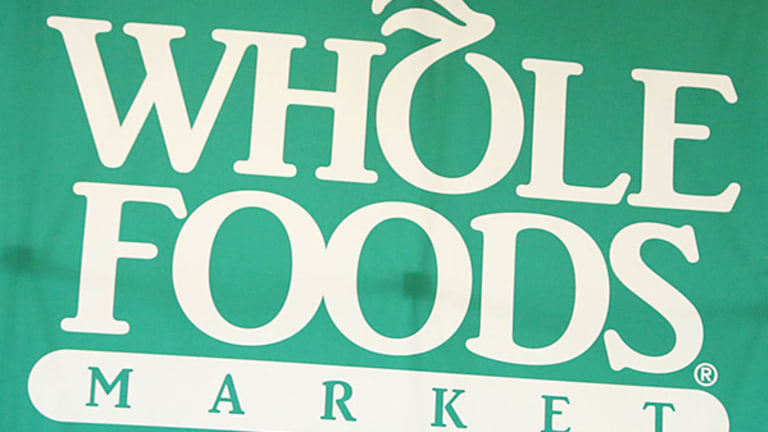 Barclays Analysts to Whole Foods Market: Your Prices Are Too High
A new report indicates that the company needs to become less expensive in order to better compete.
Supermarket chain Whole Foods Market (WFM) has long been dubbed "whole paycheck" among both its detractors and fans.
Love it or hate it, the purveyor of natural and organic foods is well known for being a bit expensive.
Now analysts at Barclays have made a strong suggestion to the company: Whole Foods Market must lower its prices for once and for all.
Barclays analysts studied the cost of grocery deliveries on orders placed over the Internet, one of today's hottest retail trends and one with big profit potential for investors.
An estimated 45% of U.S. consumers bought food online at some point during the first half this year, according to Harris Poll.
And Morgan Stanley said in January that Americans could spend more than $42 billion on groceries online this year, a 163% increase from the $16 billion spent in 2015.
For the Barclays study, analysts ordered from Whole Foods Market online, using Instacart for deliveries because the supermarket chain doesn't offer its own service yet. Instacart is essentially the Uber of grocery deliveries.
Barclays compared the cost of its Whole Foods Market purchase with an identical order at Thrive, an online-only organic food market. Taking into account Thrive's annual membership fee of $60, as well as Instacart's $6 shipping fee, the Whole Foods Market order cost 29% more.
"Whole Foods Market is significantly overpriced in the commoditized-center-store and frozen-foods categories relative to Kroger and Thrive," Karen Short, a Barclays analyst, wrote in a report.
The thesis is clear: Whole Foods Market needs lower prices. And in return, the company's investors will reap the reward.
This is a critical time for grocery store chains. Ecommerce is clearly spilling into the space, with even Amazon offering its own grocery delivery services.
At the same time, supermarket prices across the board have dropped, making grocery shopping much more attractive to American consumers than eating out.
Consumers, particularly millennials, are trending toward food choices that they consider healthier.
This increase in all-natural and organic eating would have once been a major boon to Whole Foods Market. But now, with even major discount stores such as Walmart offering increased selections of health foods and at lower prices, Whole Foods Market has been lagging.
Whole Foods Market's stock is down by nearly 5% this year, with a large decline in the second half, and the company has recorded five straight quarters of falling sales.
However, Whole Foods Market is trying to stage a turnaround. Last month, investors rewarded Whole Foods Market for reinstating its founder, John Mackey, as sole chief executive of the company, a move that has since been echoed by Chipotle Mexican Grill.
Initiatives for a Whole Foods Market renaissance include launching smaller stores boasting lower prices. Dubbed 365 by Whole Foods Market, these stores are aimed at millennials looking for high-quality health food at lower prices.
That is definitely a step in the right direction. And more moves that will make the chain's foods more accessible in its brick-and-mortar locations and online will continue to help the company and its stock.
---
85% Accurate Trader gives his Personal Guarantee: "Give Me 9 Minutes a Week and I Guarantee You $67,548 a Year."
What if I told you I know a way you can see a $67,548 per year - or more - in profitable trades just by following this simple step-by-step process? The trader who is sharing this secret has been right more than 8 out of 10 times, turning $5,000 into more than $5 million for himself. Click here to see how easy it is to follow his lead and collect thousands of dollars in "Free Money" every month.
The author is an independent contributor who at the time of publication owned none of the stocks mentioned.