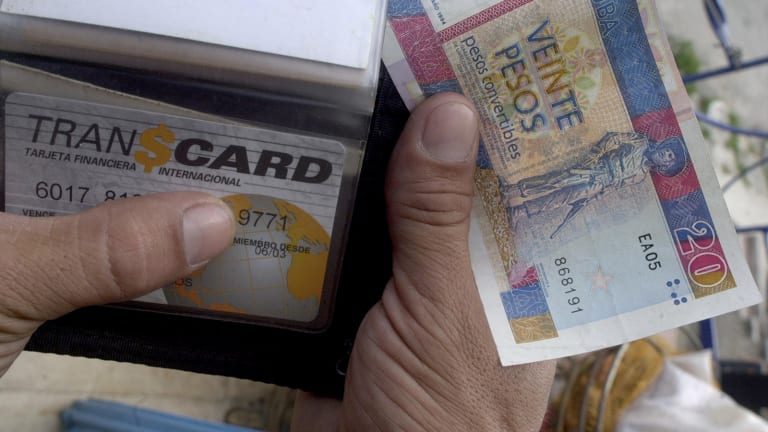 NEW YORK (TheStreet) -- Banks will be keeping a close eye on U.S. Congress over the next 42 days. If the legislative body fails to act, it could open up a $68 billion economy to levels of financing it has never seen.
We're talking about Cuba, of course. For almost five decades, the island nation of 11 million has been excluded from the international credit markets, and its access to financing from international banks and institutions has been limited -- mostly due to being on the U.S. government's list of state sponsors of terrorism.
Earlier this week, President Obama recommended that Cuba be removed from the list. This follow's the State Department's recommendation a week prior. Congress has 45 days from the day of the President's announcement to block the move. If Congress does nothing, Cuba will leave Syria, Iran and Sudan as the three remaining members of the list. 
The initial benefits of leaving this list will mostly be in the banking sector. Most banks won't do business with states on the list for fear of reprisal from the U.S. Treasury Department. Countries on the list face "miscellaneous financial and other restrictions," according to the State Department Web site. That vague threat has been enough to keep most banks away from Cuba. As Alex Sanchez, president and CEO of the Florida Banking Association told TheStreet last month in reference to this issue, "Capital does not go where there is risk."
Once Cuba is off the list, banks and other financial institutions will have flexibility to open accounts and establish limited banking relationships and credit card processing activities with Cuban counterparts, according to the changes and updates of rules in the Office of Foreign Assets Control of the U.S. Treasury Department. OFAC is in charge of administering and enforcing economic and trade sanctions against countries and organizations that engage in activities that threaten the national security, foreign policy or economy of the United States.
Bankers at large national banks who didn't want to have their names or employers identified for fear of Treasury Department reprisal said they were excited at the opportunity to enter the market and are eager to be the first ones to establish normal banking infrastructure in the country. Two of these banks are already considering plans to bring refurbished ATM machines to Cuba. Tourists don't like to travel with cash and the banks are eager to be the first to provide in Cuba the kinds of financial services they expect when they travel anywhere else. 
Businesses, too, could use the services of banks in Cuba. 
"Businesses depend on a banking system that conforms to international rules," says Milton V. Vescovacci, head of international business practices and the Cuba sub practice at GrayRobinson, a law and consulting firm based in Miami. "With the further relaxation of the OFAC regulations that exist now, trade will be financeable and people will be able to buy things with credit from institutions based in in the U.S."
Of course, perhaps the largest beneficiary of having access to capital markets would be Cubans themselves and the Cuban government. 
Currently, large development projects are often financed by China, Russia, Venezuela and others. The Mariel port rehabilitation project is being financed in part by Brazil and China. That limited source of financing means that many projects that could get done, don't. 
Business leaders in the U.S. seem to be in favor of this recent small but important step toward normalization of relations. 
"For too long, the relationship between the United States and Cuba has been defined by its differences and burdened by its past, while lacking a clear path forward," Jodi Bond, vice president of the Americas at U.S. Chamber of Commerce, says of the development. 
Not everyone in a position to comment on the move is in favor of it. 
"They should have remained in the list of states sponsors of terrorism," Senator Marco Rubio, a Republican senator from Florida, said in a statement. "The White House is not longer serious about calling terrorism by its proper name." Rubio, whose parents fled Cuba shortly before Castro took over in 1959, announced his bid for the presidency in 2016.
This article is commentary by an independent contributor. At the time of publication, the author held positions in the stocks mentioned.