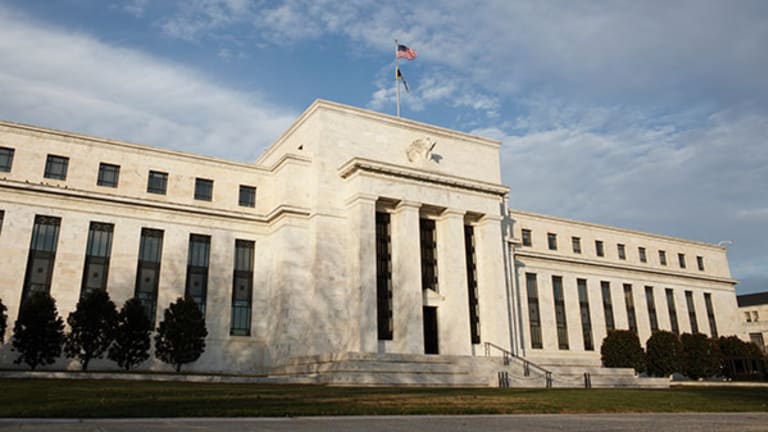 NEW YORK (TheStreet) -- The world is so awash in liquidity that big banks may soon feel forced to charge some of their customers for taking deposits.
The excess liquidity might be news to consumers who find themselves highly "illiquid" in tough economic times, but the Federal Reserve's "highly accommodative stance of monetary policy" has consequences, especially for savers.
As the economy has gone through its ups and downs, depositors over the past several decades have seen radical changes in how banks work to gather deposits, or turn them away. Depending on how old you are, you might remember banks giving away toasters and other goodies to new depositors. My sister and I received nifty little transistor radios when our parents opened savings passbook accounts for each of us during the 1970s.
I also have fond memories of receiving high double-digit rates on a passbook money market account during the early '80s.
Ah, the good old days. Banks don't give away toasters anymore because they don't need the money. Demand for commercial loans hasn't recovered to anywhere near its pre-crisis levels, meaning most banks aren't desperate to grow deposits to fund their loan pipelines.
Savers have been suffering for many years, following the drop in the Fed's target for the short-term federal funds rate to a range of zero to 0.25% late in 2008.
Rates on long-term bonds had already been dropping for an extended period, even before the credit crisis, causing retired investors used to clipping coupons and enjoying a continued flow of decent yields from bonds to look elsewhere for higher yielding investments.
The Federal Open Market Committee has repeatedly said it would likely remain "appropriate" for the federal funds rate to stay in its current range at least until the U.S. unemployment rate drops below 6.5%. The October unemployment rate was 7.3%, increasing from 7.2% in September. And Federal Reserve Chairman Ben Bernanke has indicated the federal funds rate could stay in the zero to 0.25% for a considerable time after the unemployment rate falls below the benchmark 6.5%, unless a "preponderance of data" indicates a strengthening of labor markets.
The FOMC last week released the minutes of its Oct. 29-30 policy meeting. According to the minutes, "most participants thought that a reduction by the Board of Governors in the interest rate paid on excess reserves could be worth considering at some stage, although the benefits of such a step were generally seen as likely to be small except possibly as a signal of policy intentions."
Most banks are required to hold reserves equal to 10% of liabilities, either in the form of cash sitting in their vaults, or in the form of deposits with the Federal Reserve, which is currently paying the banks 0.25% on the deposits.
While earning 0.25% on the excess cash they park with the Fed, the banks are paying very low rates to depositors. They pay no interest for most checking account deposits. According to BankingMyWay, the average interest rate being paid by U.S. banks on money market accounts is 0.098%, while the average rate for savings accounts is just 0.067%.
So it appears the banks are making money on their excess deposits parked with the fed. However, the banks must pay insurance premiums to the Federal Deposit Insurance Corp. of at least 2.5 basis points. They must also pay for the overhead required to maintain the deposit accounts.
The Financial Times on Monday reported "Executives at two of the top five US banks" had said a decline in the rate being paid by the Federal Reserve on banks' reserve deposits "would lead them to pass on the cost to depositors."
For depositors already earning so little on their savings, this means some might actually pay the bank for the privilege of holding their money.
This might seem unfair, however, the low federal funds rate, banks' reserve requirements, weak overall loan demand and the tremendous increase in the money supply brought about by the Fed's "QE3" bond purchases of a net $85 billion a month since September 2012, have led to an incredible increase in banks' liquidity. They just don't need the money.
The following data shows remarkable deposit growth over the past five years for the nation's top five banks by domestic deposits, while total loans have declined for most. The data was supplied by Thomson Reuters Bank Insight, derived from the banks' regulatory filings with the Federal Reserve:
So the "big four" banks have all seen plenty of deposit growth while their domestic loans have declined. For all five of the banks, the ratio of loans to deposits has declined considerably.
Members of the FOMC may feel frustrated that holding the federal funds rate near zero and pumping over $1 trillion into the economy through bond purchases hasn't been enough to spur strong U.S. economic growth. They may feel that dropping the rate paid to banks on their reserve deposit balances may "tip the scales" by encouraging banks to loosen credit requirements, however, the banks at the same time are feeling plenty of regulatory pressure to keep strict control over loan underwriting standards.
All of this shows the limits of the central bank in its efforts to get us going again.
Some members of the media will no doubt say that the hated big banks would be unfair in charging to take deposits, however, they are still trying to run profitable businesses for the benefit of their shareholders.  If the current economic policies lead them into pushing liquidity away, it won't last forever.  Nothing does.  Some day, when interest rates are higher, we just might see local banks resume handing out small appliances.
RELATED STORIES:
How Senate Rule Change Could Hurt Banks
Big Bank Stocks Are Still Cheap, Says Oppenheimer
JPM Is a 'Buy,' Despite WaMu, Says Goldman
-- Written by Philip van Doorn in Jupiter, Fla.
>Contact by Email.
Philip W. van Doorn is a member of TheStreet's banking and finance team, commenting on industry and regulatory trends. He previously served as the senior analyst for TheStreet.com Ratings, responsible for assigning financial strength ratings to banks and savings and loan institutions. Mr. van Doorn previously served as a loan operations officer at Riverside National Bank in Fort Pierce, Fla., and as a credit analyst at the Federal Home Loan Bank of New York, where he monitored banks in New York, New Jersey and Puerto Rico. Mr. van Doorn has additional experience in the mutual fund and computer software industries. He holds a bachelor of science in business administration from Long Island University.