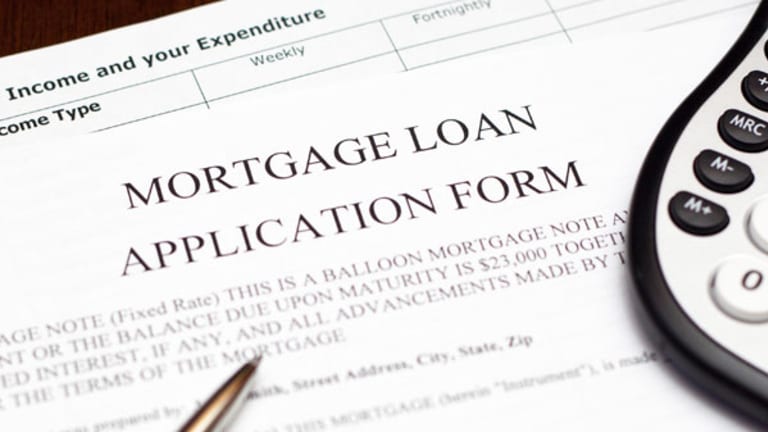 Banks Loosening Mortgage Lending Standards
Banks are reacting to a slowdown in mortgage lending activity by lowering their underwriting standard, which could boost the housing market.
NEW YORK (TheStreet) -- The decline in mortgage activity in the United States continued in January and big banks, including Wells Fargo (WFC) - Get Wells Fargo & Company Report and JPMorgan Chase (JPM) - Get JPMorgan Chase & Co. (JPM) Report are responding by lowering their underwriting standards.
The Mortgage Bankers Association projects that originations of one-to-four family mortgage loans in the U.S. will decline to $1.116 trillion in 2014 from an estimated $1.755 trillion during 2013, with the wave of refinancing slowing as long-term interest rates have risen.
According to a preliminary estimate from Inside Mortgage Finance, the issuance of single-family mortgage-backed securities by Fannie Mae (FNMA) , Freddie Mac (FMCC) and Ginnie Mae totaled $67.8 billion during January. That's down 10% from December and is also the lowest figure since January 2009.
Major lenders are making adjustments. Wells Fargo has lowered the minimum FICO score for borrowers applying for loans insured by the Federal Housing Administration to 600 from 640. JPMorgan Chase "plans to lower LTV standards in certain markets for both jumbos and conforming mortgages to portfolio on balance sheet," Deutcshe Bank analyst Dave Rochester wrote in a note to clients on Tuesday.
LTV stands for loan-to-value ratio. "Conforming" means a one-to-four family mortgage loan that adheres to the underwriting standards of Fannie Mae and or Freddie Mac, and can therefore be quickly sold to one of those government-sponsored enterprises. It is very important for lenders to have the option of selling the majority of their newly originated fixed-rate mortgage loans, in order to get the interest-rate risk off the books and free-up liquidity to make more loans.
The limit for a conforming loan being sold to Fannie or Freddie is $417,000, and the Federal Housing Finance Agency, which regulates Fannie and Freddie, can adjust the conforming limit from time to time.
A jumbo mortgage loan is one that exceeds the conforming limit, and therefore can't be sold to Fannie or Freddie. These loans tend to be underwritten with tight credit standards, since they are more difficult to sell.
The actions being taken by Wells Fargo and JPMorgan Chase could signal a major change in the U.S. mortgage market at all levels, following years of very tight credit standards.
"We have long argued that in the absence of robust refinancing volumes, banks are likely to go down the credit spectrum with respect to borrowers in order to support purchase origination activity," FBR analyst Paul Miller wrote in a client note on Tuesday.
"With the largest player [Wells Fargo] in the mortgage market now originating FHA product to non-super prime borrowers, we believe the wall has begun to come down, and more large originators are likely to open their credit boxes. If lenders are successful in breaking back into the low-FICO FHA market, it will support increased origination volumes going forward," added Miller.
Miller also wrote that his estimate for $1.3 trillion in mortgage originations for 2014, which exceeds the MBA's estimate by 16%, "could even prove conservative."
If Miller's expectations are borne out, many banks could see positive earnings surprises this year, which could push earnings estimates higher, supporting higher stock prices.
O'Connor expects loan growth for large-cap banks "to accelerate to 4-5% in 2014 and 6% in 2015 vs. 3% in 2013," reflecting a strengthening economy and lower credit standards. However, a decline in credit spreads over bench marks, such as the federal funds rate, "could likely offset some if not all of the benefit of stronger loan growth," according to O'Connor, meaning the banks may not see much of an earnings boost from higher origination numbers.
Either way, the lowering of underwriting standards could make for quite a boost for the residential real estate market this year.
-- Written by Philip van Doorn in Jupiter, Fla.
>Contact by Email.
Philip W. van Doorn is a member of TheStreet's banking and finance team, commenting on industry and regulatory trends. He previously served as the senior analyst for TheStreet.com Ratings, responsible for assigning financial strength ratings to banks and savings and loan institutions. Mr. van Doorn previously served as a loan operations officer at Riverside National Bank in Fort Pierce, Fla., and as a credit analyst at the Federal Home Loan Bank of New York, where he monitored banks in New York, New Jersey and Puerto Rico. Mr. van Doorn has additional experience in the mutual fund and computer software industries. He holds a bachelor of science in business administration from Long Island University.