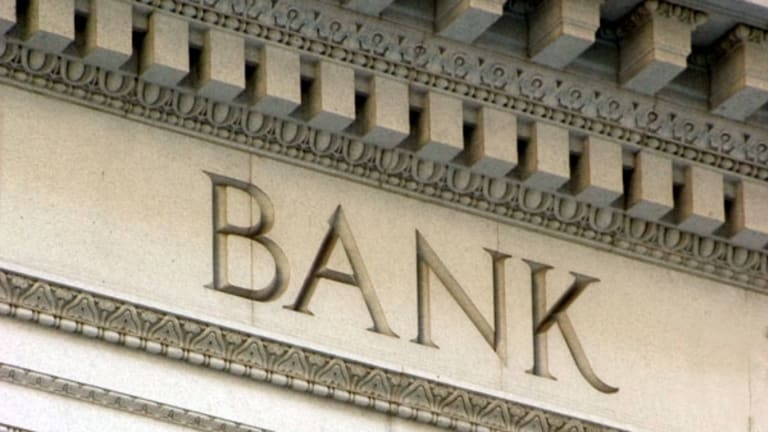 Banks Fined for Adding Pork to California's Mind-Blowing Debt
FINRA fines the nation's largest banks for asking California to pay for lobbying fees.
NEW YORK (
) -- Five of the nation's largest banks are being fined for making debt-stricken California state and municipal treasuries pay for efforts to fuel the state's out-of-control borrowing, by way of hidden fees paid to a municipal finance lobbyist.
The
Financial Industry Regulatory Authority
(FINRA) has fined
Citigroup
(C)
,
Goldman Sachs
(GS)
,
JPMorgan
(JPM)
,
Bank of America Merrill Lynch
(BAC)
and
Morgan Stanley
(MS)
a total of $4.48 million for using state and municipal bond funds to pay lobbying fees, in violation of fair dealing and supervisory rules mandated by the Municipal Securities Rulemaking Board.
The lobbyist payments involve fees for membership to the
California Public Securities Association
the banks unfairly charged state and municipal bond issuers and violated MSRB prohibitions on political donations.
FINRA said on Thursday it would fine the banks a total of $3.35 million for the rule violation, while California based issuers will see a reimbursement of $1.13 millio, in total.
The Cal PSA's web site states that it was at the "forefront of efforts to reduce voter approval thresholds on general obligation bonds and sales tax supported bonds." States and municipalities use general obligation and sales tax supported bonds to pay for public projects ranging from education to infrastructure.
The association also says it "works with members of California's State Legislature to facilitate municipal issuers' access to the capital markets," in lobbying efforts that include periodically supporting voter initiatives that give funds for projects ranging from public education, transportation, local infrastructure, clean water, parks and open space preservation.
In November, 54% of California voters approved a proposition to raise state income taxes by $6 billion, in a move to stave off spending cuts that were projected to amount to similar sized education cuts, spread across schools, community colleges and state universities. The proposition increases California sales tax by 0.25% and raises income taxes on those earning in excess of $250,000 over a multi-year period.
According an Aug. 28 report by
State Budget Solutions
, California's debt stands at $617 billion, the most of any state in the U.S.
"Issuers are entitled to know what they are paying for and why. It was unfair for these underwriters to pass along the costs of their Cal PSA membership to the municipal and state bond taxpayers, neglecting to disclose that these costs were unrelated to the bond deals," Brad Bennett, FINRA Executive Vice President and Chief of Enforcement, said in a statement announcing the fine.
Between Jan. 2006 and Dec. 2010, FINRA alleges the five banks - which are among the largest issuers of public finance debt - asked California-based issuers to reimburse them for membership payments made to the California Public Securities Association, a lobbyist for California based financial activities.
"This practice was unfair as Cal PSA's activities did not bear a direct relationship to those bond offerings and were not underwriting expenses," FINRA adds in a press release announcing the fine. The regulatory authority goes on to say that the banks did not adequately disclose the fees. In the settlement, the banks did not admit or nor deny the charges, but "consented to the entry of FINRA's findings" a press release states.
According to the terms of the settlement, Citigroup will pay the largest total penalty of roughly $1.3 million, split between $888,000 in fines and $391,106 in restitution.
For more on financial sector shenanigans, see why
MBIA Executives are taking the money in case they have to run from the company
.
Follow @agara2004
-- Written by Antoine Gara in New York