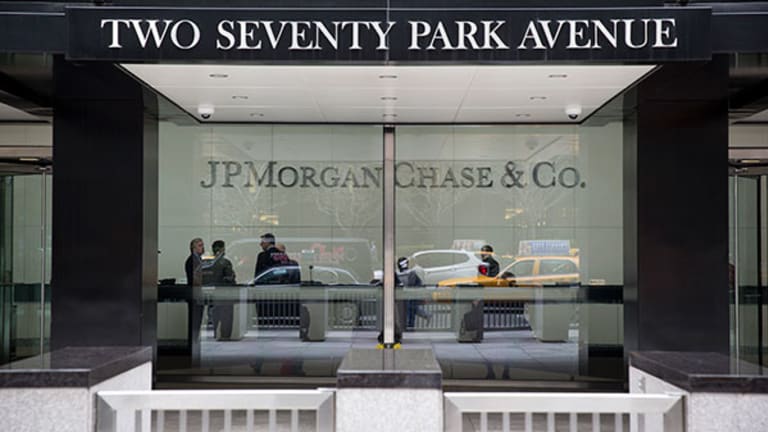 Banks Can Absorb $155 Billion in Crisis-Era Litigation: S&P
S&P isn't alarmed by the DOJ's second wind in litigating the large banks' crisis-time mortgage activities.
NEW YORK (TheStreet) -- The nation's largest banks including Bank of America (BAC) - Get Bank of America Corp Report, JPMorgan (JPM) - Get JPMorgan Chase & Co. Report, Citigroup (C) - Get Citigroup Inc. Report, Wells Fargo (WFC) - Get Wells Fargo & Company Report, Goldman Sachs (GS) - Get Goldman Sachs Group, Inc. Report and Morgan Stanley (MS) - Get Morgan Stanley Report can absorb at least $155 billion in mortgage related losses, according to ratings agency Standard & Poor's.
The Nov. 25 report by S&P stated that prospective mortgage litigation is one reason for a negative outlook to Bank of America's A- credit rating. Currently, S&P holds a stable outlook on JPMorgan's current credit rating.
Earlier in November, JPMorgan agreed to a $13 billion settlement between it and multiple government authorities that resolved litigation tied to the bank's issuance of mortgage securities leading up to the financial crisis.

New York Attorney General Eric Schneiderman called the settlement a "landmark" deal and said he expected other large banks would follow in JPMorgan's footsteps. Schneiderman also referred to the settlement as a "peace premium" for JPMorgan and commended the bank's willingness to negotiate a deal.
S&P calculated that since 2009 the largest U.S. banks have paid or set aside more than $45 billion for mortgage representation and warranty issues and have incurred roughly $50 billion in combined legal expenses.
A team of analysts led by Stuart Plesser further calculated that warranty reserves at large banks total roughly $60 billion. They estimate that the nation's largest lenders may need to pay out an additional $55 billion to $105 billion to settle mortgage-related issues, some of which is already accounted for in these reserves.
"Despite the substantial legal costs already incurred and the raft of new legal issues, we currently don't expect legal settlements to result in negative rating actions for the U.S. banks with the largest legal exposure," S&P stated in its report.
The good thing for large banks and their shareholders is that much of the prospective pain from regulatory settlements may already be accounted for. S&P said it believes that combined the largest U.S. banks have a $155 billion buffer to absorb losses from a range of additional mortgage and legal exposures, a number that significantly exceeds their estimates of possible future payments.
Furthermore, S&P's estimates simply rely on balance sheet metrics such as legal reserves, and not firms' core operating results. For instance, banks' ability to pay out legal claims excludes their pretax earnings, which S&P calculated totaled $94 billion through the first nine months of 2013.
"We already incorporate heightened legal issues into our ratings, and we currently don't expect legal settlements to result in negative rating actions for U.S. banks," S&P stated.
S&P's calculations are a helpful guide for investors as they try and understand the magnitude of mortgage losses banks can expect and the impact of future litigation, which seems all but a certainty given the sprawl of legal issues banks have recently disclosed in their quarterly filings with the Securities and Exchange Commission.
Legal issues stemming from the financial crisis have gotten "a second wind" according to S&P now that the U.S. Department of Justice has been invoking provision of the Financial Reform, Recovery and Enforcement Act of 1989 (FIRREA) to bring cases against banks.
--Written by Antoine Gara in New York